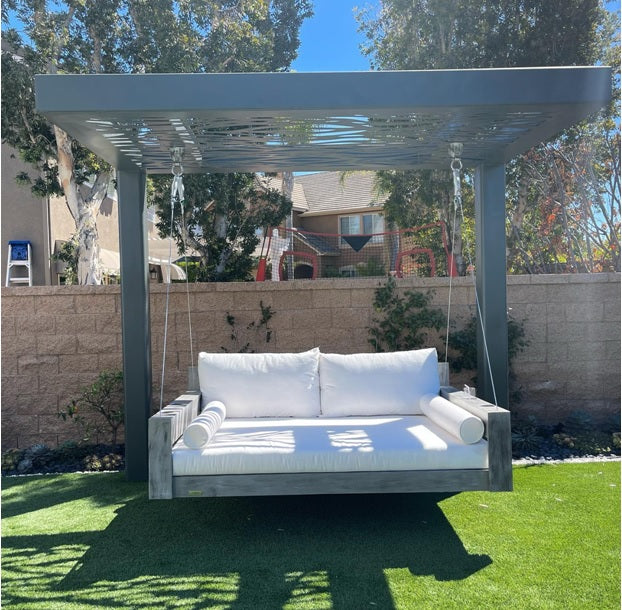 You know who will love your outdoor hanging bed as much as you do?
These 11 species of climbing plants, many of which will furnish you with bright, beautiful blossoms and some of which will even yield food!
If you've been wondering what to do with all that blank vertical real estate furnished by your hanging bed's ropes, training climbing vines up them is a great idea.
Some of them are easy to care for, too.
So, with no further ado…
1. Clematis
Clematis, which is also known as the "queen of climbers" is easy to care for and a perennial, so once established, you won't need to plant it year after year.
This plant has also been widely cultivated, so it's available in a range of cultivars with beautiful blue, red, purple, white, and pink flowers.
Clematis loves full sun conditions but has sensitive roots, so if you plant it near in the soil under your outdoor hanging bed, make sure the soil stays cool and try not to walk on the area where the plant is established.
2. Morning Glory
Morning glories, available in pretty much any color you want, are easy to establish and care for and are particularly fast-growing. You can grow them from seed to more than 10 feet tall in just a few weeks.
Morning glories are not particularly heavy feeders (although they will flourish if fertilized) and one of the best things about them is that they are prolific bloomers - when conditions are favorable, in season, they will produce several blossoms per day.
3. Wisteria
Wisteria grows well in any moist soil and once established will flourish. It is also very easy to care for once well-established.
It also produces bounteous, richly scented blossoms during the warmer months of the year, which adds to its appeal.
Just be aware: wisteria is a toxic plant, so it may not be a good idea to plant it if you have children or pets.
4. English Ivy
English ivy is easy to establish and even easier to care for once established. In truth, it is effectively maintenance-free.
It will also readily cling to any structure you provide it, including the ropes from which you hang your outdoor hanging bed.
Another great thing about ivy, besides the fact that it is so easy to care for, is that it keeps its dark green foliage all year long.
5. Climbing Roses
Climbing roses can be a little more finicky than the other species mentioned here, but they are perennials, so once planted, if well cared for, will not need to be established season after season.
Climbing roses prefer full sun, so keep that in mind, and they also are intolerant of soggy soil. Fertile, well-drained soil is best. Consider supplementing with fertilizer if growth is slow.
Best of all, climbing roses are available in a rainbow of colors and will produce beautiful, fragrant blossoms when conditions are favorable.
6. Honeysuckle
There are a wide range of honeysuckles that you can grow up your hanging bed swing, such as non-native Japanese honeysuckles, and native coral and trumpet honeysuckles.
All are fairly easy to grow and once established will more or less take care of themselves.
They grow rapidly, too, so in just a few weeks or months you can blanket the ropes of your porch swing bed with them - and pollinators, like honeybees and hummingbirds, absolutely love them.
7. Butterly Vine
Butterfly vine, also known as orchid vine, produces dark green foliage and beautiful yellow blossoms.
It thrives in the heat and full sun, but will tolerate partial shade. Its blossoms, like those of many honeysuckle species, are attractive to butterflies as well as other insects.
8. Bougainvillea
This is the climber to grow if you live in a dry area. Bougainvillea, which produces bright pink, red, purple, and orange blossoms, loves a good, deep watering from time to time, but does best in semi-arid conditions and full-sun.
If you're in the southwest, consider growing bougainvillea up your outdoor hanging bed's ropes. It's also a perennial so you can establish it and it will keep coming back year after year.
9. Grapevines
Grapes can be difficult to grow and will need favorable conditions, but they can be grown almost anywhere in the continental United States.
Starting them from seeds is tough, so if your heart is set on grapes, consider buying established vines and transplanting.
Also, they prefer full sun, warm conditions, and rich, fertile, but well-drained soils.
10. Sweet Pea
Sweet peas can grow to 6 feet tall when well cared for, and they're easy to grow from seeds. Also, as an annual, you can rotate the plants out year after year.
They will readily climb the ropes of your outdoor hanging bed, and are fairly easy to care for. Also, they are tolerant of cold conditions, so you can plant early and once the plants sprout, they can survive a pretty hard frost.
But the best part of sweet peas has to be their luscious, redolent, sweet blossoms, which are prolific and occur in a rainbow of colors. If you've never smelled a bouquet of sweet peas after a rain storm, there is nothing quite like it.
11. Beans (Multiple species)
Beans, which are easy to grow and love the heat and sun, are a natural mate for your outdoor hanging bed swing.
Most bean cultivars, including pinto beans, red kidney beans, and black beans, are easy to grow from seed, and will readily grow as high as you let them. They can blanket your outdoor hanging bed's ropes in a matter of weeks in the spring and summer.
Beans love full sun and hot temperatures. They are also ravenously heavy feeders, so if you grow beans, fertilize them with a nitrogen rich fertilizer.
Otherwise, beans are fairly hands off, and within a few weeks of growth, you'll be up to your neck in bean pods that are ready for harvest!
The Other Perks of Pairing Plants with an Outdoor Hanging Bed
In addition to offering you bright blooms and colorful verdure throughout the warmer months of the growing season, some of these plants offer some other perks.
Ivy, which grows particularly thickly when presenting with favorable conditions, can be used to provide shade, especially if your outdoor hanging bed is under an open-top veranda.
Some of the flowers, such as honeysuckles and butterfly vines, are particularly appealing to hummingbirds and butterflies.
The others are attractive to beneficial pollinators like honeybees and other insects, which will benefit the rest of your garden, if you have one.
Moreover, if you so choose, you can color-coordinate the blossoms of your plants to your other outdoor decor and furniture, creating a unique fusion of biophilia and exterior design.
It's still only April, so you have time, but be sure to contact us at 334-202-2870 if you have any questions.