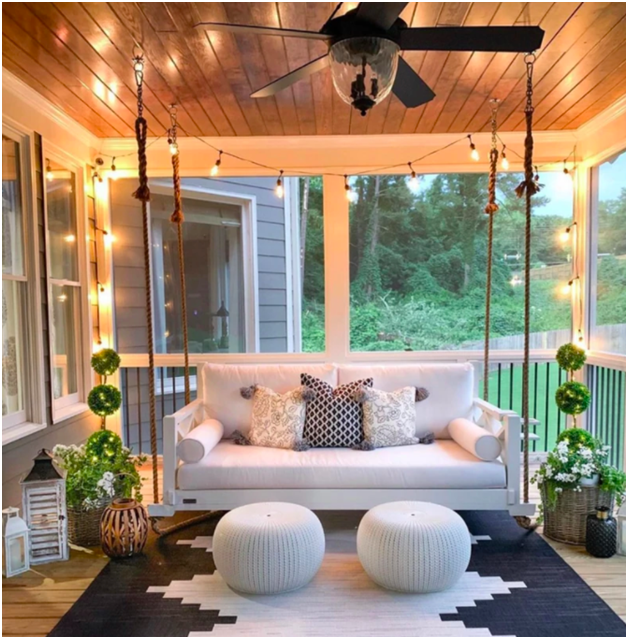 Who doesn't love quaint and cozy decorations to match specific holidays and seasonal celebrations? Lights and a tree in your home, especially your living room, perfectly celebrate the holiday of Christmas. A menorah in the window assists in celebrating the glory of Hanukkah.
There are numerous decorations for each and every holiday that can efficiently adorn your home, ultimately adding to the coziness and overall happiness of you, your family, and even your guests.
When it comes to your patio swing bed, you may think that there isn't much you can add to uniquely decorate it in accordance with specific holidays and other seasonal days. However, there are actually plenty of special decorations for these days to make your bed swing–and overall home–stand out!
1.Christmas: Bows and Cedar Garland
We all know just how enamoring cedar garland can be during the Christmas season and how eye-popping bows are as well. Why not combine these two on your patio swing bed to really bring it to perfectly celebratory life?
First, wrap your garland (whether it be real cedar or tinsel, that is up to you) around your daybed swing's ropes or steel cables. You could even go as far as to include some string lights in there if you wanted some warm and homey lighting!
After the garland, efficiently fix bows on the top of the ropes or steel cables overtop the garland. Then, be sure to affix more bows at the bottom of the ropes/cables to perfectly finish the enamoring look.
As an added bonus, hang mistletoe above the swing for an extra romantic element!
2.Hanukkah: Dreidel and/or Menorah Pillows with Tinsel Garland
Hanukkah has several classic symbols, two of which are the menorah and dreidel. Why not utilize these symbols to your swing bed's advantage?
Place plush pillows on your swing bed that have either dreidels or menorahs (or both!) enticingly embroidered or printed on them. Really bring the Hanukkah decorations on your porch's swing bed together by wrapping blue tinsel garland around the ropes/cables.
Don't forget to place your menorah in the window, but especially so if it is near your porch swing!
3.New Year's Day: Rope Lights with a Disco Ball
Ringing in the new year is a time for uplifted hopes, new set goals, and admiring seemingly endless possibilities on the horizon. By decorating your home, but especially your patio, with New Year's Day decorations, you will be welcoming the new year just right.
You should certainly wrap white stringed lights around your ropes/cables but also around the bottom of your swing bed and its frame altogether. And, for the finishing touch, be sure to dangle a disco ball above your swing bed!
This disco ball can be either big or small– whichever you prefer! This disco ball will add the perfect "fun" element to your porch while also very closely resembling the Times Square ball on New Year's Eve!
4.Independence Day: American Flag Pillow with Streamers
As Americans, we are truly and undeniably proud of our independence from Britain on July 4th, 1776. We continue to celebrate July 4th, or Independence Day, annually with fireworks, barbecues, and other exciting festivities.
Be sure to include your patio swing bed in all the fun and celebratory activities by decorating it just right. Add a plush pillow that properly displays Old Glory respectfully and elegantly. Then, strategically wrap some red, white, and blue streamers around your swing bed's frame and cables.
5.Birthdays: Balloons and Confetti Poppers
Who doesn't love an exciting birthday celebration with friends and family? For any birthday of a close friend or family member, you should be sure to properly decorate every element of your home, including the outdoor patio.
This, as you might have already gathered, includes your patio bed. Blow up balloons, tie them all together, and tie them in an upside-down arch to the tops of your swing bed's ropes/cables. Then, be sure to place confetti poppers on the bed as a quaint and practical element for people to both admire and use! Then, place a few balloons on the upholstery for a final touch.
Warning: be sure to only do this for non-surprise parties! Otherwise, these decorations will certainly give away the surprise if your special guest walks past them on your front porch and into your home!
6.Thanksgiving: A "Give Thanks" Pillow and Stringed Fall Leaves
Thanksgiving is not just a time to gorge ourselves on delectable delights but also a time for us to give thanks. During Thanksgiving and the days that surround it, we should be grateful for the things we have in our lives, including our homes, families, and even our swing beds.
Properly give thanks to your swing bed by decorating it just to bring it to life during Thanksgiving and the season of fall in general. Place a fluffed pillow with the words "Give Thanks" on your bed for a cute yet mindful accent. Then, sprinkle fake fall leaves on the upholstery and wrap stringed fall leaves around the ropes/cables.
7.Super Bowl: "Game Time" Banner and Football Paper Lantern
Chicken wings, nachos, hamburgers, and hot dogs all while watching the biggest football game of the year: the beloved Super Bowl. Whether you are a passionate and dedicated football fan or are simply in it for the yummy goodies and good times with friends, decorate your outdoor space appropriately to add an extra fun element to the day.
String a "Game Time" banner from one rope to the other on the very top of your swing bed. But, be sure to leave enough room to hang a football paper lantern from the ceiling directly above it!
No matter which holiday it may be, properly decorating your patio swing bed will truly assist your home in looking festive and fun. Be sure to browse all of our expertly-crafted bed swings here at Four Oak Bed Swings along with our other cushions and accessories. Give our dedicated customer service team a call at (334) 202-2870 with any questions you may have.