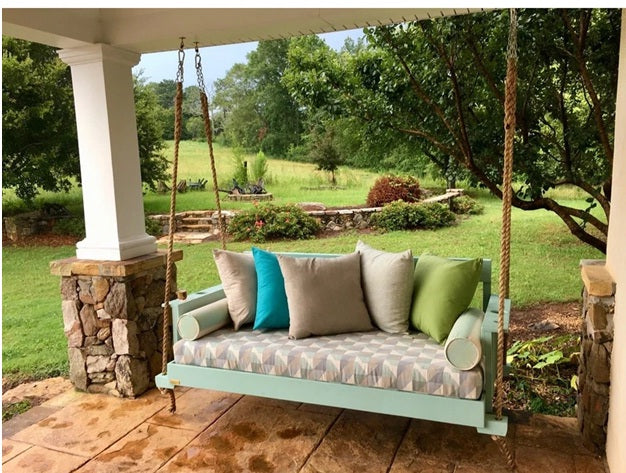 Here it is - the definitive guide you've been waiting for. You've always wanted to work a daybed swing into the interior design of your home, or maybe even on your porch. You just weren't sure where or how to do it.
It takes a lot of gusto to break the mold and set off the design of your home with a newfangled inspiration. We get that. Here at Four Oak Bed Swings, we are cut from a bit of a different cloth ourselves.
We're not afraid to innovate, and we're not afraid to try something new. That's the very reason for the success of our business in the first place. What we also do is build quality into everything we do, but let's not diverge too much just yet from the premise we aim to set out.
The point of the matter is that with this guide, we'll give you some insight into how you can work so many of our designs into your home, and how they can be used to set off each of the following interior design aesthetic trends detailed below.
Here's the good news. The good news is that you can work a daybed swing into your home, while at the same time complimenting your vision for the overarching design scheme. It's also going to be easier than you think.
Check out some of our insight and recommendations, and of course, if you have any questions, reach out to us!
Minimalism
Minimalism is more or less exactly what it sounds like, which is making a statement by removing elements instead of adding them.
The minimalist aesthetic is defined by simple lines, sharp angles, and a lack of patterning or motifs. It's plain and simple, only it goes by another name, which is minimalism.
Minimalism is simplicity at its best. There are no bright colors or distracting patterns or elements to work with - it is like the philosophical counterpoint to Baroque styling.
One of our daybed swings would complement a minimalist design aesthetic perfectly, provided the bed swing itself was arrayed properly. The plain manila ropes and frames that make up the bed will work with a minimalist design.
What you need to remember is this. Don't overdo the setting with a bedspread or pillows that are bold or loud. Colors, patterns, and even fabric selection will affect the mood, so choose these carefully!
Industrial-Chic
Industrial chic, not unlike minimalism, is also characterized by plain lines and a generally simplified aesthetic. The difference between them is in the elements.
Industrial chic makes the most of elements that were once popular in the late industrial period; It is common to see exposed metal fittings, like I-beams and iron pipes, along with retro lighting like Edison bulbs, in an industrial design aesthetic. Think about what the popular, almost "steampunk like" impression of the late 1800s or early 1900s city building would look like.
Now, tone that down and add in some domesticity - that's industrial chic.
Admittedly, our best swings would do better to match with an industrial aesthetic if they were suspended by cables or iron pipes, but they way they are some of them have a somewhat industrial character. There isn't too much you need to do, and the jarring nature of a bed swing will complement an industrial design rather smartly on its own.
Mid-Century Modern
Mid Century modern design may be named after the fact that it became prevalent somewhere around the middle of the last century, but it quickly became popular and its legacy is enduring still today. It is one of the most influential design aesthetics of the past hundred years.
Similar to but not the same as a minimalist design aesthetic, mid-century modern is typified by simple, organic lines and shapes and a lack of embellishment. It takes some of its inspiration from Scandinavian design (which in and of itself is another school of interior design aesthetic) and many mid-century modern designs are bare wood, lacking in ornamentation or patterning.
If you're wondering how a daybed swing can be worked into your mid-century modern vision, wonder no longer. A bed swing can actually be incorporated into mid-century modern designs more easily than other themes - just be sure to let the natural angles and wood frame of the bed frame show out, and don't overdo it with the accents you include with the bed swing.
Shabby Chic
Shabby chic is somewhat like Bohemian in that it makes the most of what we might call "disheveled" elements and gives them the inspiration to be their own form of aesthetic. Think of it this way - if high fashion spurns it, there is a good chance you can turn it around and make it into a staple of shabby chic design.
Originally, shabby chic furniture and design were reminiscent of the French country aesthetic that we will go over in more detail below, but today shabby chic can be characterized by old things that have been made new, or allowed to remain slightly old.
Ornately graven woodwork with an aged coat of paint, faded gilding on a dresser or a mirror, a piece of furniture with the patina of age. All of these things are shabby chic, and all of them can be well accented with the addition of a bed swing.
It might take a little bit of help from some additional accouterments, but there's no doubt that a bed swing can be worked into a shabby chic design. A little bit of accentuation from pillows, throws, and spreads can be all it takes to make it great.
Rustic or Bucolic
The rustic or bucolic theme is somewhat similar to the farmhouse theme and makes the most of the exposed natural elements that you would see in country-themed decor.
This is one of the areas where our bed swings will not only match wonderfully with the theme but can actually help to set it. Whereas you might have to do a little bit of legwork to incorporate a daybed swing into the design of a minimalist or industrial-chic setting, the same swing would be nearly custom made for a rustic setting.
The exposed manila ropes and wooden siding of our bed swings nearly scream rustic or bucolic, and they don't need any help to be adapted to a farmhouse aesthetic, either. Simply work one into your design and you'll be setting the tone by it instead of adapting it to the surroundings.
From there, you can get onto pairing the other features of your decor with the setting and complimenting them by the rest of your aesthetic. Add a few ornaments that are reminiscent of country or rural living into the setting and you'll be well on your way to a rustic theme.
Eclecticism
Eclecticism, by its very nature, is defined by a multiplicity of different inspirations. That's what it literally means to be eclectic. You could theoretically affect an eclectic design simply by combining the elements of some of the designs we have already covered so far in this article, and you would have an eclectic setting.
Really, if you have ever walked into a setting and thought you couldn't quite put your finger on where the inspiration came from, but it was from somewhere that you faintly recognized, you were probably looking at an eclectic setting.
That means you'll hardly have to do any work at all to get a bed swing into the design of your eclectic setting if that's what you want to go for. They are eclectic by their nature and will adapt to any setting you work them into on those grounds.
Remember also that things will clash in eclecticism, which might be the very aesthetic you are going for, in which case, you have no work to do! Simply hang a daybed swing and get on with it!
Art Nouveau or Art Deco
Art Nouveau design, as well as Art Deco, are really more defined by the decorative pieces that accent a space than they are by the furniture itself. Still, there is more than one way to work a swing bed into your design, and it can be adapted to art deco inspiration.
Set the bed swing into a location and then decorate it with pillows, throws, and quilts of a decidedly "modern art" spirit or deportment. Give the bed swing itself a unique paint job that bespeaks the same influence of modernism or modern art. The reins are yours with this one.
French Country
French Country design is like shabby chic, but high brow shabby chic. Think a gilded mirror, elegantly carved woodwork and crystal chandeliers, and other classic provincial designs.
It is not the bed swing itself that will match to French Country design, but rather the other stylistic elements that you pair with it. Go with a slate gray or a silver comforter for your bed swing or other elegant coverings that bespeak opulence. These will help painlessly match your bed swing to French Country tones.
Alternatively, you could give us a call and see what we think - we love to help our customers complete their visions for their homes!
Coastal
Coastal design is one of those areas in which a porch swing bed will really shine, especially a traditional porch swing to pair with the porch decor of your outdoor rooms.
As with Art Deco, Coastal Design is largely influenced by the decorative elements of the setting, and in this respect, the exposed wood construction and manila ropes of our swing beds will complement the setting admirably. Some of them appear like shiplap or rigging, both of which are common enough with overtones of coastal decoration.
A lot of coastal design focuses on open space and outdoor living, so a swing bed for your front porch would really shine in this setting.
Urban Modern
Think about your impression of what an urban apartment looks like. It's part minimalist, part Art Deco, and part postmodernism. All of these things put together come out in the wash as urban modern design.
Luckily for you, a swing bed, due to the inherent character it possesses, as well as its novelty, will be a natural match for urban modern design. The very nature of a swing bed will require little additional work to suit it to the setting, as designs that are not yet mainstream are welcomed into urban modern design with open arms.
Quality in Everything We Do
You're probably brimming with ideas by this point about how to work one of our daybed swings into the design of your home, and we don't blame you. We'll cut you free to investigate in a second, but for the time being, we'd like to give a little bit of a spotlight to our processes before we do. When a thing is designed and made to such a level of quality as you'll find here at Four Oak Bed Swings, it deserves a call out.
All of our bed swings and other hanging swings are handcrafted from Southern Yellow Pine and heavy-duty components. The joints we create from a special wood glue so that the joints themselves are actually stronger than the wood that is used to make them.
The pine we use is also naturally strong and lightweight, and we finish each bed swing with no fewer than three coats of high-grade outdoor varnish to protect them against decay and wear.
Our bed swings also ship fully assembled, but most importantly, they ship for free! People all around the country have been enjoying the peace and relaxation of Four Oak Bed Swings, and you can, too - you just need to get in touch with us or pick out your favorite model.
Check out our collection of bed swings via the link above, and if you have any questions, please feel free to get in touch with a member of our customer service team. You can reach us at 334-202-2870. Till then, enjoy what you find and we wish you good luck in styling your home!