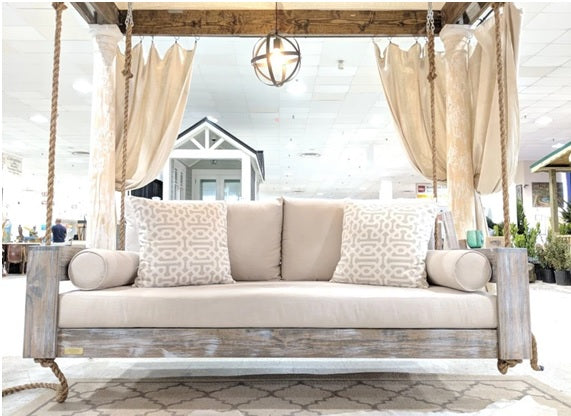 Summer is nearly upon us and that means spending more quality time outdoors. Unfortunately, not everyone's home is equipped to offer a satisfying experience in this regard. Whether it's a lack of comfortable furniture or simply a lack of certain amenities, many porches and patios can seem empty and uncomfortable.
In this in-depth guide, we'll help you improve the quality of your home with the help of a beautiful daybed porch swing and a few practical ideas that will allow you to craft the ultimate summer haven. Once we're done, you will feel as though you can take a vacation anytime you want, without even leaving your property.
Why a Daybed Porch Swing?
To start things off, you might be wondering why a porch swing of all things? If you aren't familiar with these high-quality pieces of furniture, a daybed porch swing essentially combines the best elements of a sofa and bed, but translates these qualities into a suitable outdoor experience that is also suspended. This way, you get the gentle rocking effects of a porch swing with the added comfort and relaxation of a larger and higher-quality piece of furniture.
When putting together a functional outdoor space, you need to start with a high quality piece of furniture that actually provides enough value to justify spending time outdoors rather than inside. Part of the problem with many patios and outdoor spaces is that they lack the same degree of comfort that is easy to find indoors.
No matter how nice the weather is, you still want furniture that will help make you feel comfortable, as well as supporting furniture pieces and other items that will add to your comfort levels as well. Just like our indoor spaces, you should be acutely aware of the kinds of furniture and decor you add to your porch or patio if you want these spaces to actually provide you with the kind of value you are looking for.
That being said, a porch bed swing is the perfect addition you are looking for if you want to create a functional summer haven right on your property. While there are plenty of options when it comes to outdoor furniture worth considering, few additions offer the functionality and aesthetic value of a swing bed. Even from a pure visual perspective, these pieces of furniture will immediately enhance your outdoor space and give your home an overall look of refinement.
Get More Out of Your Porch or Patio
Finding a high-quality daybed porch swing is your first step. It's best to find one that not only has the unique functionality you are looking for, but one that also matches your current deck or patio. While you could purchase a daybed swing with intentions of repainting or refinishing your deck or patio, this isn't always the best option, or the most affordable.
In the end, do what makes the most sense for your home, but keep in mind that here at Four Oak Bed Swings, we carry quite a variety of different swings that are sure to match the aesthetic you are going for. Our swings come in different sizes and designs, each one handcrafted and built to last.
A beautiful porch or patio that is also functional and inviting begins with a high-quality piece of furniture that is actually comfortable. How often have you felt as though your porch or other outdoor space just wasn't as cozy as you would like it to be? Even under the summer sun, you still want to be able to lean back and relax without feeling unnecessary discomfort.
That's where a quality porch swing bed can make a substantial difference in the comfort of your porch or patio. These pieces of outdoor furniture are specifically designed to give you that same "lived in" feel of a plush sofa or warm bed. A sturdy hanging swing made with natural wood and crafted with elegance in mind will give your patio an attractive look while offering newfound comfort where you need it.
To get even more value from your porch or patio, you need to go even further, however. While a high-quality patio swing will look great and offer incredible comfort outside, you still need some other additions to round out this space and make it truly livable. If you are intending on creating an outdoor space that is truly inviting and that you won't want to leave from, the following points will guide you.
Creating the Ultimate Summer Haven at Home
So what elements do you need in order to create a summertime escape haven? Once you have a viable porch swing bed that matches your home, you are going to want to add some more furniture or other items that will simply help to flesh out the space and make it so that you aren't really wanting for anything.
Again, part of the reason why a deck, patio, or porch may feel as though it isn't worth hanging out in is because it lacks certain important elements that your living room or dining room has. When putting together a comfortable space, you will want to think about what you could add that will actually improve the experience and help make your time outside of the house as comfortable and relaxing as possible.
Matching Accent Pillows
The first items that you may want to consider adding to your daybed porch swing are some quality, plush accent or throw pillows. While a well-made swing bed such as the ones that we carry here in our shop provide great comfort on their own, pillows are great for increasing comfort for a variety of reasons.
One, if you feel like laying down and stretching out, nothing beats a soft pillow to rest your head on. Having one or two quality accent pillows will not only bring out the aesthetic apparel of your swing bed, but will also give you that added bit of comfort, especially if you intend on using your swing for some late afternoon napping.
Adding the Right Tables
Another important element that you want to make sure you add to your porch or patio is the right table. This is critical, because part of being able to enjoy outdoor spaces is being able to set out foods and drinks and enjoy them without having to cram plates, cups, and utensils into awkward spaces. You also may not want to add an overly large table as that could detract from your porch or crowd the space too much.
When it comes to your porch or similar area, you always want to be mindful of space and walkability. Far too many decks and porches feature tables that are just too big and unwieldy. This makes navigating the spaces a chore, which translates into no one wanting to use the space at all.
Rather than try and cram a larger table into a smaller space, you should go with one that is smaller and more functional. A high-quality side table that matches the tone of your swing bed, for instance, would be a great investment. Perfect for setting food and drink without cluttering the space or making it feel cramped. If necessary, you could get two matching end tables and place them on either side, or on opposite ends of your porch or patio.
Either way, having a reliable place to put your personal items such as books or your phone, as well as having a spot to place drinks or food items on as well, is a much-needed part of any functional outdoor space.
Supporting Furniture
A table or two will certainly help improve the functionality of your patio or porch, but there are other furniture items to think about adding as well.
As long as you have the room to work with, it's worth investing in additional quality furniture pieces that complement your daybed swing. For instance, comfortable upholstered deck chairs might be worth adding for more seating. A patio sectional is also another seating option if you have more room to work with. The idea is to create an inviting space that people will want to lounge around in. This is how you create a space that is truly a "haven."
Fairy Lights and Lanterns
While the pure functionality of your outdoor space is important, in order to really create an oasis on your property, you will want to consider the aesthetic elements as well. While a bed swing and the right tables and other supporting furniture have to be taken into consideration, there are other ways to augment the look and feel of your space.
For instance, fairy lights are currently a popular way to enhance the look of outdoor spaces, giving them a magical feel that is hard to generate otherwise. Well-placed fairy lights can help a space feel warm and luxurious, especially in the evening hours. What's great about these lights is that they are typically LEDs, which means that they use very little energy, are suitable for the outdoors, and won't get hot either, so there is minimal safety hazard.
An alternative to consider would be any kind of aesthetic lantern. You could hang these from the top of your patio or place lanterns or similar lighting elements along your patio walk or around the border of your porch or patio to create an eye-catching effect that also serves an important practical purpose. Keeping your outdoor spaces well lit for summer evenings will ensure that these spaces aren't underused.
Citronella Candles
You can't create a summer haven without considering what comes with this time of the year. Most notably, the bugs. If you plan on staying outside for any length of time, especially at night, and with a bunch of fairy lights around, you're going to want to make sure that your porch or patio is well-equipped to fend off and distract any annoying insects.
In that regard, it's worth investing in high-quality citronella candles and torches. You don't want to have to battle the denizens of the night while you are trying to relax in your porch bed swing.
Find the Ideal Porch Swing Bed For Your Needs Right Here
There are plenty of great items you can add to your porch in order to make it more livable for the summer months, but none will compare with the coziness and general beauty of a professionally crafted daybed porch swing. These luxurious pieces of furniture are almost like having a lavish sofa or plush bed, but outdoors. This way you can enjoy the fresh air and sunlight in the best way possible.
Of course, the quality of the daybed swing you invest in will impact the experience you have and how long the piece of furniture will last. If you want to make a true investment for your home that becomes a summer staple that you can enjoy year after year, you will want to get yours from a company that knows bed swings.
Here at Four Oak Bed Swings, we offer a superior level of service and quality when it comes to our lovely products. With a wide variety of different styles, you are sure to find one that suits your unique home aesthetic.
Creating a usable space outdoors is well worth your time and money. For many homeowners, this area of the home is often underutilized, which is a shame. Your porch or patio area could become the heart of your home, especially in the summer months when the weather turns for the better. Being able to enjoy the outdoors with your family will help you reduce stress and simply live a healthier lifestyle in general.
If you are thinking about adding a beautiful daybed swing to your home, take a look through our great selection here in our store. You can also reach out to us with any questions you may have about which swing could be right for you, as well as any installation concerns you might have.