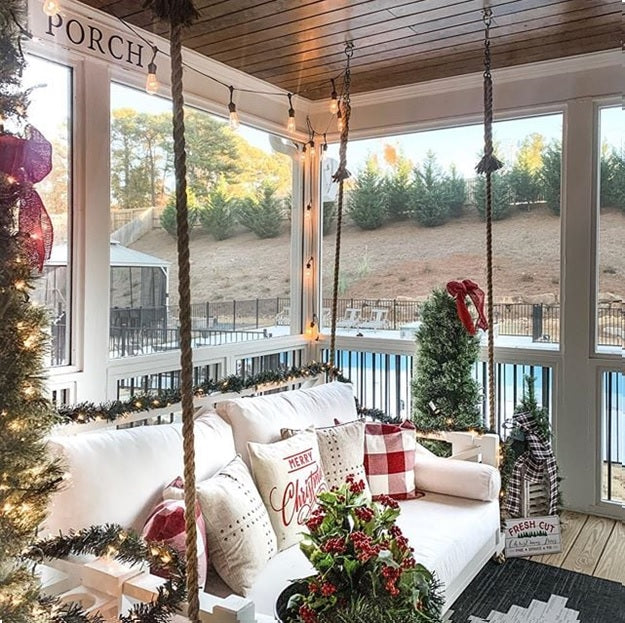 Christmas is just around the corner, and you know what that means!
It's time to start shopping for gifts, right?
Well, sure, but that's not where we're going.
It's time to break out the decorations!
If you're one of the homeowners that really gets jazzed about taking Christmas decorations to the max, then rest assured: if you are creative, there is no blank canvas in your home (or outside) that by right must remain untouched.
Including your porch bed.
So, with no further ado, let's get into some of these creative ways to deck out your porch bed with some seasonal Christmas flair.
String Lights
The great thing about our porch beds (well, one of the great things about them) is that they are all shipped, standard, with a 1" manila rope for hanging them.
This manila rope does more than just provide a means of hanging your bed. It also serves as an anchor point for creative inspiration!
Case in point: use the manila rope as an anchor point for seasonal string lights. White Christmas lights make a beautiful decoration for your porch swing bed's ropes and will not only add depth to your outdoor arrangement, but they will also provide mood lighting.
Colored lights are a great touch, too, especially if you like that sort of thing. Just a tip - get LEDs, instead of incandescent bulbs, if you can. They burn cooler, use less energy, and last much longer.
An alternative option is to mount a seasonal spotlight in the area and direct it towards your house or swing bed, creating light and dark contrast, accenture, and relief - although that's more of an all-seasons decorating idea, and not restrictive to the winter months.
Tinsel and Garlands
If you prefer to keep the lights indoors or don't want to mess with the lighting around your porch bed, you can instead use tinsel and garlands to add some pop and seasonal color to your swing bed.
Wind garlands up the ropes and decorate them with bows and other nice little accents. This will add a nice bit of evergreen touch to your porch bed.
You can even cut and use real evergreen (white pine, holly, and similar plants if you have them in your area). Just be careful when arranging with real evergreen as these boughs can drop sap if you're not careful.
Another alternative is to string tinsel along the ropes. Here's a quick trick - instead of winding garlands up the ropes, square them off along the top, and then hang strands of tinsel and lights from or between them. That will create glitter and capture the light.
You can also make your own garlands with a bit of thread and some beads, popcorn, and other odds and ends.
Ornaments
If you do go with the garland idea, your porch bed will become a unique attachment point for seasonal ornaments.
String up some glass baubles or other themed ornaments and nestle them in the garland or hang them from the ropes.
Glass balls, blown glass, novelty ornaments, keepsakes, and even homemade ornaments make a great addition to your bed swing's garlands.
Another unique idea, if you're going with a natural theme, is to hang cut bits of holly showing the red berries, or to nestle some pine cones in the arrangement.
If You're Really Feeling It, Hang a Wreath
You can also suspend a wreath between two of the manila ropes you use to hang your bed swing.
You can buy a Christmas-themed wreath at most outlets for just a few dollars - but you can also easily make your own with some wire, twigs, and greenery.
Wreaths can be woven from willow twigs, holly boughs, juniper, and pine boughs, among others. You can also create your own wreath form with wire and then glue on pine cones, ribbon, tinsel, and other Christmasy elements.
For those that live in tropical areas, the coastal slant is a nice take on the Christmas theme. Consider making a wreath of shells instead of evergreens!
Seasonally-Themed Bedding, Pillow and Throws
Finally, if you don't want to make any major changes to the theme you have going on around your porch, a simple change of bedding, including pillows and throws, can really change the spirit in a seasonal direction.
Swap out the comforter you have on your porch bed with one that showcases a woodland, snowy, angel, or Santa theme.
The same goes for your pillows and throws. You can leave your comforters in place and simply accent them with new pillows or a throw or two to change up the aesthetic slightly.
Pictorial assistance is not needed here; in fact, you can simply swap the colors. Red and green bedding, pillows, and throws need no motifs. The color alone speaks for itself and says "Christmas" loud and clear!
Get to it and happy decorating; there are only a few weeks left till the holidays are finally here!