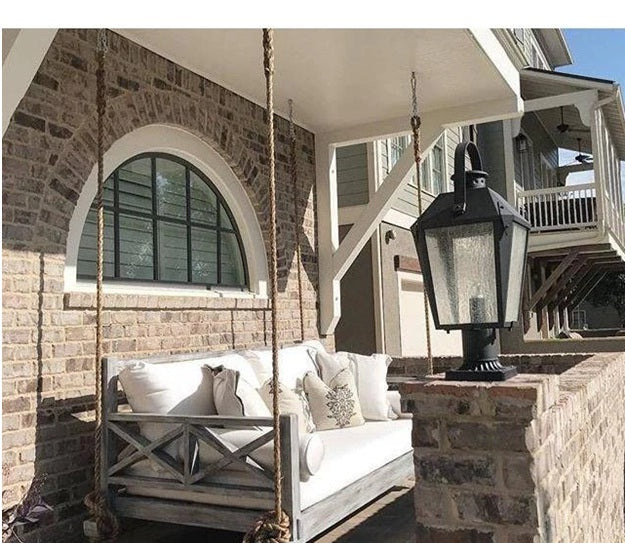 Are you thinking about adding an outdoor hanging bed to the arrangement of your home or porch? Do you still have questions that you would like to answer in the course of your shopping before you go through with the big decision?
Here are some questions that you might have floating around; we'd love to answer any upfront, but just in case you're still wondering about something or other, please feel free to get in touch with us at the number listed at the bottom of this article. If there's one thing besides objective quality that has ensured success for us, it's excellent customer service, so don't be a stranger.
Where can I place one? Does it have to be outdoors?
Guess what - just because it has outdoor in the name doesn't mean that you need to place it outside. In fact, there is plenty of room in your home that might benefit beautifully from the inclusion of one of our elegant designs.
They are wonderful on your front or back porch, and getting outdoors is nice as well, but this is a topic that we have probed at length in our blog. Whether you place one in the vestibule, in a common area or even in your bedroom, it's almost sure to make a hit. By their novelty alone, bed swings make a more-than-amenable statement in most settings. Truthfully, you'll have a harder time finding a location where a bed swing won't work than you will have finding a fitting place.
Place one inside your home or outside of it and it will make a great statement. You'll have a nice, cozy place all to yourself and be the envy of all who see!
Speaking of that, how will one of these outdoor hanging beds stand up to the elements?
In the last section, we mentioned that our bed swings are great additions to the interior of your home while maintaining that they are great for your porch or other outdoor settings. It's also wrapped up in the name - 'outdoor' hanging bed. With that said, we'd like to take a moment or two to focus on quality so you can see just how and why our bed swings are simply built better - because they are.
You can learn more on our "discover the difference" page, but we'll give you a quick synopsis of our quality right here. Our bed swings, all of them, are made from Southern Yellow Pine that is both lightweight and strong, and when treated according to our processes is also resistant to the elements.
We also use heavy duty dowels, screws and wood glue to create the joints as a part of our construction. In fact, the glue we use is so strong that the joints we produce are even stronger than the wood itself.
After all that, we finish each of our bed swings with at least three coats of premium-quality outdoor varnish to buck the elements.
What do I use to hang it?
In addition to the features listed above, all of our bed swings ship with a standard 1 inch manila rope for hanging. Not only is manila rope tough and extremely strong, but it lends a lot of character to the overall setup that is woefully wanting in many synthetic ropes.
It comes as part and parcel of every order and at no extra charge to you.
Will you show me how to hang my bed swing?
Yes, we will show you how to hang it! We even have a dedicated page on our website that illustrates the steps you need to follow in order to safely and effectively hang your new bed swing. All you need is a drill and bits, a five-gallon bucket, and hooks of your choice (and properly rated) in order to do so. Make sure you pack along some creativity just in case.
Check out the following link on how to hang your bed swing if you want to learn more about how to hang it, and if you have any questions at all or you feel something is not clear, get in touch with us right away!
Can I have it in my choice of color?
Yes, you can absolutely have your outdoor bed swing in your choice of color. How could we bill ourselves as a home improvement company if we didn't even offer you a bed swing in your choice of color? Good customer service requires personal customer attention, and we are more than happy to help!
Do you have a hard-to-match yellow color making up the predominant scheme of your porch? Perhaps you are looking for a darker, richer, warmer color? You might even be looking for a bright blue. Whatever the case, let us know what you are looking for and we'll color your favorite bed swing accordingly.
Then make sure you check out our collection of accessories so you can really compliment your extra efforts.
Does it have to be a bed or do you have other options?
That is a good question, but we have some good news. An outdoor bed swing might be called a bed swing, but just as outdoor is not exclusive, neither is "bed" swing. Many of our solutions for improving your outdoor living with a porch swing bed or another form of hanging swing bed don't need to be styled as beds.
Many of our indoor and outdoor swing models really are made more in the likeness of regular swings and smaller seating arrangements than beds, proper. If you're looking for something smaller and more intimate, we have many options in our online shop that would be more fitting for this than for use as a bed.
Check out our collection of bed swings via the link above and see for yourself how you can complement your outdoor spaces (or indoor spaces). You'll see that you can make quite a match for many settings!
Do you sell accessories for your bed swings? Can I accessorize with pillows and other decorative accents?
We absolutely do sell a variety of accessories for your favorite hanging daybed swing. Whether you're looking for a matching table or a set of pillows and throws, we can help.
Looking for a way to add a quick splash of color to your daybed setup? Don't miss a chance to take a look through our cushions and swing accessories, which include many fine examples of cushion packages and much more.
Also at that link above you can see other useful and practical accessories like cup holder attachments and comfort springs, which will make your bed swing so much more comfortable. Normally, a bed swing will only move along two dimensions, but when you add the comfort springs, your bed swing will sway and bounce like a boat in harbor. It's so much more cathartic and pleasant!
Also make sure you check out our link to custom made tables so you can get inspired with additional design ideas for your home's other spaces!
Can an outdoor hanging bed actually help me relax or get better sleep?
This, like your ability to use a swing bed in so many different settings, is another topic that we have investigated at length in our blog. To keep things relatively short, we'll say that while evidence is certainly anecdotal and not clinical, there are a lot of people that prefer sleeping in a suspended-state, such as in a hammock.
A bed swing, especially when paired with the comfort springs mentioned above, offers what is potentially an even more pleasant experience than a hammock. With springs like these, the swing can move up and down in addition to back and forth and will gently rock you through your slumber.
So, can it help you sleep better? Maybe - if you like sleeping in a hammock, a bed swing might be just to your liking!
Are your bed swings and porch swings tough? What do you do to ensure quality?
As you can see from the entry above on the construction of our outdoor hanging beds, they are very tough and more than capable of withstanding the elements, at least when they are properly cared for. Treat them as you would treat another piece of outdoor furniture made from natural materials and they will provide you with many years of enjoyment and relaxation.
What are they made out of?
As stated above, our bed swings are made from Southern Yellow Pine and feature uncommonly tough construction, with joints that are tougher than the actual wood itself. Light, strong and dependable, they will last for many years. If you're just popping in at this point of the article, keep in mind that the swings come with a standard 1-inch manila rope that is also strong and classy.
What if I'm looking for ideas for decor? Can Four Oak Bed Swings help?
Yes, here at Four Oak Bed Swings we offer several options for decoration and accessorization with your new bed swing. Whether you're looking for a custom table, which you can investigate at the link above, or for a set of cushions and pillows, which you can also find above, we offer plenty for your spaces. As stated, we also offer our bed swings in a wide range of colors and styles as well. Whatever your vision for your home, you can achieve it with one of our models!
Do I have to assemble any of your swings when they get to my house?
This might be the best little piece of news we're offering in this article yet. Due to the uncommonly rugged and durable construction of our bed swings, they are not shipping in a 'modular' fashion, for lack of a better term.
What does that mean? Well, for you, it means that our bed swings ship in basically one piece and that you are not responsible for assembly. Basically, you just pick out the bed swing that appeals to you, order it, and when it gets to you, you're ready to hang it and get back to what matters most - relaxation!
On that note, how much does Four Oak Bed Swings charge for shipping?
The good news is about to keep on coming. It would be reasonable to assume that a large, bulky object like an assembled bed swing would be cumbersome and difficult to ship. It would follow, then, that a large, assembled bed swing would rack up high shipping charges.
That assumption would be reasonable, but it would also be wrong. Don't ask us how we do it (trade secret) but we offer free shipping on all of our bed swings, despite the fact that they ship assembled.
What you see is the amount you have to pay, so don't worry about budgeting extra for exorbitant shipping fees. With Four Oak Bed Swings, there are no exorbitant shipping fees. There are no shipping fees at all!
What if my question wasn't answered here?
We hope we've been able to set aside some of your questions and concerns in this article, but in the event that you still have outstanding questions, don't be afraid to get in touch with us. Remember, we're only ever a phone call away, and never farther.
Give us a call at 334-202-2870 if you want to learn more about how we do what we do or you have more specific questions about our swing beds. As we stated, we wouldn't be much of home improvement specialists if we didn't offer excellent customer service.
Call us up - we welcome questions, comments, and concerns and we're more than happy to field all of them. Additionally, if you'd rather reach out to us via email you can do that as well. Just send a message over to david@fouroakdesigns.com and we'll get right back to you.
In the meantime, cozy up to some of our designs as you look through our website. We're sure there's something in here for you. Once you've made the decision to add a bed swing to your design, we make the rest easy!