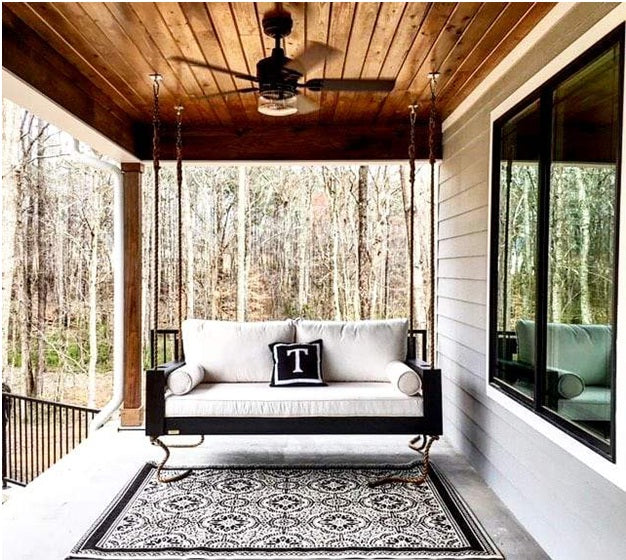 We all need places we can go to in order to relax and get away from it all. It seems our list of responsibilities grows every day, and as we try to cram more into our already overloaded schedules, stress and burnout are only natural.
This is where a porch hanging swing could make a real difference in your ability to mitigate your stress and find an oasis of peace even when life gets a little crazy. We have put together this short guide detailing some of the reasons why this one piece of furniture is worth adding to your home if you are looking for some unorthodox but reliable self-care techniques. 
The Many Benefits of Porch Hanging Swings
When we're feeling stressed, what are two of the most common places we go to relax and cool off? Sofas and beds, of course.
Imagine combining some of the best elements of these two furniture pieces while being suspended in mid-air and enjoying the outdoors all at the same time? If this sounds like your idea of serenity, then you are in the right place.
Porch hanging swings are elegant comfort solutions that are installed on your porch or patio, and which offer a truly incredible degree of functionality and plenty of aesthetic appeal as well. They possess a refined look that immediately improves the atmosphere of your home, but this is just a hint of their value.
Where these furniture pieces truly shine is in their ability to help people enjoy the outdoors, relax, and have fun. Think about the last time you actually spent a significant amount of time on your porch. Even under favorable weather conditions, the limited furniture options and lack of comfort tend to make staying indoors a more viable option, especially if you are specifically looking for a way to relax.
It's worth noting that many of us find the outdoors to be a great natural stress reliever. Being able to spend time outside has been shown to be a great way to improve mood and promote health and well-being in general. You could almost say that getting outside is just about essential for keeping stress under control and simply living a healthy lifestyle.
Unfortunately, not all of our homes are equipped with great ways to enjoy the outdoors. A daybed swing can change all that, by offering homeowners an incredibly comfortable piece of outdoor furniture that will make spending time outdoors fun and desirable. Owning one of these pieces of furniture is almost like having a hybrid bed/couch right on your deck or patio. In terms of places where you would like to unwind after a long day at work, it's difficult to imagine a place that's better suited for such a task.
You will find that the gentle swaying of a porch hanging swing, alongside its other comfortable factors, are great at naturally relieving stress. For anyone dealing with a packed and busy schedule, long work days, and general chaos, having one of these pieces of furniture may offer you the sanctuary you have been looking for.
Relax With One of Our Quality Swings
Being able to relax at home is incredibly important. A porch hanging swing is great for getting away from it all, wrapping yourself up in a blanket with a great book and a cup of tea, or getting some rest while enjoying the fresh air of the outdoors. There are so many ways that one of these pieces of furniture could be incorporated into your wellness routine, so if you are interested in making a purchase that will enhance the overall quality of your home, this is it.
You do want to make sure that the porch bed swing that you invest in is designed properly, however. You will want a piece of furniture that will last you for years, that will almost become another part of the house. A feature, if you will.
In that regard, you will find just the thing here at Four Oak Bed Swings. All of our furniture is handcrafted with the finest materials and attention to detail, so that every piece not only provides the kind of sturdy construction you can count on, but also an unparalleled degree of artistry as well.
Don't underestimate how important it is to be able to enjoy the outdoors and find ways to relax in your own home. With the help of one of our high-quality daybed swings, you can give your home that extra bit of comfort you are looking for that will allow you to de-stress and take advantage of the outdoors all year 'round. Contact us today if you are serious about investing in one of our beautiful bed swings, or for additional information on shipping, installation, and other questions you may have!