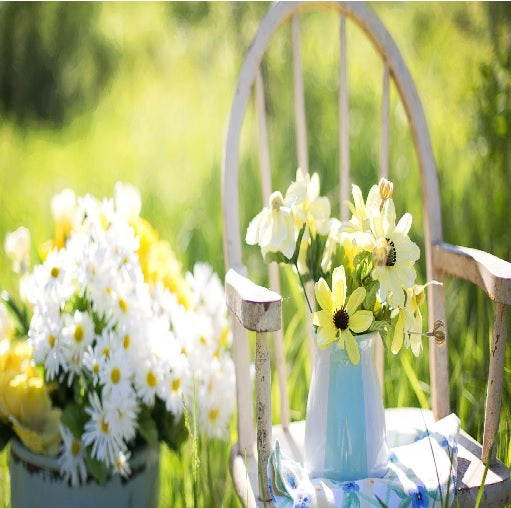 Do you dream of having a relaxing oasis in your own backyard? A place where you can escape from the stress and noise of everyday life? A place where you can enjoy nature, read a book, meditate or simply unwind?
If so, you're not alone. Many homeowners want to create a backyard retreat that feels like a resort-inspired getaway. But how do you achieve this without spending a fortune or hiring a professional landscaper?
The good news is that you don't need a lot of space or money to turn your backyard into a tranquil retreat. You just need some creativity, planning and inspiration. Here are some tips and ideas to help you get started.
Consider a daybed swing
When it comes to furnishing a backyard, homeowners are generally spoiled for choice. You can add a variety of seating options to your backyard oasis, from lawn chairs to outdoor sectionals.
Some people enjoy the concept of putting a hammock in their backyard or patio for a quiet space to unwind. Why not take it to the next level by going with a daybed swing instead? Here at Four Oaks Bed Swings, we have a wide selection of daybed swings for you to choose from.
The main advantage of a daybed swing over a hammock is its stability. Getting into and out of a hammock can be difficult, especially for people with disabilities or the elderly. A daybed swing functions just like a regular daybed, with the only difference being that–well–it swings! We also offer additional accessories that go perfectly with our daybed swing offerings, such as outdoor cushions for added comfort, or wine glass holders that can hold just about any beverage you'd like to lounge with.
Add privacy hedges
Privacy hedges are a must if you want to feel your backyard to feel a little more secluded.
These are plants that grow tall and dense enough to block unwanted views from neighbors or passersby.
They can also help reduce noise pollution, filter air pollution, and provide shade. Some of the best plants for privacy hedges are evergreens such as arborvitae, boxwood, holly or juniper. You can also use flowering shrubs such as lilac, hydrangea or rose for more color and fragrance.
You can plant privacy hedges along your fence line, around your patio or deck or along pathways. They can also be used to create focal points or accentuate features such as water fountains or statues.
Grow climbing vines
Another way to add more greenery and charm to your backyard retreat is to grow climbing vines. Climbing vines refer to plants that have long stems that twine around supports such as trellises, arbors, pergolas or fences.
These types of plants can create a stunning visual effect by covering walls, roofs or structures with lush foliage and flowers. They can also provide shade, privacy and fragrance. Some of the best climbing vines for backyards are clematis, wisteria, honeysuckle, jasmine, morning glory, bougainvillea, and ivy.
You can grow climbing vines over doorways, up trees, trellises, or archways. You can also use them to create living walls or curtains that separate different areas in your backyard retreat.
Add a water feature
Nothing says tranquility like the sound of water flowing gently in your backyard. A water feature can add beauty, serenity and life to your outdoor space. It can also attract birds, butterflies and other wildlife that will enhance your connection with nature.
There are many types of water features you can choose from, depending on your budget, space, and personal preferences. Some examples include ponds, fountains, birdbaths, waterfalls, streams and rain chains. You can also DIY your own water feature using materials such as pots, bowls, buckets, pipes or barrels.
You should place your water feature where you can see it easily from inside your house or from your favorite spot in your backyard retreat. It should also have access to electricity (if needed) and a water supply (if not recirculating). For optimal performance, you'll also want to clean and maintain it regularly.
Define spaces with planters and containers
One of the challenges of creating a backyard retreat is how to make it feel cozy and inviting without cluttering it with too many furniture pieces or accessories. A smart way to solve this problem is by using planters and containers to define spaces and add interest to your backyard retreat.
Planters and containers are versatile and flexible elements that can help you create different zones, such as dining area, lounge area, meditation area or herb garden. You can also use them to add color, texture and height to your outdoor space.
You can use different types of planters and containers, such as pots, bowls, baskets, barrels or crates. You can also DIY your own planters using materials such as wood, metal, concrete or plastic.
To arrange your planters and containers effectively, group similar materials and colors of planters together, and arrange them in different heights and sizes to create a tiered effect. Use them to fill any gaps in your border, add color to your fence or wall, or frame a feature such as a water fountain or a statue.
Varying the size, texture and heights of the plants you use is a good idea. If you're using plants with mostly green foliage, try using a few different colors of containers to add a little more brightness to the group.
Turning your backyard into a tranquil retreat is not as hard as it may seem. With some planning, creativity and inspiration, you can transform your outdoor space into a relaxing oasis that you will love spending time in.