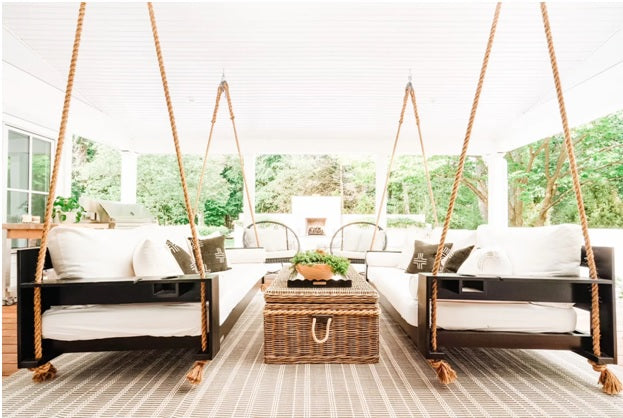 When you step into a restaurant or café, what sets the truly exceptional ones apart? Is it just about the menu and ambiance, or is there something more that lingers in the air, making the experience unforgettable?
Imagine this: you're seated at a cozy corner table, surrounded by the soft glow of lights and the aroma of delectable dishes. But there's a twist – instead of traditional seating, you find yourself on a porch swing bed.
Intrigued?
In this article, we delve into how these hanging daybeds can bring a whole new flavor to the restaurant and café scene, redefining not just how we eat, but how we connect and unwind.
Elevating Ambiance and Comfort:
Imagine sipping on a cup of coffee while gently swaying back and forth, a cozy blanket draped over you. It's not just a meal; it's an experience.
Elevating the dining experience goes beyond offering exquisite cuisine; it's about creating an ambiance that captivates patrons and keeps them coming back for more. This is where porch bed swings step onto the stage, offering a plethora of benefits that have a lasting impact on both your establishment and your valued guests.
1. Setting the Scene for Unforgettable Moments:
The charm of porch bed swings extends beyond their visual appeal; they offer a space where moments are woven into memories. As patrons settle into these cozy havens, a transformation occurs. Conversations flow more freely, and laughter resonates amidst the gentle sway.
Whether it's a romantic date night or a gathering of friends, the swing beds set the stage for intimate connections and cherished moments, elevating the overall experience of your restaurant or cafe.
2. A Memorable Marketing Asset:
In the age of social media, every corner of your establishment becomes a potential backdrop for captivating photos. Porch bed swings offer a picturesque setting that patrons can't resist capturing and sharing on their social platforms.
This organic marketing exposure extends your establishment's reach, attracting potential customers who are intrigued by the innovative seating options. Your restaurant or cafe becomes a destination not just for culinary delights but for the experience it offers.
3. Inviting a Return:
The combination of comfort, aesthetic appeal, and unique experience fosters a sense of loyalty among patrons. A visit to your establishment becomes more than just a meal; it's an outing that lingers in memory.
Whether it's a solo writer seeking inspiration, a couple on a special date, or a group celebrating milestones, the porch bed swings become synonymous with delightful experiences. This sense of connection encourages patrons to return, not just for the food but for the emotional resonance your establishment provides.
Versatility in Design:
One of the wonders of porch swing beds is their adaptability to various design aesthetics. Modern, rustic, eclectic – there's a swing bed to match every theme.
1. Crafting Contemporary Elegance: The Avalon Bed Swing
Imagine stepping into a contemporary café adorned with sleek porch swing beds, each one epitomizing the fusion of sophistication and comfort.
Here, the Avalon Bed Swing reigns supreme. It's the embodiment of clean lines and modern aesthetics, meticulously designed for both allure and practicality. The swing bed boasts certain boards on both sides and the back, thoughtfully preventing pillows from slipping through gaps – a testament to the union of design and functionality.
And who could forget the cup holders, an essential indulgence that turns sipping into an art form? Warning: A glass of wine enjoyed on this swing bed may result in an intense state of pleasure and a distinct lack of motivation for anything else.
2. Expressing Rustic Nostalgia: The Westhaven Bed Swing
The Westhaven Bed Swing is another gem that brings a touch of nautical-inspired luxury to your commercial space. Crafted from solid kiln-dried pine, this swing bed promises years of comfort and relaxation whether it graces your indoor haven or outdoor deck.
The Westhaven Bed Swing is no stranger to customization either. With a vibrant spectrum of 15 colors, from the earthy tones of Fiery Brown to the timeless elegance of Pure White, you have the power to curate an ambiance that resonates with your establishment's unique character.
Its thoughtful design brings indoor coziness to outdoor spaces, creating a haven for relaxation. The optional handmade tabletop wine glass holders only enhance the experience.
3. Capturing the American Dream: The All American Bed Swing
For those establishments that embody the essence of relaxation, the All American Porch Bed Swing is a match made in heaven. This swing bed is all about embracing the classic Americana charm, complete with large armrests and optional cup holders or wine glass slots.
Available in a tantalizing selection of 15 hues, from the confident stance of Tricorn Black to the calm allure of Linen. This diversity ensures your swing bed doesn't just complement your design theme; it becomes an integral part of it.
Where Dining Dreams Take Flight
At Four Oak Bed Swings, we don't just craft swing beds; we craft experiences that blend seamlessly with your establishment's soul.
So, as you imagine your café or restaurant becoming a haven of aesthetics and comfort, consider just how porch swing beds create the impact you need to please your customers.
It's more than a swing; it's a design statement that speaks volumes about your commitment to creating unique and inviting spaces for your valued patrons.