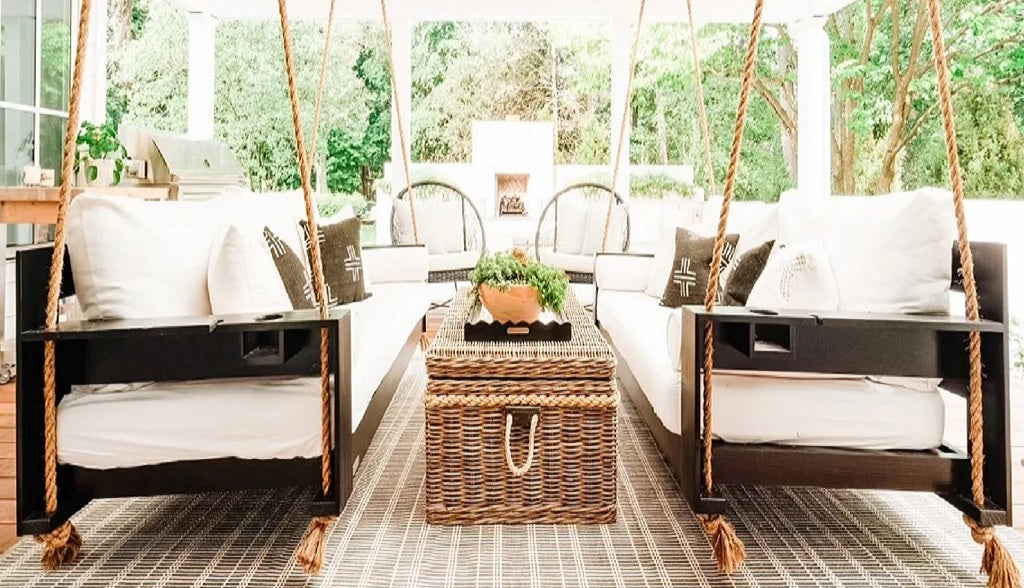 When it comes to outdoor living spaces, your patio is the perfect spot to relax, entertain, and connect with nature. It's a place where you can soak up the sun, enjoy a refreshing breeze, and create lasting memories with friends and family. But have you ever considered adding seasonal features to your outdoor patio? These additions can truly transform your space and make it even more enjoyable throughout the year. Let's explore why it's important to embrace the changing seasons and enhance your outdoor experience.
Extend the Usability of Your Patio
By adding seasonal features to your outdoor patio, you can extend its usability and make the most of every season. During the warmer months, you can incorporate elements like shade sails or pergolas to provide relief from the scorching sun. These additions not only create a comfortable space for outdoor gatherings but also protect you and your loved ones from harmful UV rays.
In the colder months, you can install outdoor heaters or a fire pit to keep the chill at bay, allowing you to continue enjoying your patio even when the temperature drops. With these additions, your patio becomes a versatile space that can be enjoyed year-round.
Create a Welcoming Ambiance
Adding seasonal features to your outdoor patio can also help create a welcoming ambiance that reflects the spirit of each season. For example, during the festive winter season, you can adorn your patio with string lights, wreaths, and cozy blankets to create a warm and inviting atmosphere.
In the spring, you can incorporate colorful planters filled with vibrant flowers, creating a refreshing and rejuvenating environment. By adjusting the decor and elements of your patio to match the season, you can set the mood and create an unforgettable experience for both yourself and your guests.
Connect with Nature
One of the main reasons we love spending time on our patios is to connect with nature. Adding seasonal features can enhance this connection even further. During the summer, you can introduce potted plants and lush greenery to create a natural oasis right in your backyard. The sound of chirping birds, the scent of blooming flowers, and the gentle rustling of leaves can transport you to a serene and calming environment.
In the fall, you can incorporate elements like cozy seating, a soft blanket, and a hot drink station, allowing you to immerse yourself in the beauty of the changing leaves and crisp air. By embracing the seasons through your patio, you can forge a deeper connection with the natural world.
Express Your Personal Style
Your outdoor patio is an extension of your home and a reflection of your personal style. Adding seasonal features allows you to express your creativity and showcase your unique taste.
Whether you prefer a modern, minimalist design or a cozy, rustic feel, you can tailor your patio to align with your preferred aesthetic for each season. By incorporating seasonal decor, furniture, and accessories, you can transform your patio into a space that feels truly personalized and brings you joy.
Make Lasting Memories
Lastly, by adding seasonal features to your outdoor patio, you create an environment that facilitates memorable experiences. From summer barbecues and pool parties to cozy winter gatherings and springtime brunches, your patio becomes a backdrop for countless cherished moments.
Each season brings new opportunities for connection, laughter, and relaxation. By embracing these seasons and enhancing your patio, you set the stage for creating lasting memories with your loved ones.
5 Seasonal Features to Add to Your Outdoor Patio
Your outdoor patio is a wonderful space where you can escape the confines of indoor living and enjoy the beauty of nature. Adding seasonal features to your patio not only enhances its appeal but also allows you to make the most of each season. By incorporating different elements throughout the year, you can transform your outdoor oasis into a versatile and inviting space. Let's explore five seasonal features that will add charm and functionality to your patio.
Embrace the Warmth with Daybed Swings
When the sun is shining and a gentle breeze is in the air, there's nothing more relaxing than lounging on a daybed swing. These versatile pieces of furniture not only provide comfortable seating but also offer a touch of elegance and charm to your outdoor patio. Daybed swings are perfect for lazy summer afternoons, where you can indulge in a good book, take a nap, or simply enjoy the surroundings. With plush cushions and a gentle swaying motion, a daybed swing can create a serene and inviting atmosphere for relaxation.
Our hanging daybed swings here at Four Oak Bed Swings are the perfect addition to your patio! Simply look through our collection of handcrafted bed swings from the main page and pick out a daybed swing that suits your outdoor aesthetic. 
Cool Down with a Refreshing Outdoor Shower
As the temperature rises during the hot summer months, staying cool becomes a top priority. Installing an outdoor shower on your patio is a refreshing addition that allows you to cool down while enjoying the outdoors.
Imagine the convenience of rinsing off after a dip in the pool or a sweaty workout session without having to step inside. An outdoor shower not only adds a practical element but also creates a spa-like ambiance, making you feel like you're on a luxurious vacation.
Embrace Coziness with a Fire Pit
As the leaves begin to change and a slight chill fills the air, gathering around a fire pit on your patio creates a cozy and inviting atmosphere. A fire pit serves as a focal point, bringing warmth and a sense of togetherness to your outdoor space.
It's perfect for roasting marshmallows, telling stories, and enjoying intimate conversations with loved ones. With a fire pit, you can extend the usability of your patio into the cooler months, creating memorable moments that will be cherished for years to come.
Create an Outdoor Dining Haven
The arrival of spring brings pleasant weather and an opportunity to dine alfresco. Transform your patio into an outdoor dining haven by adding a dining set that suits your style and accommodates your needs.
Whether it's a quaint bistro set for intimate meals or a large dining table for hosting gatherings, having a dedicated space for outdoor dining allows you to savor delicious meals while immersing yourself in nature. Enhance the ambiance with string lights, candles, and vibrant floral centerpieces for a truly enchanting experience.
Stay Comfortable with Shade Solutions
During the scorching summer months, it's essential to have shade options to protect yourself from the sun's harmful rays. Incorporating shade sails, pergolas, or retractable awnings into your patio design not only provides relief from direct sunlight but also adds a stylish and functional element to your outdoor space.
These shade solutions not only keep you comfortable but also prevent furniture and outdoor accessories from being damaged by excessive exposure to the sun. Now you can enjoy your patio without worrying about the heat or harmful UV rays.