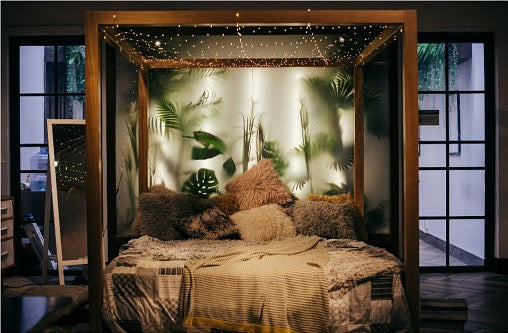 As popular as minimalist and modern design has become, some of us simply aren't drawn to that aesthetic. While some people may find peace and serenity in narrow silhouettes and monochromatic color palettes, others feel that its harsh lines and emphasis on the industrial make for a home that feels impersonal, cold, and empty.
Indeed, plenty of adults are young at heart, still longing for magic and whimsy–and they wish to incorporate that feeling of wonder into their homes. The bedroom is an excellent place to start: there's no good reason why it shouldn't look and feel like your very own enchanting personal haven.
Now, you might be asking: how does someone incorporate magical and whimsical elements into a bedroom design without making it look like a child's bedroom? Read on to find out:
Make your bed the centerpiece
Every fairytale bedroom starts with a bed fit for a queen (or princess). Not just any old bed will do–no member of royalty would be caught dead sleeping on a thin mattress and threadbare sheets!
Fortunately, there are plenty of ways to elevate the appearance of any ready-made bed, even ones bought from big box stores. One of them involves literally elevating the bed: opt for a tall frame that lifts the mattress higher off the floor for a glamorous look. Another method is to go big with your bed with an oversized mattress and accompanying statement headboard. Pile on overstuffed pillows and thick, luxurious bedding to make it look and feel extra indulgent.
As an alternative to a traditional bed, you may want to consider a hanging daybed swing. Our wide variety of selections here at Four Oak Bed Swings include hanging daybed swings of all sizes, styles, and orientations. We especially recommend The Buckhead hanging daybed swing, available in twin and full sizes for adults. As our most versatile bed swing, you have the option to remove any or all sides of the swing to your liking. Leave the sides on for a traditional swing look, or take them off for a floating bed you'll love drifting off in.
If you have enough space in your bedroom, you may also want to consider The Hanging Bed. In addition to twin and full sizes, it also comes in queen and king sizes–the ultimate in royal comfort and style. Available in Southern Yellow Pine, Western Red Cedar, or Reclaimed Antique Heart Pine, this is a statement of a bed that's functional yet playful, and exceedingly comfortable. You can fully customize the appearance of your order through our website, from paint or stain to ceiling height, to fit your preferences.
Find fabrics fit for royalty
Nothing makes a bedroom look and feel more luxurious than plush fabrics. In addition to improving your comfort, they add color and texture to the space, creating a more opulent atmosphere.
Investing in quality bedding is a must, of course, but adding accents that make use of silk, satin, and velvet can transform a boring bedroom into one that looks like it was pulled out of the pages of a storybook. Real or synthetic fur accents such as rugs, throw blankets and pillows also provide visual and textural contrast. A gossamer veil of thin gauze or voile over the bed evokes the classic tale of Sleeping Beauty, creating a cozy ambiance and a feeling of additional privacy.
While you're at it, don't forget the windows. Commit to the theme with heavy floor-length draperies or light, translucent curtains that let plenty of natural light in.
Use dreamy lighting
Light contributes the most to the atmosphere of a room. Choosing the sources and fixtures thoughtfully for your bedroom will help put you in the mood for rest and relaxation.
When you think of fairy tales, you don't think about bright LED lights or neon RGB, do you? Warm tones will best fit the concept, so go for bulbs that throw yellow or orange lights instead. Not only do these give off a more intimate feel, they'll also help you sleep better by minimizing the amount of blue light you absorb at night.
As for fixtures, you can go with vintage sconces or chic shaded lamps. The idea is to control the amount of light in the bedroom so that it's always soft and inviting. If you can, splurge on a chandelier that incorporates princessy materials like crystal and heavy metals. Scattering a few scented candles around won't hurt, either.
Looking for a cheap way to light your space? String lights call fairies and fireflies to mind, and you can liberally hang them above your headboard or around the bed. You can also bundle them into a nest and store them in large glass jars to create a sweet makeshift lamp for your dresser or nightstand.
Bringing magic into your bedroom doesn't have to require witchcraft or wizardry. By focusing on the right details, you, too, can create the bedroom of your childhood dreams, but one that still looks like it belongs to a grown-up. For more inspiration, check out the Four Oaks Bed Swings main page now.