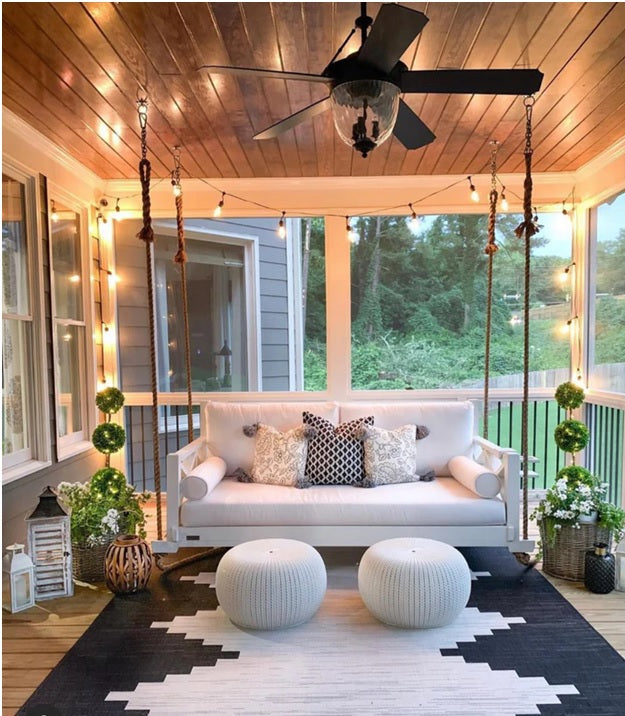 Have you recently installed a hanging porch bed in your home? Maybe you have and right now you're thinking that the rest of your front porch seems barebones. After all, a porch bed takes up a lot of space, and might very well have displaced some of the furniture you'd previously set up on the porch.
That said, there are a few pieces of furniture that can go really well with a hanging porch bed. The main idea, though, is to try and create certain zones or areas that are suited for a certain type of activity that's usually done on the porch
A Place to Wind Down and Relax
This zone can be a specific spot on your porch or patio that's designated specifically for relaxation. More often than not, it's in this zone that you'll be installing your hanging porch bed. But more than just that, though, here are some other ideas you can incorporate into this area.
1. Rocking Chairs
By design, hanging beds usually swing back and forth. Why not extend that theme even further by adding a couple of rocking chairs that are perfect for those that prefer seats that's more firm and with fewer cushions.
2. Day Bed
For those with more space on their front porch, a daybed is a good idea. Perfect for those that prefer a more stable rest without the swinging motions, a day bed would be a great addition to your zone of relaxation.
3. Portable Fire Pit
While it may not be ideal to lounge about on the front porch during the winter, a small fire pit can help manage temperatures for days where it's not too chilly, but could use a little warmth.
4. Lounge Chairs
For times when you don't want to take a nap on the porch, but would rather do some light reading, lounge chairs are the perfect way to settle down and bury your nose between the pages of your latest read.
5. Bean Bags Chairs
Perfect for the kids, bean bags are low enough for young children to easily reach, rest, and lounge about in. Not to mention, they also easily accommodate kids' more fidgety nature, making them the perfect comfort chair for the little ones.
A Place for Tea and Biscuits
Another common area often found on a front porch is a place where you can gather a few family and friends for a bit of coffee, tea, and biscuits. For this, all you need is a fantastic outdoor dining set. Here are a few ideas on the sets you could choose from.
1. Wood & Rattan Sets
If you're going for that country or summer feel, wood is the perfect accent. The rattan gives off that tropical vibe, especially when paired with some warm and vibrantly colored pillows and cushions.
2. Club chairs & lounge chairs
Paired with a side table, this could be the perfect setting for coffee or tea for one. What better way to watch the sunrise or sunset‌ than with a decent brew to keep you warm.
3. Patio dining chairs & sets
These sets come in a variety of types and materials, including steel, plastic, alloy, and aluminum. What's important‌ is that they fit the overall aesthetic that you're going for.
Other Porch Furniture Ideas to Add
Now that you're done figuring out the basics of your porch layout, you can think about how to add more color and personality to your porch. Here are a couple of great ideas to supplement  the furniture that you've already setup to go with your new hanging porch bed.
1. Potted Plants
There's just something incredibly homely about potted plants. Adding them, however, requires that you pay attention to both the pottery and the plants that you'll end up choosing.
If you're having trouble keeping your plants alive, for example, it might be a good idea to go with more low maintenance flora. A Peace Lily, for example, is a very good plant for beginners as you'll easily be able to tell that it's lacking water when its leaves start to droop.
Other low maintenance plants that you can consider adding to your porch are: Aloe Vera, Snake plants, Spider plants, the Swiss Cheese Plant, or the Philodendron.
2. Cushions & Blankets
While your chairs, sofa, day beds, and tables create the base colors of your front porch, it's the cushions and blankets that you add on top of that accentuate their overall look and feel. Cool colors like blues and greens tend to be more calming and relaxing compared to warm colors like reds and yellows. Warmer colors tend to give off a more energized and active aura.
When considering decorating each zone in your front porch, then, it's important to take into account the colors involved and how they can help bring out the best effect in each area.
3. Rugs & Carpets
More than just your regular welcome mat, having a good rug on your front porch can also help lighten or liven the atmosphere. Color theory applies to rugs as well, but overall what's most important is the material that the rugs you choose are made from. As much as possible, you want a carpet that can withstand outdoor conditions without breaking down just after a few months.
In the end, when it comes to choosing what furniture to fill your front porch or patio with, you want to make sure that you're able to capture the overall mood and feel that you're going for. If you plan on spending most days relaxing on your new hanging porch bed, or sipping tea on your patio dining set, then choose the colors, sets, and materials that will best suit that lifestyle.
Of course, having the right porch bed is important as well, especially if you're planning on this being the main centerpiece of your front porch. If you're looking for a good porch swing bed, then, that's of high quality and make, we recommend checking out our selection of high quality handcrafted bed swings. Browse through our selection on our website, or send us an email or message if you need help to choose.