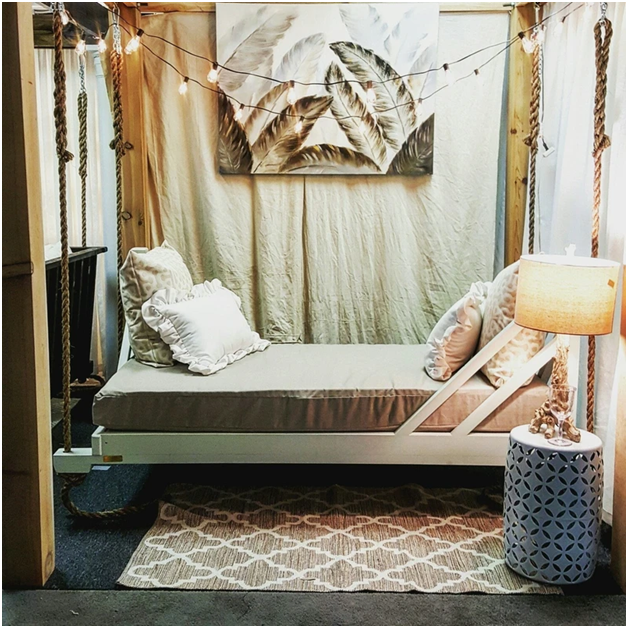 At Four Oak Bed Swings, our specialty is not a surprise, and we don't keep the secrets to our style under wraps. We do what we do well, and what we do well is making some of the finest bed swings in the country; even in the world. That's why our designs have been prominently featured on HGTV and are so highly regarded by our customers. Call it a niche market if you will, but anyone who is serious about a hanging daybed knows there's only one name that really matters, and that name is ours.
Still, being a niche market, you might have thought, after some cursory research, that all swing beds were created equal, and that there wasn't too much you could expect from them in terms of style or design. We're here to tell you that this couldn't be farther from the truth, and we aim to prove it.
First off, our collection of porch swings and hanging bed swings are exemplary - and unique - for their quality. Each and every one of our hanging swings is made and finished entirely by hand.
Our swing beds are handcrafted using Southern Yellow Pine, which is noteworthy for the unique balance of strength and lightweight durability that it offers. We use heavy-duty hardware and adhesive in our construction; our components are of such high-quality, that the joints we finished are actually stronger than the wood itself.
Every swing bed is finished with at least three coats of an extremely durable outdoors-grade finish so that even in the face of sunlight, humidity, and varying temperatures, they will be able to buck the elements for years to come.
We offer a collection of outdoor cushions and pillows as well, and most importantly, we offer our bed swings in a number of different colors options - fifteen, to be exact - so that no matter where you hang it, it will mesh with the color scheme and the prevailing elements of design.
When it comes to comfort, there is no hanging daybed like a Four Oak Bed Swing. We attach our ropes at the sides of the bed swing instead of in front of and behind them so that you can enjoy a more relaxing, freer movement than you would experience with an alternative configuration. Best of all, our swings are built in such a fashion that you can lean back in them without them abrading your legs, which experience is an unfortunate reality with the swings of some other producers.
In terms of quality, there is no room for concession. Four Oak Bed Swings determine it. The purpose of this article, however, is to illustrate the diversity and compatibility of our product line, so sit back and enjoy this overview. You will see that there's a swing bed for just about any setting, and who knows - you may just discover it right here.
The Seaside Bed Swing is one of our smaller and more basic models, and it's just about ideal for building into almost any setting. Not as large as some of our other larger models, the Seaside Bed Swing can be built into smaller rooms or into the design of a porch with a smaller overhang. You might not have thought of this as a replacement for the bed in your room, but climb into one and you'll be thinking twice about that.
Still, we might offer some better options for bed swings to make a replacement for your indoor bed and some of them might even be able to help you get better sleep. However, this model is better for a little casual rest and relaxation; pair it with a good book and your favorite Rioja and you will have the makings of a perfect time.
The All-American Bed Swing is another classic, and though we offer it in crib, twin and full sizes, it, like the Seaside Bed Swing is ideally suited for lounging on the porch, and as we say, watching the world go by.
It may not be as large as some of our other bed swings, but that's perfectly fine because it excels at what it does, and what it does it provide a cozy little retreat away from it all where you can appreciate the time you have to slow down and enjoy and reflect on life.
Part of the versatility of our All-American Bed Swing comes by virtue of the fact that it has built-in armrests, making it like the perfect floating couch. As we mentioned before, there are other bed swings that would make for a more fitting replacement of your nighttime bed, but there are scarcely any better ones for replacing your couch. Or, more fittingly, this hanging daybed just might be better suited as a secondary couch for your porch, rather than as a replacement.  
Traditional courting seating arrangements make use of a relatively unique design whereby the occupants sit face to face with each other, for a greater degree of intimacy. Therefore the reason for the name; our "Courting" Bed Swing is our own take on this style of seating. We don't do traditional seating, but we occasionally do take traditional elements and elevate them to an art form.
Also available in three sizes, the "Courting" Bed Swing might not make the best replacement for your bedroom's current bed, but it would be a great accessory for the porch or any common area in your home. In fact, it would be the perfect addition to a cozy little nook, whether you enjoyed its comforts in the presence of another or not. It's ideal for those looking for a little hideaway with their "special someone," but it also happens to be a comfortable solo seating arrangement. Comfortable, cozy, and unique, our "Courting" Bed Swing could make a fair match for almost any setting, in any room in the house.
The Buckhead is noteworthy because it is probably the most versatile hanging daybed that we offer here at Four Oak Bed Swings. It comes with two sides and a backrest as well as armrests, but all of these are removable, depending on where and how you want to use the bed swing.
Leave the sides up and remove the backrest to give yourself some extra space, or remove the sides and leave the backrest and get this bed in a full and you will have the perfect, the ultimate hanging daybed that you can place in any setting. Put it in the bedroom, in a sitting area or out on the porch and you'll not only be remarkably comfortable, you'll turn heads as well. Put this daybed anywhere in your home and you'll be more than happy with it; it gives you the versatility to fill just about any role!  
Our R&R Bed Swing is getting into the realm of full-size bed wings that could make a good replacement for the bed in your room, should you so choose. Even so, that's not the thing about the R&R Bed Swin that really defines it and makes it so unique. Don't be fooled by the name, because the R&R in this title is not what you might have expected it to be.

 

R&R; perennially referred to as rest & relaxation, is not, specifically, what the R&R refers to with this bed swing. Our R&R Bed Swing is Reclaimed & Recycled, being made specifically from reclaimed and recycled wood. It is made not only from reclaimed pine heartwood but from odds and ends of domestic wood that otherwise would go to waste. This not only diminished a negative impact on the environment while eliminating waste, but it takes something old and gives it a new, functional life. It also means that no two are the same and that the character that you will enjoy from this bed swing is unlike any of our others.

Because it is made from wood from sundry sources, it has a somewhat eclectic feel, suiting it to areas that are similarly eclectic or made from a mashup of upcycled goods. In addition, you won't just feel good knowing that you did right by the world when you set yourself up with one of these swings; you will literally feel good lying in it. The R&R may have served a double meaning after all!

Here it is, perhaps the definitive hanging bed. This bed, which is arguably the best bed to make a part of your bedroom and devote to nocturnal use, can be made from reclaimed pine, Southern Yellow Pine, or even Red Cedar. Cedar, as you might have known, is not only a beautiful wood visually and aromatically, but it is also light, fairly strong, and all but impervious to rot, decay, and insects.

Available in a number of different color options, as all of our bed swings are, this bed is the ideal bed to make your own. Once you sleep in one, chances are you'll be wondering why you weren't sooner. It's adaptable to just about any setting as well, regardless of the color scheme or predominant theme.

Pair Them with Accessories

Another thing that's great about Four Oak Bed Swings is that we give you the option to pair up your bed swing with a number of different accessories to really make the setting shine. In addition, many of them give you a whole dose of uniqueness and functionality.

We provide a number of Sunbrella cushion arrangements for each of our bed swings, which is perfect for indoor or outdoor use and could not be more comfortable. They also happen to give you a lot more flexibility in your visual design aesthetic.

On top of that, you can pair one of our bed swings with a set of comfort chains that will totally alter the experience of sitting or sleeping in one. Normally, a bed swing offers a fair range of motion through the ropes but adding chains to the setup will give the bed swing much more animation through an entirely new axis, making it feel as though the entire swing is floating.

In addition, you can pair one of our bed swings with an optional cup holder attachment, which will give you a place to store your favorite refreshment while you relax. Need we say more than that?

 

Free Delivery

 

We thought we might as well sweeten the deal a little by letting you know that all of our bed swings ship for free, which, if you were wondering, is quite a boon. Large, heavy objects are legendary for racking up high shipping costs, and we save our customers from the bulk of that. The price you see is effectively the price you pay; you don't have to worry about exorbitant shipping costs.

 

No Assembly Required

 

There's one more thing to keep in mind through all of this. Not only do our bed swings exemplify the amazing quality of construction and offer you great versatility in design; not only do we offer them free of shipping; but we also send them to you basically ready to hang. No assembly is required with any of our bed swings, so when they get to you you can hang them up and get right into the best part of being a bed swing owner: the use of it.

 

Give Us a Call!

 

Do you want to learn more about how we make our bed swings and the type of quality they embody? Maybe you have some product-specific questions. Perhaps you just want to learn more about how you can work one into your design or how to hang one. That's no matter; our team would be more than happy to field questions and fill you in on our amazing products.

Let's put it this way. There's a reason that Four Oak Bed Swings is the premier name in bed swings and porch swings. Actually, there are several, and you just learned about a bunch of them. That said, if you want to learn more, call our team at 334-202-2870.