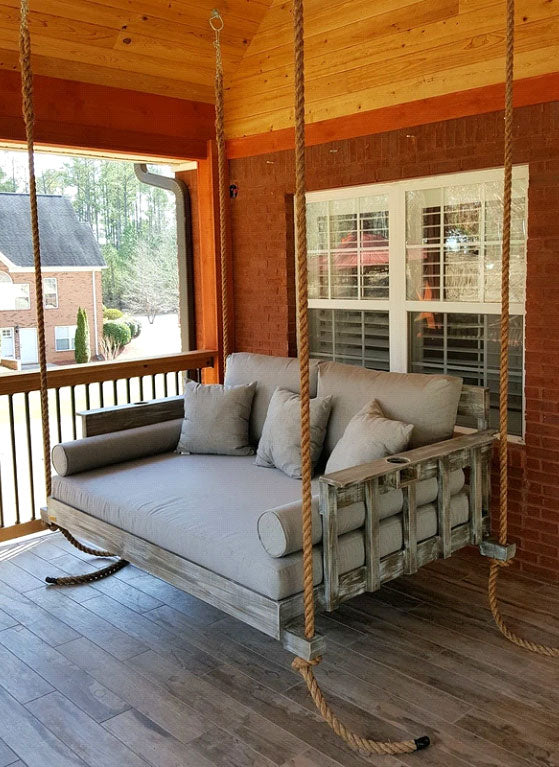 Have you ever wondered if there was another way to incorporate the design of a swing or a hanging bed into your home design or into your porch, a design that would give you the freedom to get away from the standard wrought iron and wooden swings that are relatively common today? We're talking about a genuine porch hanging swing that was specifically designed to add an uncommon measure of uniqueness and utility to your home that regular swings can't offer. The bed swings and other hanging benches that we offer here at Four Oak Bed Swings don't just provide you with a laundry list of potential benefits - they're also made to stand a cut above the competition.

If you're interested in a swing bed or one of the other swings that we offer here on our site, here are some of the ways you can expect it to make your life a whole lot better - and more comfortable!

Relax

It should come as no surprise that a porch hanging swing is just a great way to plain-old relax on your front porch. There's nothing against regular seats and chairs for deep seating because these options are plenty comfortable as well, but there's something unique about a porch swing that allows some people to find a deeper sense of relaxation.

A cushioned outdoor seating arrangement might be very comfortable, but at the end of the day, it's a static arrangement. A hanging bed or porch swing is going to offer you a dynamic experience and is subject to the influences of motion that you impart to it as well as those of the environment.

Because of this, while you are sitting or rocking in a porch swing you will always be able to enjoy the pleasant motion of the swing, which can help to lull your mind to a peaceful state of relaxation. Whether you find you enjoy reading, conversing with friends or family, or just enjoying the sight, and smells around your home from the comfort of a porch swing, the experience won't be the same any other way.

One of the best ways to enjoy a setting is from the comfort of a hanging swing. If you like the feeling of being rocked by a boat or the feeling of rhythm and buoyancy you get from sitting in one, then you should seriously think about adding a porch ceiling swing to your front porch.

Get Better Sleep

The gentle relaxation that a porch hanging swing can offer you may have other benefits besides simple allowing you to relax and unwind. In a similar vein, there is the possibility that one may even be able to help you get better sleep as well.

Those who enjoy the embraces of a hammock have long attested that they get the best sleep while suspended. Although this evidence is anecdotal, there may be more to it than just the tales of sailors of foresters. Apparently, the gentle swinging motions of a hammock or a porch swing may mimic the motions that a baby feels while being carried in the womb. Apparently, these undulations may synchronize with your brain waves. In this event, you may be able to experience deeper, more restful, more peaceful sleep than you would in a regular bed.

Do we expect you to take this at face value or to take up the habit of sleeping on your porch instead of in your room? We don't, but we do believe that if you are a napper you might very much enjoy your time spent napping in one of our porch swings. As with so many other things in life, probably the best way to figure it out is to try it for yourself. There are enough other reasons to merit adding a porch swing to your home that better sleep might come as an afterthought, but a valuable afterthought nonetheless.

A Unique Accent for Your Space

Another great reason to consider adding a porch swing to your home is that it is simply a look unlike any other that can't be easily replicated. There is a lot of money in interior (or in this case potentially exterior) design, and a lot of hours spent looking into the best solutions. Sometimes all a space needs to really turn heads is an uncommon measure of novelty. How else can you add some serious novelty and curb-appeal to your home than with a hanging swing? Garden swings are common enough, but when was the last time you did a loop around a neighborhood and saw a porch swing or a swing bed hanging from a neighbor's home?

As you will find from only a cursory glance through our collection of swing beds and porch swings, these aren't your average plastic porch swing. We'll get more into the details on the quality of construction and styling a bit further along in this article, but suffice it to say that no one else produces fine swings with the function and aesthetics of ours.

What that means for you is that you can easily add a nice little feature to your home, be it inside or outside - in this case, on your porch - that will make it a truly unique space. Not only will you be producing a one-of-a-kind aesthetic, but at the same time you can enjoy the benefits mentioned above, and one very important benefit we haven't addressed yet.

Increase the Value of Your Home

Our porch swings and bed swings are comfortable, can help you relax and maybe even help you get better sleep. They're also a great way to throw a unique accent onto your home. Do you know what else they can do? They can help you add value to your home in one fell swoop.

Home values are impressively subjective, which is why there's so much wrapped up in real estate pricing, and not every single element will appeal to all buyers. At the same time, if you take your time and do some research and really match the swing to the rest of the decor, the prevailing color scheme, and the other elements, chances are you'll probably end up adding some value to your home.

You might be surprised at just how easily you can work some of our designs into your home or into the layout of your porch. What more reason do you need to give yourself a nice little place to relax and nap, one that will also increase the appeal and value of your home?

Even with these attributes in mind, there are plenty of other unique reasons that set our porch swings and well apart from the competition. Let's put it this way; there's a reason that our bed swings have made it onto some of HGTV's immensely popular programs. Actually, there are several.

Our Porch Hanging Swings Define the Difference

As you will soon see, there are a number of unique traits possessed by our collection of swings that set them apart from the other seat swings and bed swings out there. Keep on reading if you want to learn more about our products; otherwise, check our collection of porch swings
and pick out your favorite one!
Quality Construction

When it comes to the make of our bed swings and porch swings, we leave nothing to chance and take everything into account. We've been doing this for years, so we've developed a pretty refined process, but we only came about it by committing to excellence long ago.

All of our swings are made by hand from premium Southern Yellow Pine, which is not only strong but lightweight. We use heavy-duty screws, dowels, and glue on every joint so that the finished frame is rock-solid and dependable enough to last you for many years. Interestingly enough, the wood glue we use is actually stronger than the Southern Yellow Pine itself, so the finished joints add integrity to the overall structure. Once complete, we finish each and every swing with a minimum of three coats of high-grade outdoor rated varnish so they can buck the elements. Moisture and sunlight wreak havoc on exposed wood, and we do our best to protect our finished pieces.

All of our swings come with a standard 1 inch Manila rope that facilitates hanging them. Not only safe and secure but our swings are also remarkably comfortable. We design our swings so that you can lean or lay back in them without the frame rubbing on the backs of your legs and causing irritation. In addition, we design them so that the rope attaches to the sides of the swing instead of in the front. That way, if you're laying or moving in one, the rope won't rub against your legs. Designed for maximum comfort, practicality, and resilience, our collection of swings offers a level of quality that you just can't find anywhere else.

Superior Design

Our bed swings (and all of our swings) are designed to offer you peerless quality in construction and comfort, but that's not the only bonus built into their construction. They're also designed to be easy on the eyes - as we mentioned above, one of our swings can add a touch of splendor and intrigue to any space in your home where there's room for it.

Our swings aren't just pleasingly designed from the start, you can accessorize with some of our add ons to match them to the environment. You have the choice of ordering one of our swings with optional accessories like Sunbrella cushions, pillows, and even mattresses that will enhance their comfort, visual appeal, and last much longer than indoor fixings.

We even take customization one step further by offering all of our swings in your choice of 15 different colors to ensure that it perfectly matches the location in which you place it. When it comes to making your home cozier and more comfortable and inviting, we can offer a lot. 
Years of Experience

Our founder and creator has been making these amazing pieces of functional for nearly ten years now and has been largely self-taught. His swings have sold all over the country and are currently gracing the homes of customers in many different states.

You can also pair a hanging porch swing or a bed swing with one of our handmade tables to serve as an accent piece to it. Our collection of tables is entirely handmade, requires no assembly and even ships for free. There's no better way to put a more personal touch on one of our bed swings than with a supporting piece of accent furniture fashioned by the same hands. Something else we learned along the way was the value of customer service, and we're proud to say that we have satisfied customers all over the country, as stated.

Peerless Customer Service

We treat our customers like family, and we take your requests into account. We would also be more than happy to answer any questions you might have about our products and services, so don't be shy about giving us a call. We'll offer our insight into where you can place your new porch hanging swing, how to hang it, and how they're made and finished. You can reach us by phone at 334-202-2870 or by email at david@fouroakdesigns.com.

As another facet of our incomparable service and commitment to the customer, we offer free shipping on our bed swings, and as they are all completely finished and constructed, no assembly is required.

Take some time to look through our collection of designs to get a feeling for where your tastes lie. We offer plenty of interesting designs, and every one of them is entirely original. Just be cautious about one thing - if you do purchase one and proudly hang it in your home, be careful not to unwind in it for too long - as relaxing in one of our bed swings may result in a state of total bliss and remove your desire to do anything else at all!