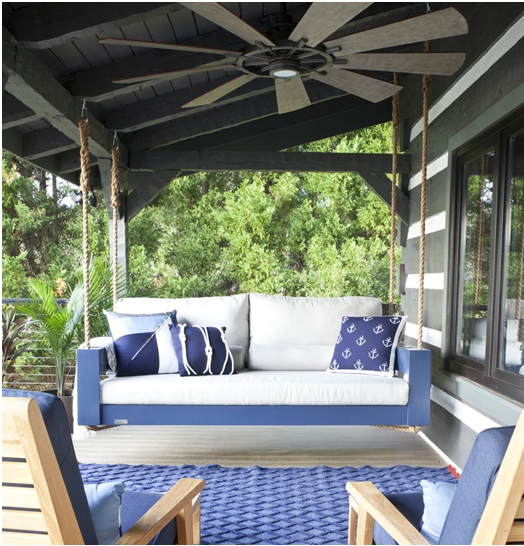 There has been a lot of buzz in recent years regarding porch swings and hanging beds, not only for the refreshing design opportunities they offer but also in some cases for their purported health benefits. More specifically there has been a lot of talk about the health benefits of hammocks, and though an outdoor hanging bed and a hammock are not entirely one and the same, there is some common ground between the two. Recently there have been a lot of claims made about the benefits of sleeping suspended from a hammock, and though a lot of the reports are anecdotal they're worth a little investigation.
We're not making any clinical claims here, nor are we suggested that sleeping in a hanging bed will cure back problems, as some have said about hammocks. What we are suggesting is that you take a closer look into some of the benefits that hanging beds and hammocks might be able to offer you because of their similarities.
Keep in mind that there has been very little research done on the matter, and don't forget that the majority of these claims are anecdotal. That being said, it might be worth it for you to try experimenting with some of these things for yourself to see if they are true for you. As anyone who has ever slept in a hammock, on a boat or from a hanging bed will be able to attest after reading this, some of the observations are uncanny.
The Swinging Motion Can Be Beneficial to Sleep
It has been stated and in some cases supported by cursory research that the swinging motion afforded by a hammock can greatly affect the quality of a person's sleep. While it is true that this is specific to hammocks and that hammocks are somewhat more mobile than, say, an outdoor hanging bed, there are enough similarities between the two to merit the comparison.
It has been claimed that the swinging motion afforded by hammocks (and thus, by hanging beds of sorts) can help a person fall asleep more quickly, stay asleep more easily, and sleep more deeply than would otherwise be experienced while stationary on a bed.
It's also long been observed, if not acknowledged by research, that rocking babies is a great way to relax them and induce them to sleep. Even if not corroborated by hard facts, this is something that anyone who has ever held a baby can attest.
There are claims that this rocking motion helps to simulate the experience of being in the womb, which makes a baby feel safe, and thus, more likely to be coerced into a deep sleep. It's also been said that there is the possibility that this rocking motion has a positive effect on brain activity that makes sleep come more easily - but not just to babies, to adults as well.
Apparently, a rocking motion that is present at the onset of sleep and continues throughout the duration of sleep is a way of synchronizing the oscillations that naturally occur in the brain and is one of the keys to a pleasant, restful sleep. This can make it not only easier to fall asleep but can improve the quality of the sleep throughout its duration.
Now, an outdoor hanging bed is not the same as a hammock, but they are both suspended and a hanging bed or swing bed does offer the same type of peaceful rocking motions that a hammock can offer, if on a smaller scale or even for a shorter length of time. There is no denying that a hanging bed is more akin to other forms of suspended sleep (like a hammock) than to a bed that sits on the floor. It may be more like a hybrid of the two that offers the benefits of both.
If a hanging bed really can make it easier for you to fall asleep, as the rocking motion does for babies and young children, it can be suggested as a type of help for those who have a hard time falling asleep. While it can't rightly be called a treatment for insomnia, if you find that gentle rocking helps you to fall asleep, then that should be evidence enough for you. Clinical or not, you need to do what works for you, and if you've ever been lulled to sleep on a boat or in a hammock, then you might be able to realize the same benefits from a hanging bed.
Back to the improved quality of sleep. If it is true that the quality of sleep you can receive from sleeping in a suspended position is better than alternatives, then there is a corpus of evidence to support the other, farther reaching benefits of this. These are more directly supported, and if corroborated by better sleep are effectively indisputable.
The first is the fact that better sleep during the night will result in better concentration and less distraction during the day. It will also result in a more holistic feeling of wellness, as quality sleep is tied up with a greater quality of life.
Better sleep at night will make it easier for you to focus during the day, which can make you more effective in your job as well as in tackling any other personal goals you might have, which brings up the second point.
Better quality and sustained deep sleep is also the time that the body takes to repair itself, which is vital for health and wellness. During deep sleep, neural circuits are built and repaired, memory is concretized, and tissues are healed from the strenuous activities of the day and restored. The quality of your sleep can affect your overall health, as without sleep your body will wear down over time. The better the quality of sleep, the better your overall health will be in the long run. That much is not anecdotal, but observable truth.
There is also the suggestion that the quality of sleep you get routinely can positively impact your ability to learn new skills, as well as your cognition in general. It seems to come down to the activity in the brain that is fostered during restful sleep. Once you awaken from a restful sleep, you are more likely to be well equipped to try to learn a new skill and can experience improved comprehension and concentration. Taking it a step further, restful sleep is implicated in the solidification and health of memory. Therefore, getting better sleep can definitely have an impact on your efficacy at tackling new challenges and can make you a more effective learner. Can you get this all from an outdoor hanging bed? Perhaps - there is no doubt that quality sleep improves concentration, and it has been strongly suggested that sleeping from a suspended bed can improve your sleep.
Other Benefits
While it has yet to be proven that an outdoor hanging bed, or other hanging beds or bed swings, can have a concrete effect on the quality of your sleep, there's little doubting that good sleep can bring you the benefits that have already been explored in this article. One of the best ways to probe the matter is for yourself through trial and experimentation. If you find that you sleep better in a hanging bed, then you might as well continue the practice - the benefits will follow.
That being said, there are other benefits that a hanging bed can offer you even if you are skeptical of some of the purported benefits associated with enhanced quality of sleep.
Even without the benefits associated with improved sleep that we have already explored, it's a pretty readily observable fact that a hanging bed is a great way to relax. Sleep or no, for some people, there's no replacing the gentle, swaying undulations that you can experience from the comforting embrace of a bed swing.
If you've ever been on a boat and found the sensation of constant motion enjoyable, then you will certainly appreciate the fine gyrations of a hanging bed. It's true that some people don't appreciate the sensation, and some people even get sick from it but call it what you will, there are some that can't get enough of it. Call it stillness illness, dock rock or sea legs, the feeling of being lulled by the motion of the ocean is irreplaceable, constant, and comforting. If you like it, you can get the same feeling from a hanging bed. It's relaxing, enjoyable and cathartic. It's also wildly similar to the effects that you might experience from a hammock.
In fact, on the subject, if you appreciate the feeling of swaying from a hammock but don't really enjoy the fact that it doesn't give you a flat surface on which to lie down, then a hanging bed might be your ticket to liberation. While a hammock might cradle you at odd angles, you can lay right down on a hanging bed without ever having to experience the unexpected joys of being a contortionist. Bets of all, you can experience the same relaxing pleasures of the gentle swinging.
Something else to note is that even if an outdoor hanging bed or other bed swing doesn't actually confer the benefits of better sleeping, it can definitely confer the benefits of a release from stress. Even if only temporary, a release from stress is worth its weight in gold - however, you choose to quantify that.
Change up Your Design
There's something else that comes along with the addition of a swing bed like an outdoor hanging bed into your design. That is a release from the monotony of design that accompanies basically all floor plans and seems inescapable. There seems to be less and less variety and innovation in design as the years go by, and a hanging bed can be a great way to shatter the mold.
While everyone else has been making the most of the same old interior designs we've seen time and time again in every interior and even exterior floor plan, you can switch things up with the tasteful inclusion of a hanging bed or swing into your design. it's practical, functional, relaxing, and even visually stimulating.
Besides, there's absolutely no denying the fact that the way you layout a room or setting, in terms of furniture and decor, can have a profound effect on the setting and the spirit of the place. Including a piece of unconventional furniture like an outdoor hanging bed or a porch swing can have a serious effect on the setting of your home. The novelty of it and the liberating sense of nonconformity can be refreshing to the senses. You'll feel it, and so will any visitors to your home.
Four Oak Quality
If you're interested in the potential that a bed swing can offer your home, whether for the benefits of sleeping enumerated herein or for any other reasons, then you have certainly come to the right place.
Our bed swings are made from premium construction using yellow pine or cedar and joined using wood glue that actually increases the strength of the joints beyond what the wood can provide. Our outdoor swings are also finished with not one, not even two, but three coats of outdoor varnish to extend the life of the swing and provide you with many years of peaceful enjoyment in your outdoor spaces.
We have many years of experience designing many different types and styles of indoor and outdoor bed swings and front porch swings and our designs have been sold to happy customers all over the country - even in places as exotic as New Jersey!
Give us a call if you have any questions at all regarding our products, their benefits, or even how you can hang one in the location of your choosing. You can reach us at 334-202-2870 - we're always happy to help and to hear from prospective customers, so don't be shy about reaching out to us. Innovative designs are our passion and always have been, so we're not shy to talk about them.