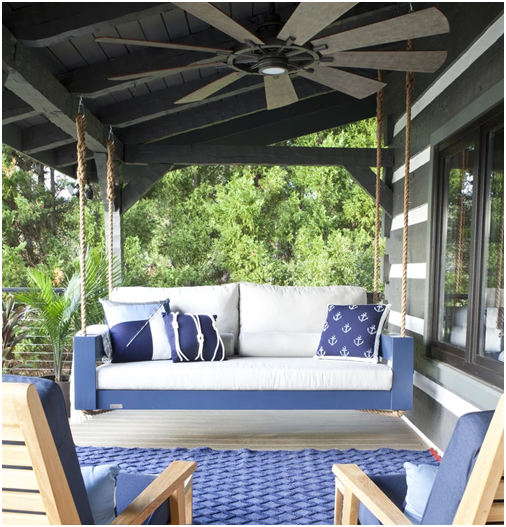 Do you ever feel like you can watch home improvement shows and read similar magazines for days, for weeks even, without ever coming across an idea that is really innovative? Does it ever feel to you, as a discrete consumer, that you are constantly being inundated with "new" ideas that are really just repurposed, dated ideas that have been slightly polished to make them more palatable?
If you ever feel like that - and no doubt, you are not alone, as many do - then you're probably really hungry for a new design aesthetic by this point. You're probably on the hunt for something new that you can add to some area of your home to give it some newly inspired light and make it really different. Now, how amazing would that be if you could find something that you wouldn't just get to look at, but would actually get to use?
You might, then, be a very good candidate for a daybed porch swing. If you've never heard of one, or you've heard of one but aren't familiar with some of the details, then hang on. Here are four great reasons to get your home a four oak daybed porch swing.
1. It's Unique - Like, actually unique
How many homes have you ever been inside that have a daybed porch swing on their front porch? How many homes have you been in that have a hanging bed or swing at all?
Maybe a few, because porch swings and rockers aren't necessarily all that rare, but the fact is that daybed swings are not all that common. That's a shame when you think about it because really they're very practical (that's another reason, so hang tight) but they also shake things up and break the mold.
Sometimes an interior design, or an exterior design, as the case may be, is entirely rejuvenated with the inclusion of some new elements. That could be a painting or a house plant, or even some exotic decorative feature. That could also be a hanging daybed swing of some sort or other.
Make no mistake about it. Include a bed swing or a porch swing into your design and you will be creating a totally novel focal piece for the setting.
2. It's Comfortable and Relaxing
How about the fact that with a daybed porch swing you actually will have a piece of furniture that you will actually get to use instead of just looking at. While you can say the same for some other pieces of furniture, that certainly isn't true a majority of the time.
It definitely isn't the truth for decor and paintings and whatnot, but we digress. The point is that swing beds are wildly comfortable and very relaxing. Just get right into one and you will experience the same sensation that you will get whenever you step onto a boat or into a canoe.
Well, it isn't precisely the same, but it's very similar, and for those who enjoy the sensation, you can hang up a swing bed in your own home or on your porch and get that feeling any time of the day or night that you please. By the way, speaking of relaxation, don't forget to check our next point.
3. It May Help You Sleep Better
There is some evidence, although largely anecdotal, that sleeping in a hammock can improve your quality and duration of sleep, and thus positively impact your quality of life as well.
So a hammock isn't a swing bed, what does that matter? The principles are the same, and though a swing bed will not be quite as itinerant in its motions as a hammock, they will certainly be gentler and more subdued. It has been said that the rocking motion of a hammock synchronizes with your brain waves as you sleep, thus fostering deeper, better sleep.
You can believe it or not, but the best thing to do is to try it out for yourself. You may very well find that the sensation of gentle rocking helps to lull you to sleep. If it does, what does it matter to you if the evidence is anecdotal or not?
4. How Does Free Shipping Sound?
One more thing - if you were considering refreshing your home's look with a hanging daybed or a porch swing, how does free shipping sound? You may be no stranger to the high shipping costs generally associated with heavy and bulky items, and, spoiler, a daybed is heavy and bulky.
That's why we've decided to serve our customers better by offering free shipping on many of our items. You can check our collection of swings and daybeds to see just what we offer for each one. Additionally, many of our products require no assembly whatsoever. You just order it, wait for it to arrive (for free!) and then hang it up. It couldn't be simpler. If you have any questions about our products or would like to learn more, don't be shy about reaching out to us at 334-202-2870.