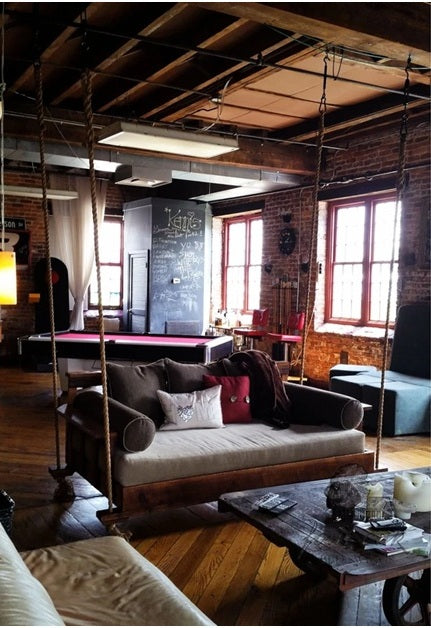 We wouldn't be the country's premier supplier of day bed swings and other hanging swings if we didn't tell you just how you could match up some of our finest designs with some of these modern trends. That's why we're going to devote this article to giving you some renewed inspiration for the many ways in which you can work a swing bed or a porch swing like you'll find in our catalog into your home.
If your home capitalizes on one of these schools of style, then you're in luck because a day bed swing from Four Oak Bed Swings is ideal for setting the tone in the space! While there are some in our collection that are better suited to some of these schools of design than others, a little bit of vision will go a long way.
Contemporary Interior Design
A lot of people get confused about the differences between modern design and contemporary design, but they are not the same. You might think that modern might "right now" and it doesn, categorically, but in design, it refers to a distinct style that was popular in the early stages of the 1900s, and possibly before.
Contemporary, on the other hand, is what modern should be by virtue of the word itself. Contemporary means what is in style right now, and a bed swing is just about perfect for that. If only for the fact that a daybed swing is not a design you'll see often repeated, it will make a very contemporary mark.
Industrial Design
As fitting as a swing bed or a porch swing would be for the cutting edge tones of contemporary design, most of them are probably better suited for industrial design. Characterized and encompassed by harsh, bold lines and angles and a profusion of raw materials, industrial design is a no nonsense replication of the styles that have been popular in cities for years.
Industrial design using the aesthetic of construction itself as decor. In it, there is often exposed ironwork, chains, lumber, and more. Fixtures are reduced to their bones, and that makes a bed swing a natural fit.
Even the most polished swing beds have exposed ropes from which they hang, and some are even supported by pipes or chains. Expose the wood siding of your swing bed and you have a piece of furniture that is custom made for industrial design.
Traditional Design
Now we're going to do a hard gear shift and pull out all the stops. While a porch swing bed is a great match for some industrial overtones, make no mistake about the fact that you can make a traditional setting with one as the centerpiece as well.
Elegant woodwork and traditional lines are the foundation of traditional interior design, often bringing richly embroidered upholstery and classic looks into the setting. Admittedly, the look of the bed swing itself is not the ideal match for a traditional look, but depending on the pillows and accents you use with one, it can be a match made in heaven. You just need to get comfortable with accessorizing.
Shabby Chic Design
Shabby chic is what chic would be if a chic model was well worn and well lived in beforehand. Whereas chic is elegant and highbrow, shabby chic is what chic becomes with a lot of familiarity.
A day bed swing can fit into shabby chic interior design without any effort whatsoever. Just add some rustic looking pillows and a matching set of comforters to the bed and you'll be set. The distressed wood and exposed ropes of some of our models will do the rest of the work for you.
Bohemian Design
Bohemian is beloved by designers of fashion as much as by interior design if for no other reason than the fact that it is so welcoming of designs that elsewhere would be said to clash.
What it is is hard to define, because elements that have no home elsewhere often make their way into Bohemian where they find a permanent residence. Look for natural tones and themes. Think of exposed wood, rope, and upcycled materials that have been given new life. Look for muted colors and exotic prints, and you have the beginnings of something Bohemian. Add some mismatched pillows and other odd fixtures to your day bed and you will be well on your way.
These are some of the best schools of design with which a day bed swing from our collection will match up wonderfully, but if you're looking for more inspiration, read our recent blog on how to use a swing bed for inspiring design ideas.
After reading the two of these, you should have plenty of ideas rolling through your imagination on how to create your little paradise. Check out our collection of swing beds and traditional porch swings for your front porch, learn a little more about how to hang them, and be on your merry way!