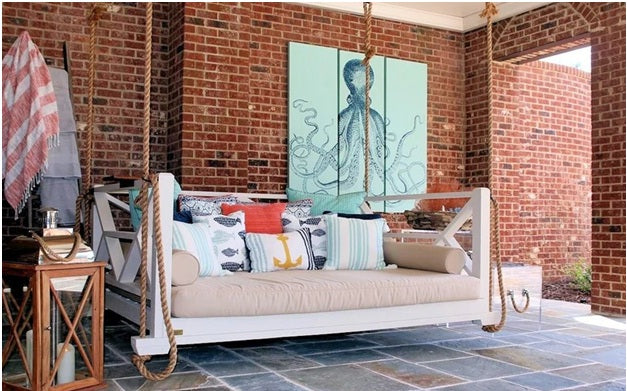 Creating a beautiful haven in your backyard is easy with the right pieces of furniture and a few imaginative ideas. If you are feeling stuck and uninspired as to what to do with your patio, we've put together this comprehensive guide that will help you complete your outdoor space.
Beautiful patio swing beds provide the key element in all of these ideas, as they are incredibly versatile and are useful for the aesthetic value they provide. They are simply one of the most practical pieces of outdoor furniture you could possibly invest in, making them an essential aspect of any serious patio arrangement.
You will find that our ideas come from a multitude of different home decor styles and can be adapted to fit just about any home. Whether you are thinking of crafting a cozy little outdoor nook full of luscious plants and comfortable seating, or if you have something much grander in mind, we've got you covered. From a functional and rustic cottage space to ancient Greek-inspired luxury, you will be sure to find something here that resonates with you!
Tropical Enclosure
An easy way to create a dynamic look for your patio is to take advantage of large and attractive plants. Not only will the addition of various ferns, ornamental shrubs, and fruit trees add incredible visual appeal to your home, but they will add an abundance of practical value as well.
You can easily create a tropical vibe by surrounding your patio swing bed with large fern plants such as Cinnamon Ferns and the Ostrich fern. You might want to include a pair of crab apple, lemon, kumquat, cherry, plum, or pear trees as well. Alternatively, you could select a single tall ornamental tree to place in a corner diagonally across from your swing bed. This creates a dynamic look that can easily be bolstered by including an array of smaller supporting plants.
To really capture the tropical look, don't be afraid to crowd a few decor elements together, and utilize hanging plants if your patio is covered. Wicker seating and a finely-crafted wooden table would also work well for this kind of style. In terms of the specific bed swing you want in this instance, The Buckhead would look perfect.
Gorgeous Zen Garden
Zen gardens are appreciated for their visual harmony, with elements such as finely manicured shrubs, use of water, stone decor, statuary, sand patterns, attractive pavers, and overall symmetry. You can easily utilize these same elements when crafting your own patio arrangement to create a beautiful and calming atmosphere.
The Zen-style patio should seamlessly blend minimalist decor, hints of nature, a rustic and organic feel, and artistic sensibilities together to create an arrangement that's both eye-catching yet helps you feel at peace. The addition of a swing bed into such a patio would be a welcome element to add to the practical quality.
Coastal Patio Luxury
These beautiful pieces of furniture are the perfect element to add to your coastal style patio or deck. What says relaxation better than a bed hanging outdoors? Imagine resting in our comfortable and eye-catching Seaside Bed Swing, taking in the salty air and warm sun, a favorite drink in hand without a care in the world?
You don't even need to be located on the beach to make use of this popular style for your outdoor space. A high-quality swing bed made of solid kiln-dried pine and brimming with refined character can act as the anchor for a truly lovely coastal look. Simply add bright colors and plenty of seashore elements such as ship wheels, shells, wicker elements, and other reminders of the ocean.
Cozy Cottagecore
It's time to get a little cozier! In terms of crafting a gorgeous patio that's infused with charm, you may want to consider the cottagecore aesthetic, which has become increasingly popular in recent years. Loved for its emphasis on wild nature, quaint gardens, floral elements, and a sort of fantastical refinement, this style is great for anyone who loves plants and relaxation equally.
With that being said, a patio swing bed is the perfect piece of furniture to add to a cottagecore patio arrangement. This is one style where you don't have to worry about having a lot of open space to work with. Feel free to stuff your patio with attractive garden plants and surround your swing bed until it is engulfed in the magic.
To best capture this style for your patio, think rustic farmhouse meets whimsical garden. Use plenty of wood and stone, allow for your plants to overgrow and mingle, and don't be shy about utilizing furniture that shows some distressing. The goal should be to create a space you can truly escape to.
Traditional Southwest Style
If you enjoy the feeling of the great outdoors, why not enjoy it while laying back in a swing bed? The core of your Southwest style patio should be open spaces and beautiful stonework. Think of adobe bricks and sparse plant-life, arranged at 90-degree angles for a pleasant symmetrical look.
Our Westhaven swing bed might work best for this style. Simple and stately luxury that has a down to earth feel and would be the perfect addition for an outdoor space with an open design. With classic red, hazel, or tricorn black colors that will fit in with your other southwest decor items, this swing bed will be just what you need to complete your patio just how you like it.
Modern and Elegant
Modern patio designs typically focus on minimalism and balance. Nothing is too crowded or seems out of place, especially in terms of furniture. A contemporary patio should utilize just a hint of greenery, plenty of clean lines and modern furnishings, and ambient or recessed lighting when possible.
Our All-American Swing Bed would look great in a modern patio setting, and could easily be accompanied by modern benches, a sleek table, and other modern staples such as a built-in grill or decorative patio pond.
While modern-style patios aren't necessarily completely "Zen" or minimalist, they do tend to use open space as a design element, with an abundance of symmetry and squared decor elements. Try squared pavers and black on white elements for a stylish contrast.
Greek Palace
For a true sense of luxury, you ought to consider the Greek palace look. Modeled in the fashion of ancient Greek temples and gardens, this home patio style emphasizes opulence. Beautiful masonry should be the focal point here, with your choice of tile and use of magnificent statuary.
Think about crafting a central seating area at one end of your patio and reserving the rest of it as an open area for large stone pots, garden statues, and other decor elements. Use natural stone whenever possible. The installation of a water fountain or birdbath could help complete the look as well.
Either way, you can use a swing bed as the key point of interest in your lavish seating area. One point to remember regarding swing beds is that they aren't simply a piece of furniture, but can be implemented as an architectural element that builds upon the actual setting you are trying to create.
Shabby Chic Outdoors
The shabby chic look is in and provides plenty of stylish opportunities for creating a stunning yet practical patio setting, especially with the inclusion of one of our high-quality patio swing beds.
The main features of shabby chic decor include vintage-style elements, soft pastel tones, decidedly feminine charm, and an inviting lived-in atmosphere that is at once cozy and refined. What better way to craft an attractive little escape right in your own yard than by following these style conventions?
If this look interests you, there are a few pieces of furniture and decor that you will want to include in your patio. First, you should start with one of our beautiful swing beds, such as our "Courting" piece or the previously mentioned Seaside Bed Swing, which would look great in this setting. Be sure to decorate your bed swing with plenty of lacey and floral-patterned pillows.
The next element you want to focus on should be the inclusion of a few weathered whitewashed wood pieces, such as end tables or benches. Flowers and other plants sitting in attractive pots, and other decorative floral items, should dot the surroundings. Make use of metal accents in your setting, such as a delicate vintage birdcage, if only for decoration.
Don't be afraid to crowd the space a little with your favorite artistic items, such as flower pots, watering cans, weathered tea sets, lace drapery, or anything else that feels feminine and elegant. Try to avoid overly modern art or furniture pieces here, as you want to create a look that has a hint of vintage appeal here.
No matter how quaint and elaborate you decide to go with your arrangement, be sure to keep your patio practical, as one of the best aspects of the shabby chic style is its emphasis on lived-in comfort.
Lanterns and Lights
You can easily create a variety of attractive patio looks by using various lighting elements such as LED strips, strings of bulbs, lanterns, and candles. Of course, you want to be able to make use of your patio at night, so it's in your best interest to include some form of lighting no matter what style you go with. If you want to rely on more than your porch light and the moon that is!
Creating a theme around lighting elements is rather easy and can help add a great deal of atmosphere. You could try stringing Chinese lanterns overhead for a unique and charming look, which would complement a variety of styles mentioned here.
Minimalist yet Practical
One final patio design option would be to go fully minimalist and focus only on the absolute essentials. Use plenty of open space and forgo excess decor items such as pottery and end tables in favor of your patio swing bed of choice and a few accent chairs that match.
Here at Four Oak Bed Swings, you will find a great variety of cushions and accessories you can use to help style your swing how you want it, which will help you create the perfect look for your patio or deck.
One of the benefits of arranging a minimalist look for your patio is that it is easy to maintain and rearrange how you see fit without too much work. All you need to do is switch out a few pillows and add a few seasonal items to your patio to alter the way it feels without having to engage in a massive project. If you simply want a practical space to enjoy the outdoors with, this might be the best solution for you.
---
As you can see, there are quite a few ways you can use a swing bed to completely transform your patio or help complete a specific look. These beautiful pieces of furniture are actually quite adaptable and can add a great amount of luxury and comfort to your home. From both an aesthetic point of view as well as with sheer usability, they are more than worth the investment.
Interested in including one of these amazing furniture pieces in your patio arrangement? Take a look through our selection of finely-handcrafted patio swing beds here in our store, or give us a call at 334-202-2870. We would be happy to help you decide which swing is best for you, and inform you about the installation process as well. If you are searching for that perfect enhancement for your home, one of our incredible swing beds will likely fit your needs and help you craft a space outside that your whole family won't be able to get enough of. Reach out to us and we will be glad to facilitate your selection so you can experience these great pieces of furniture for yourself.