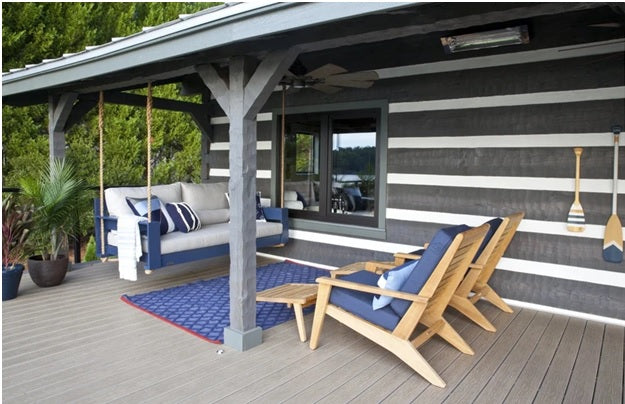 Probably plenty of our customers buy porch bed swings from us because they intend to make their outdoor porches a cozy little getaway where they can retire from some of the sights and scenes - the incessant rush - of the world. We have to nod to them; it's not a bad idea.
Our porch beds and other bed swings are amazingly comfortable, and the sensation of gentle rocking that accompanies them can help you relax, decompress, and might even be able to help you get better sleep.
With all of that said, you don't just need to reserve your porch swing to a quiet corner. You can actually elevate your exterior design with a few of these suggestions.
Lighting: It matters
You'll be surprised how much of a difference lighting makes in a setting, whether indoors or outdoors. If you don't believe us, just change the lighting in a setting you're already used to and you'll see just what we mean.
As far as it affects your little porch bed nook - you have a few different choices. If you're renovating your exterior or building a porch for the first time, you have the option of using natural light; you can build skylights into the overhangs for these purposes.
Also, at night, it's naturally much darker under the eaves than it is elsewhere due to the overhang. In lieu of conventional electric fixtures, you can get creative with rope lights and other accent lights to create a balmier, more relaxing atmosphere - you can also experiment with candles or torches for softer, natural flame light.
Not doing big renovations? A new coat of paint will really revitalize the surroundings!
Another quick tip is this: even if you're not doing big renovations or really changing anything other than adding a porch swing to the setting, you can create a better sense of harmony by painting the nearest door in accordance with the color scheme of the porch swing. It's an easy change to make, and it will align with your color scheme!
Decor: pots, planters, trellises, sculpture, and more
You can also spruce up the decor in your outdoor spaces without making any big changes to the setting. Try adding pots or planters to your outdoor living areas that are well aligned with the rest of your aesthetic; if you have some extra wall space or an open area between the porch swing and the yard, consider adding a trellis. You can also add outdoor sculptures and other 3-dimensional art to add life and balance to your outdoor living spaces.
Door and wall art for the win!
Another surprisingly effective alteration you can make to a setting is the tasteful inclusion of hanging wall or door art. Considering hanging a weatherproof tapestry or metalwork fixture on any particular bare patches of wall, or hang a wreath or some other seasonal decoration from the nearest door. They're easy to implement, easy to cycle, and highly effective!
Add blooms and birds for extra color, life, and sound!
Another great way to add life to your outdoor spaces is with birds and blooms. Those planters and pots we mentioned earlier don't need to be purely decorative - you can grow your own flowers to add vibrant splashes of color and life to your outdoor living areas. Grow bright impatiens, marigolds, lilies, daisies, or petunias in the summer - and match the blossoms to your color scheme for extra harmony.
If you enjoy the color and songs of birds, you can also consider hanging some feeders or birdhouses just beyond the limits of your porch - they will add color, movement, life, and sound to your outdoor spaces!
The extras: cushions, tables, and more
Remember, here at Four Oak Bed Swings we make it easy to accessorize with matching pillows, cushions, and tables, adding extra harmony into the mix. We also make it possible to finish your porch bed in one of over 20 colors, and you can easily match the cushions, pillows, and other accouterments to the setting, right on the product page. Naturally, you can call us with questions if you have any.
Make it into a gathering space by adding more seating
Depending on your vision for your porch bed-niche, you may choose to expand the setting with the addition of more seating arrangements for entertainment. Consider adding a hammock, a  set of stools, or a more comfortable arrangement of bean bags - you can even add an outdoor sofa and a rug that matches the rest of the setting to make it really harmonic and cozy.
Spice things up with an outdoor kitchen, a grill, or a bar
Our final word of wisdom is that, if you're really interested in entertainment or in creating a nice outdoor space, you can create an outdoor kitchen or a bar to really drive home the central element of outdoor entertaining.
If you're updating your home's exterior, it's the perfect time to build an entertainment system into the mix or to create an outdoor kitchen island. You can also add something as simple as a portable grill into the mix since they can easily be moved back and forth between the shelter of cover and then beyond the eaves where they can be used safely.
It's your outdoor living space - follow your own vision for inspiration!
Armed with these suggestions for exterior design, you should be ready to go boldly forth and create the ultimate atmosphere or entertainment space. Remember, everything from our full-size beds to our smaller day beds ships for free and fully assembled. They even come with a 1" manila rope standard for hanging them - and you can learn more about how and where to hang them right here on our website - just see the previous link.
If you have any questions about our bed swings or about any of these suggestions, please feel free to get in touch with our customer service team directly - you can reach us at 334-202-2870 or at david@fouroakdesigns.com. We're here to help!