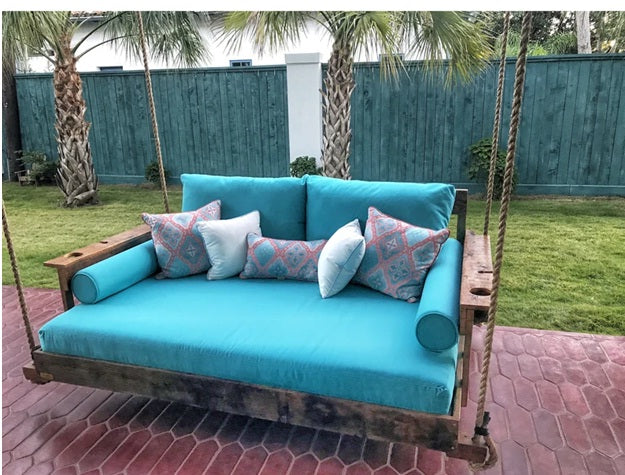 You won't regret adding a hanging daybed swing to your porch or patio so long as you have the room for one. These beautiful pieces of outdoor furniture will enable you to experience the outside of your house like never before.
If you are considering adding a large porch swing to your home, this guide will help you see the perks you will enjoy and offer some tips on decorating that you might want to take into account.
Why Hanging Daybed Swings Are The "It" Addition Everyone Wants
Everyone wants a home that's both functional and beautiful. While basic remodeling and furniture additions are a nice touch, sometimes these are lacking in the functionality department.
On the other hand, you could go with a functional addition like a new fireplace or pool, but these kinds of add-ons are costly and aren't practical in every instance. Plus, they are often seasonal as well which means that for part of the year you won't get much use out of your investment.
Hanging daybed swings on the other hand are incredibly functional and can help you get more use out of your porch all year round. Homeowners love them because not only are they visibly attractive, they are perfect for adding a superior degree of comfort to a much-needed area of your home.
Let's face it, many of us don't have the most comfortable porch and patio furniture. When was the last time you chilled out on your porch and really felt comfortable? Like lounge on the sofa and veg out kind of comfortable? Not often, if we had to guess.
This is largely due to the fact that most porch furniture is not designed for comfort, but to withstand the elements. Hard plastic and metal chairs abound, which might look nice and serve a purpose, but leave a lot to be desired. Don't you wish you could sink into something a bit more comfortable without having to go indoors? There's all of this outdoor real estate yet many of us aren't taking full advantage of it.
That's the genius behind a daybed swing. These beautiful furniture items combine some of the best elements of sofas, beds, and porch swings into one. Think of the comfort you would experience having the coziness of your favorite sofa merge with that of a gently-rocking porch swing? This sounds like something out of a dream yet is open to all homeowners, provided you have enough space to work with.
This is the most important part of the equation here, whether or not you have enough space and can create a functional porch that will actually serve you.
Creating a Porch or Patio With Comfort in Mind
As you browse through our selection of porch swings here at Four Oak Bed Swings, you will notice that we include the measurements prominently. This is because you need to know how much space you have available on your porch or patio if you intend on installing one of these pieces of furniture.
Keep in mind that you don't want to try and cram a large piece of furniture into a small-sized area. This is what creates cramped and unappealing conditions. We've all had some experience with those dining room table arrangements that are crammed in way too small of a space. Not only is it visually unappealing, no one winds up staying very long or using these pieces of furniture because it's so inconvenient.
So one of the keys to finding the perfect hanging daybed swing is to make sure you have one that "fits" your porch to a T. From there you can change up the wood grain and linen styles to match your home aesthetic. The good news is, we have plenty of options on that front, as well as a wide variety of different models to choose from. If you are intending on adding one of these beautiful daybed swings, this is the best place to look online.
When designing your little porch oasis using one of our porch hanging swings, make sure there is ample room to maneuver around. Think about the actual functionality of the space and you will find it much easier to create an environment that will actually enhance your home.
Interested in adding one of our gorgeous porch swings to your home? We have a wide range of different styles to choose from and plenty of resources to help guide you to the right purchase. We also have information on installation and maintenance. However, we encourage you to give us a call at (334)202-2870.
Enhancing your home is easier than you think. All it takes is one subtle addition to not only increase the visual appeal of your home but to add lasting functionality as well. With the help of one of our beautiful patio swing beds, you will find it incredibly easy to improve the comfort and aesthetics of your home.