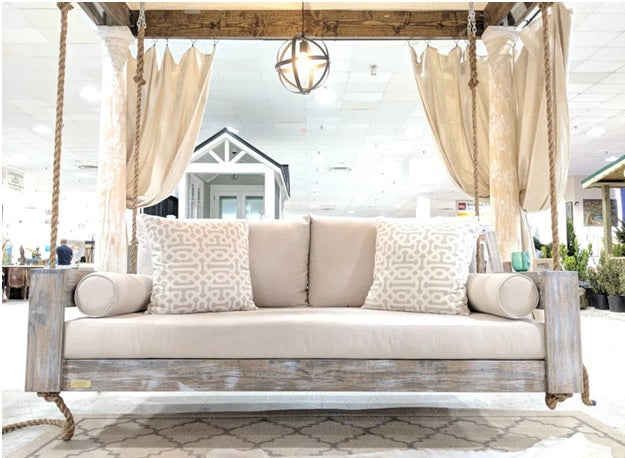 Picture this: a warm, lazy afternoon, a gentle breeze, and the soothing sounds of nature. You're yearning for a comfy spot to unwind, sip your favorite beverage, and lose yourself in relaxation.
In this idyllic scenario, two outdoor seating options often vie for your attention: porch beds and rocking chairs. Both promise leisure and tranquility, but which one is the perfect match for your outdoor haven?
What Makes The Porch Bed Great
1. Lounging in Luxury
An excellent example of outdoor comfort, porch beds offer a spacious, plush retreat that invites you to stretch out and let the day's worries drift away. Often wide and plushily-cushioned, they're the perfect temptation to recline in any position that suits you, whether you want to curl up with a book, enjoy a nap, or simply gaze at the sky.
Better yet, you don't have to enjoy this space alone. With ample room enough for two or more, they are an ideal choice for shared relaxation. Depending on where you end up setting up your porch swing bed—indoors or outdoors—they can be the ideal place to relax and chat about your day with your children or partner.
2. A Year-Round Escape
A porch bed is not just a fair-weather friend; it's a steadfast companion for all seasons.
When the sun is high in the sky, and the temperatures soar, making it the perfect spot for sipping iced tea or diving into the latest cozy mystery. To stay cool amidst the summer sun, you can opt for cool, breathable fabrics that wick away sweat, keeping you sane even on the hottest days.
When winter arrives, on the other hand, you can easily bundle up with plush faux fur throws and oversized knit blankets for extra warmth. Add cushions in cool blues and whites to evoke a frosty winter wonderland and snuggle up with a loved one to watch the snowflakes fall.
With a few simple adjustments – changing cushions, adding blankets, or incorporating seasonal decor – your porch bed seamlessly transitions from one season to the next. It's like having a new outdoor oasis for each season, all within the comforting embrace of your porch bed.
3. Versatile Design
The beauty of porch beds lies in their ability to be customized to match your outdoor decor and personal style.
Here at Four Oak Bed Swings, for instance, we offer a range of design options, including 15 color choices for their porch beds. You can select from a palette that includes classics like "Pure White" and "Grays Harbor" or opt for bold statements like "Fiery Brown" or "Honest Blue."
This level of customization ensures that your porch bed seamlessly integrates with your indoor or outdoor space, whether you're aiming for a beachy vibe with "Halcyon Blue" or a more traditional feel with "Classic Red."
Beyond color, you have the freedom to experiment with patterns and materials. Consider the delightful interplay of stripes and solids, or the elegance of geometric patterns on your porch bed cushions.
Upholstery materials range from classic canvas to weather-resistant fabrics like Sunbrella, offering both comfort and durability. Your porch bed becomes a reflection of your personality and design sensibilities.
The Rocking Chair: Nostalgic Charm and Gentle Motion
1. The Timeless Appeal
The rocking chair is a piece of outdoor furniture that transcends time. Its classic charm and timeless design have a universal appeal that resonates with people of all ages.
Picture a cottage-style porch with white wooden rocking chairs, each with a plaid cushion and a cozy throw blanket. This timeless appeal evokes memories of simpler times and simpler pleasures, reminding you to savor life's tranquil moments.
2. Space-Saving Simplicity
One of the most practical features of rocking chairs is their space-saving nature. They're the perfect solution for smaller porches, decks, or cozy nooks that yearn for a touch of relaxation.
Unlike porch beds, which require more room to sprawl comfortably, rocking chairs can fit snugly into tight spaces. This makes them an excellent choice for urban dwellers or anyone looking to maximize their outdoor area.
3. The Pleasure of Movement
There's something uniquely calming about the rocking motion of a chair. It's like a gentle cradle, lulling you into a state of relaxation.
Rocking chairs are often preferred by those who enjoy a touch of movement while they unwind. The back-and-forth sway can be soothing and meditative. And although porch swing beds can also provide you with that soothing sway, some people may find better solace in a rocking chair's rhythmic motion.
The Decision: Which One is Right for You?
When it comes to choosing between a porch bed and a rocking chair, it ultimately boils down to your preferences and needs. Consider the following:
Space: If you have a smaller outdoor area, a rocking chair might be the more practical choice. Porch beds, while luxurious, require more space.
Comfort: If you prioritize sprawling comfort and the ability to lounge with company, a porch bed is the way to go. Rocking chairs offer a different type of comfort, emphasizing movement and nostalgia.
Style: Your outdoor decor and personal style should guide your choice. Porch beds offer more customization options, but rocking chairs bring classic charm.
Motion: If you find the rocking motion calming and meditative, a rocking chair will be your preferred choice. Porch beds are stationary but offer a wide, cushioned surface.
The Choice is Yours
So, porch swing bed or rocking chair – which one is right for you? The answer lies in your unique preferences and the kind of outdoor experience you crave.
Both options offer relaxation, but they do so in different ways. It's like choosing between a lavish spa day and a serene nature hike – each has its own appeal, and the right choice is the one that speaks to your soul.
Embrace the comfort and luxury of a porch bed if you long for sprawling relaxation and enjoy the versatility of year-round outdoor lounging. Opt for the timeless charm and gentle motion of a rocking chair if you prefer a space-saving, classic seating option.
Whatever you decide, the goal remains the same: to create an outdoor oasis where you can escape, unwind, and savor life's simple pleasures.