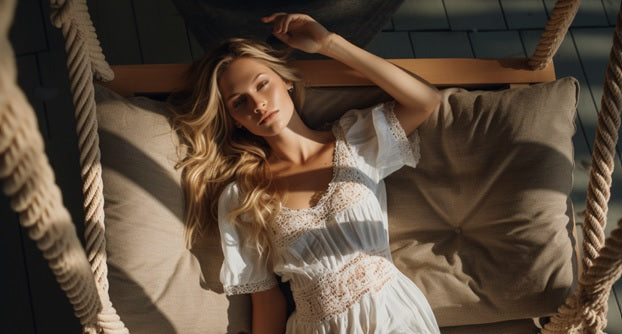 Let's talk about a furniture piece that's been capturing hearts and transforming spaces—the daybed swing. It's not just another piece to adorn your home; it's an experience waiting to be had.
The comfort, style, and versatility it brings are unparalleled. Whether you're keen on redefining luxury or simply want to add a cozy corner to relax in, the hanging daybed is a game-changer. Dive in as we unpack the unmatched charm of this home essential.
Let's swing into the details, shall we?
Why Daybed Swings?
Imagine a Sunday afternoon. The weather is pleasant, and there's a slight breeze coming in from the window. You're lying on something that's not quite a bed, not quite a sofa, but a perfect blend of both. You've got your favorite book in one hand and a cup of tea in the other. This is the comfort a hanging daybed offers.
Soothing and Relaxing: One can't emphasize enough how the gentle sway of a hanging daybed can mellow your senses. Whether you're reading a book, watching your favorite show, or just lost in thoughts, the motion is undeniably calming.
Express Your Style: Every piece of furniture tells a story about the homeowner. Daybed swings are like a blank canvas waiting to be painted with your unique style. Their inclusion in your space not only demonstrates a penchant for comfort but also your creativity and flair.
Multipurpose Marvel: Are you someone who likes furniture that can serve multiple purposes? Well, the hanging daybed is a triple threat! Use it as a bed for overnight guests, a cozy reading nook, or even a unique dining space. For families with kids, it can also be an adventurous spot for play or naptime.
Space-Savvy Choice: Especially in urban dwellings where space is a premium, multifunctional furniture pieces are a boon. The patio daybed serves as a bed, a swing, and a sofa - all rolled into one stylish package.
Budget-Friendly Luxury: Who said luxury has to be expensive? With patio swings, you get the comfort and charm of luxury without burning a hole in your pocket.
Connect and Unwind: There's nothing like cuddling up on a daybed swing with your loved ones. The space it offers is just enough for you to cozy up with a partner, child, or even a furry friend. It's the perfect setting for intimate conversations and quality time.
Points to Ponder
Before you get too excited and order one immediately, here are a few things to consider:
Size and Style Matters: Patio swings come in varied sizes and styles. Ensure you pick one that resonates with your decor theme and fits just right in your desired space.
Strength is Key: Ensure that your ceiling can bear the weight of the swing. Consulting with a professional before installation is advisable to avoid any mishaps.
Choose the Spot: While patio swings can be hung in diverse spots, ascertain that its location is safe, preventing any collisions with walls or furniture.
Ease of Access: If you or your family members have mobility concerns, consider adding an accessory like a step stool for ease.
Upgrade with Sunbrella Outdoor Cushion Packages
Want to make your outdoor seating even more inviting? Check out our Sunbrella Outdoor Cushion Packages. Crafted for comfort and style, these cushions bring a homely warmth to your outdoor spaces.
With a plethora of colors and styles, you can find the perfect Sunbrella seat cushion that aligns with your aesthetic. Dive into the elegant designs we offer at Four Oak Bed Swings and make every swing a stylish statement.
Featured Daybed Swings at Four Oak Bed Swings:
So, if you're looking to infuse a touch of charm, comfort, and creativity into your space, a daybed swing might just be the answer. Let it reflect your personality, style, and penchant for the finer things in life. After all, isn't home where the heart (and the comfy patio swing) is? Swing on over to Four Oak Bed Swings today!