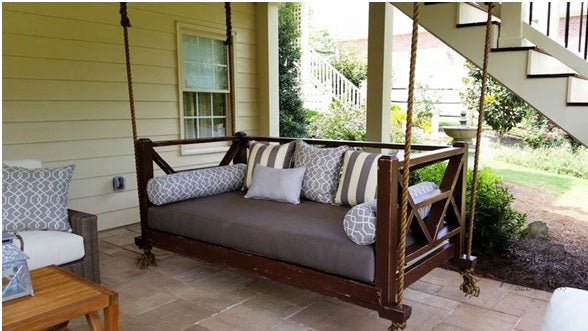 It is easy enough to envision new porch swing beds being added to an open space surrounding your home. Just look at some of the photos of beautiful, well-designed porch swing beds online and picture them holding a spot just outside of your own home. They seem to fit right in. Now go a bit further than that and imagine how you would spend your time in them. How would you choose to relax after setting up a bed swing on your porch? With all of the care that we put into creating each and every bed swing that goes out, we enjoy knowing that all of them are going to homes with families cherishing their free time.
Everyone deserves some moments of peace and a home that they can treat as a haven or sanctuary. With all of these families receiving new porch swing beds, we love to read the reviews telling us what their plans are for their swing beds and how they are enjoying them so far. We've found some ways that came up more than once and thought to share that with you to consider how you might spend your time in your own swing beds.
Sit Back and Relax
When you get your order from Four Oak Bed Swings and get the space set up just how you want it, you can sit back in your new swing bed and start relaxing right away. From that point on, you can just embrace what you have there and relish in the space you set up for yourself to enjoy. Once you are seated outdoors, gently rocking back and forth, you can curl up with a good book and read or watch a program on your phone. You can do anything you want really. It's all about how you choose to relax.
Enjoy the Fresh Air
While you are on your swing bed, you can do anything you want or nothing at all. Just take a long deep breath and appreciate where you are. Enjoy the fresh air and fine weather and be happy that you get to experience all of that in great comfort right by your home. If you are fortunate enough to have a good view of some beautiful plant life in your yard, then this is a good time to take all that in and appreciate the beauty of the natural world. And you did not have to go very far to feel it.
A Place for Family & Friends
As fun as it might be to spend your free time relaxing in porch swing beds alone, you might want to bring out some good company from time to time. This is the perfect place for just that. When you invite over a few of your closest friends or call the kids out to spend time together, you can relax on the porch while a few of you share the swing. Even if it is just for the family on occasion, it is a good moment to share with your loved ones. You can sit outside sharing the swing and enjoy each other's company without any reason at all.
Adds to the Home Decor
When you consider the amount of time you will spend away from your bed swing, you will come to appreciate it just as it is. Even when it is there with only some decorative pillows seated inside, a beautiful porch swing bed will still stand out on its own. The design and form of it make a great addition to a home as decoration all on its own. If interior decorating is an interest of yours, you can also have some more fun with it by dressing it up in pillows and blankets to match the design you are going for with your home.
Enjoy for the Long-Run
Another good thing about shopping for high-quality porch swing beds from Four Oak Swing Beds is that you can enjoy them for years to come. There is no ticking clock on these long-lasting swing beds made from the finest Southern Yellow Pinewood. You get to enjoy your new swing for years after purchasing it and not have to worry about getting a replacement. You are free to imagine yourself enjoying your porch swing for a good long while. When you shop for quality, you shop for longevity. And that is the exact attitude we keep when producing our bed swings.
Feel free to look over our selection of porch swing beds and imagine the one you would like to spend your spare time in either alone, or with your loved ones nearby.
Remember that if you have any questions about our products and what might work best for your home, you can always send us a message at david@fouroakdesigns.com or call us at 334-202-2870 if you prefer speaking to us by phone. We are always happy to help clear things up for you.