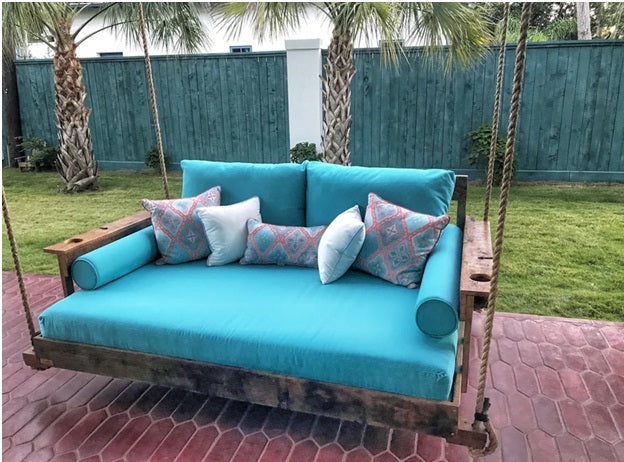 Let's offer some clarity before we get too far into this article. Some of you reading this are probably shaking your heads wondering what the meaning of this could be.
Before you know if a porch bed is for you, you need to know what a porch bed is in the first place. It sounds like a bed that you throw out on your porch. What's the meaning of that when there's a room in your house specifically made for beds, namely, the bedroom?
By the end of this, we won't be surprised one bit if you're halfway to calling us and placing an order for one.
What's It All Mean?
So let's get this cleared up right out of the gate. A porch swing bed isn't just a bed for which you clear a room on your porch. It's much better - much more sophisticated and elegant if we might say so.
You may have heard this feature of design referred to by a variety of other names, instead of the nondescript title "porch bed." There are many other names by which the humble porch bed goes, often signing its name as "swing bed," hanging swing bed," "daybed swing," "porch swing bed" "porch daybed swing," and many, many others. The varieties of the naming convention are seemingly endless!
What's also apparently endless are the number of benefits that are very likely to accompany the purchase of a swing bed for your porch specifically, although we make models that would be well suited to the other rooms in your home as well.
What it is, in a nutshell, is a bed that hangs from ropes from the ceilings of a porch overhang. It's a unique new way to put your own personal accent marks on your home and it will break the mold of what everyone expects. If you're looking for a way to invigorate your home with a new look and provide yourself a little getaway in the process, a swing bed is ideal for that.
To determine if a swing bed is right for you, you might want to reflect and see if you've been asking yourself or telling yourself any of the following statements.
Have You Been Asking or Telling Yourself…
I need to add something to my home's design to make it pop.
Don't get us wrong, there is basically an endless number of ways that you can make your home pop, and just as many quick changes you can make to your home's facade or decor that will improve its appearance.
You can change the color of the paint on the exterior of your home or work to create a new brick or stone exterior. You can install a brand new cedar porch. Need a little color in the spring? Plant some flowers in window boxes! Refinish the stone on your steps, give your trim a fresh coat of paint, add some planters or figurines, and so on and so forth.
There is an infinite number of ways to revitalize your home and you are bound only by your creativity. However, everyone else is as likely as you to add a fresh coat of paint or plant some flowers. A porch swing bed gives you the element of novelty and originality.
It's highly unlikely that any of your other neighbors will be adding a porch swing bed to their homes. That gives you a fresh opportunity to create a really unique impression, all without even trying too hard!
Why don't I have a unique little nook all to myself?
If you're wishing that you had a little nook in your home to which you could retire to "get away from it all," then more of the same just isn't going to cut it for you. You need something unique, something special to your setting and your home that can't easily be replicated.
Anyone can buy a sofa for their porch or a bean bag chair, but few people think to outfit their porch with a swing bed or another type of porch swing. It adds character and class at the same time that it delivers you a fresh, original nook where you can escape the pace of the day!
Is there anything I can be doing to decompress and de-stress more effectively?
Stress is something that everyone deals with in some form or other, and in some form or other, stress is destructive. The negative health effects of stress are well known, but even if it weren't for that, you don't need a medical professional to tell you that you don't feel good when you're worried all the time.
Stress management techniques are something everyone should be using to the fullest effect. It hardly matters where your stressors originate; what matters is dealing with them in an effective manner.
Whether you personally prefer meditative techniques or you just like to escape to a place where you can feel removed from the things weighing you down, it's important to prioritize your mental health. Adding a cozy corner to your porch that will help you relax and possibly even sleep better is just one way to secure it!
I'm looking for something new for my home but I don't quite know what it is.
Do you feel that your home's design could use a quick little pick me up but you aren't quite sure what it is? If you are, it might be worth your time to choose something new, like a porch bed, instead of going with the same old things that everyone else uses to pick up their home's design.
Can I make any quick, easy improvements to my porch layout?
Adding in a new porch, new steps, masonry or drastically altering the appearance of the exterior of your home is time-consuming and expensive. You can give your porch a makeover without investing far too much time or too much money with the simple addition of a porch swing bed!
Our porch swing beds ship assembled and come with a rope so they are ready to hang. All you have to do is find a place that can support them and then hang it. We'll even show you how!
With a porch swing you can give your porch what appears to be an extensive makeover without the time and investment typically associated with them. You don't need to tell anyone that it wasn't as arduous as it looked - your secret will be safe with us!
Sounds to us like You Could Use a Porch Bed!
If you've been telling (or asking) yourself any of the above, then it sounds to us like you could use a porch swing, and you happen to be in the right place for that.
By the way, a porch swing bed will come with additional benefits on top of clearing up the concerns you already voiced. Invest in a porch swing and you'll get to enjoy some of the following benefits as well!
Think of the Benefits!
Improve the value of your home
Adding a porch swing to your porch is one of the quickest and easiest ways you can make what appears like a significant improvement to your home and increase its value. The best part of this is that if you're ever up against a buyer who doesn't feel the same way, all you have to do is take the swing bed down and bring it along with you!
Creative a conversation starter
It's actually quite a common practice for homeowners to incorporate conversation starters into the designs or layouts of their homes. For one reason or the other, people love to show off what makes them proud or interests them.
Some use art, some use decor, some use collectibles. You can do it however you like, and one really creative way to do so is with the introduction of a porch swing bed. With a porch swing, however, you can use and converse about the investment at the same time!
Introduce an unforgettably unique aesthetic
Something else about adding a porch swing bed to the design of your home is that it will be incomparably unique. That's actually one of the chief values of a porch swing bed. They're just interesting rarities! If you're looking for a way to keep up with the Joneses, in a fashion that the Joneses won't easily be able to keep back up, a swing bed may be for you!
Relax more often
Something else that really graces swing beds is their unbelievable ability to enable you to relax. When you get into a swing bed, it's like resting on a billowing cloud or on a skiff on the bay in a gentle swell. Rising, falling, ever at slight motion, a swing bed can help you relax like nothing else. We even sell comfort springs on our website so that our swing beds will move gently across all axes and not just back and forth!
Maybe you'll even sleep better!
While we certainly can't make any hard claims, there's also the possibility that a swing bed can help you sleep better. Some report that the gentle rocking motion, similar to a hammock's swaying, actually helps them get to sleep faster and sleep more restfully. To learn more about this, check out our recent blog, "Can an Outdoor Hanging Bed Help You Sleep?"
The Four Oak Bed Swings Difference
When you shop with us here at Four Oak Bed Swings, you can enjoy a new porch bed for your home that will bring you some of the afore listed benefits - and quality that is out of this world.
High-quality construction and rock-solid joints
Our bed swings are all made with Southern Yellow Pine, Western Red Cedar, or Cypress, all of which are lightweight, strong, and rot-resistant. We use a special glue in the construction of our joints that is so durable the joints are actually stronger than the wood itself.
Finished with durable outdoor grade varnish
Our bed swings are also finished with no fewer than three coats of extremely high-grade outdoor varnish so that they can stand strong in the face of the elements. Whether your porch bed is actually for your porch or you choose to bring one inside, it'll serve you well for many years!
Finished in the color of your choice!
A new porch swing bed wouldn't do you much good if it didn't provide you with the character you desired to place a nice accent on your setting. We give you the ability to customize the look of your new swing bed; we'll paint it in the color of your choice!
We provide rope and even show you how to hang it!
Each of our swing beds comes with a standard one-inch manila rope that you can use to hang it. There's even a page right here on our website on "how to hang your swing bed." Check out that valuable resource, and if you have any questions, call us!
Don't forget the accessories
Customizing the look of your swing bed to the setting goes further than picking out the paint. In addition to the comfort chain springs we mentioned, we also offer quite a range of pillows and other accessories for your bed swings so you can achieve the look and character you really want!
Everything ships assembled
When you order a porch swing bed from four oak bed swings, it will ship to you already assembled - there's nothing for you to put together, all you have to do is hang it!
One more thing - it ships free!
Just so we don't forget to mention it, all of our swing beds ship free. Other providers might be used to collecting big sums on shipping, but we never do. They all ship for free, so what you see is what you pay for!
Take a look through our collection of porch beds and other bed swings and let us know what appeals to you. It's a big purchase, so we expect you to have questions, and we love hearing from our customers.
Give us a call at 334-202-2870, or if it's easier for you, email us at david@fouroakdesigns.com. We'll be satisfied when we send you on your way with a new porch swing bed that will give you hours of enjoyment for years to come.