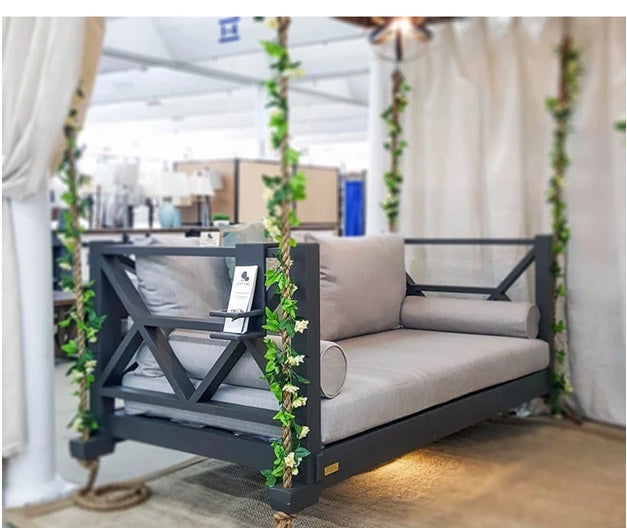 Homeowners looking for ways to truly revitalize their spaces - whether their bedrooms or their porches - are in just the right place here at Four Oak Bed Swings. We've also had a knack for creativity and design and we put it to good use in the handcrafted beauty that is our collection of hanging daybed swings.
Lucky for you, when you shop with us, more than beauty comes with the purchase - function comes with it too! Just check out our blog and you'll see all of the ways that a hanging swing bed can help you relax and might even be practical for helping you get better sleep! 
If you're looking for one, whether for your porch, your living or family room, or even for your bedroom, we have plenty of highlights in our collection of bed swings. We're committed to providing a legendary level of customer service, and in part, that means pointing you in the direction of the designs that will meet your needs best.
See if any of the following appeals to you based on what we have to save about them, and if you have any questions, just give us a call to learn more!
The "Loveseat" for intimate company
The popular image of a daybed swing might be of one that is large - you know, bed-sized - while the contrasting image of a porch swing is much smaller. Some of you might have even formed an impression of porch swings as uncomfortable, bare wooden contraptions. With such little room for imagination, it might seem like you have to take one or the other and make tough compromises in size and comfort.
That may be the case for some producers, but it isn't the case with Four Oak Bed Swings, or rather, it isn't the case with what we can provide. You see, our imaginations are not limited, and we've created bed swings for every occasion, setting, and purpose. You won't need to stake a compromise on comfort, size, or appeal, either.
Imagine the perfectly sized bed swing for intimate company; able to be worked into porches, living areas, and even little nooks with limited space. It has all the character and modest dimensions of most porch swings, but it's much more elegantly styled and significantly more comfortable. Perfect for one, two, or potentially even three occupants, it's like a hanging loveseat.
That's our Seaside Bed Swing; with a high back and adequate armrest space for ideal comfort, with slightly scaled-down dimensions for intimacy, it's the ideal match for porches and spaces with limited room. It also makes the perfect companion piece to support intimate company and close friendship.
For those who love face time
Suppose you found our Seaside Bed Swing appealing but desired a design that allowed for even a bit more familiarity and comfort? Perhaps you might be looking for a solution for your home or porch that is ideal for closer spaces and offers even more personal taste than the Seaside - which, mind you is, is hard to do.
If that's the case, you might be well served by our "Courting" Bed Swing. This unique bed swing, without a back and with staggered diagonal rests, is one of the most interesting designs - and one of the most unique - in our collection.
Compact, yet classic, the "Courting" is ideal for spaces with limited space. Due to the nature of its design and its odd symmetry, the "Courting" is best used by one occupant - or two, if the nature of the companionship admits such closeness. Also, the manner in which it is arranged makes it most amenable to face-to-face interaction, rather than other bed swings, where occupants would typically sit alongside or next to each other.
Of course, despite the name, the "Courting" Bed Swing is also a match made in heaven for those who truly appreciate their alone time. For anyone who needs a quiet little space to get away and has the room to provide it, this bed swing will be a delight. Just set it up, grab your favorite refreshment and a good read, or perhaps some music if that is to your liking, and the "Courting" will quickly become your spot of choice.
Want to minimize your impact on the environment? Don't miss our R&R!
As consumers, we all do the best we can to minimize our collective impact on the environment; some of us do this while gathering as much natural allure as we can from the process. There are many ways to do it, too. Recycle your plastics and glass. Cut back on single-use plastics and other paper products to help minimize waste. Turn the lights off when you don't need to have them burning. Walk or take a bike instead of driving, or carpool when the occasion allows for it.
The point is, there are as many ways under the sun to minimize your carbon footprint and your holistic impact on the Earth as you can imagine. Creativity is the only boundary that matters when you're doing the best you can for the Earth. Creative minds come up with great ways to upcycle and even better ways to cut back on waste.
Speaking of creativity, saving the Earth isn't the only thing for which that trait is explicitly useful. Creativity is great for lots of other things - like coming up with unique and beautiful designs in art and furniture.
Creativity has been the inspiration that has enabled us here at Four Oak Bed Swings to produce a hanging daybed that is not only one of a kind for its visual aesthetics but also uniquely situated to benefit the environment. You see, our R&R Bed Swing may be ideal for rest and relaxation, but that is not what the R&R in the name stands for!
Whereas our other bed swings are predominantly made from Southern Yellow Pine, Western Red Cedar, or Cypress, our R&R is made entirely of reclaimed and recycled wood. Catching onto the gist, now? This swing bed is one that brings you not only rest and relaxation but also benefits the Earth!
The R&R Bed Swing is made largely from reclaimed antique heart pine, while the rest of it is made from wood that has been reclaimed or recycled from home deconstructions or salvaged from other sources. It prevents all of that scrap lumber from going to waste and even makes a thing of unparalleled beauty out of it all. From a cup of dirt grows a flower, or so they say.
That is one of the reasons why we promote our R&R Bed Swing without paint; it shows off the natural beauty of the wood underneath. There is something stately and dignified about furniture that has been reproduced from reclaimed wood. We wouldn't quite call it regal, but it is almost an aloof character that has been garnered from the process of restoring youth to aging and failing materials.
Reclaimed wood may bear scars, stains, and discoloration, but that's no different from spalting in a piece of wood stock. Each mark makes the wood unique. There are some out there who might even say reclaimed wood is more beautiful than freshly milled wood, and in some ways, we'd have to agree with them.
Perfectly sized for the bedroom
Some of you reading this will naturally be looking for a hanging daybed for the bedroom, although you might not want one specifically for use as a daybed. You might want one for use as an actual bed - you know, one that you can retire to at night to get a full night of restful sleep.
Hanging swing beds may be ideal for that, it's true - provided you outfit your bedroom with a model that is adequately sized and amenable to the situation. While all of our swing beds and porch swings are delightful little accommodations for relaxation, some of them are not really suitable as full-size beds.
Additionally, you might consider it a glaring inconvenience to have rails on the sides of your bed, which is completely understandable. You might just be looking for something that is properly sized and well designed for use as a hanging bed - and we have just the ticket for that.
Check out The Hanging Bed. That's actually the name - there might be more than one "hanging bed" at Four Oak Bed Swings, but there is only one "The Hanging Bed"; it's the one!
This hanging bed, that is, the hanging bed, is available in five sizes, so whatever your needs or preferences are in a bed, you can have it with this model - as small as a crib or as large as a King bed.
Additionally, this bed is designed without rails, so wherever you have it situated in your room, it will be easy and comfortable to get in and out of - whether it's against a wall or nestled in a corner.
Limited space on the porch? Go All-American!
Back to those who are looking for a unique hanging daybed or swing for the porch, but don't necessarily need to meet any requirements for cramping. For those of you for whom the "Courting" and Seaside Swing Beds might have been a little too small, we welcome you to investigate the All-American Bed Swing as a viable option.
Front to back, it's more like a smaller swing than a bed, which still makes it ideal for porches with limited space. Even with that in mind, it has adequate room for gatherings and parties, and it couldn't be more comfortable!
Just be warned - sitting in this bed swing with a beverage of choice may cause all your worldly cares to melt away entirely, leaving you worry-free and enraptured by a state of utter, incomprehensible bliss!
Looking for something else?
Those of you who are lucky enough to have extra room on your porch or elsewhere in your home might be looking for something a little more capacious than the models we've investigated so far. In that case, we'd like to direct your attention in the direction of our bed swings, including The Buckhead and The Avalon.
Each and every home layout has its own constraints and space considerations, so finding something that's perfect for your unique living situation can be tough. Just remember - do your homework ahead of time and at the end of it you'll have a bed swing that will serve you admirably for many years!
How to Hang Your Swing Bed
By the way, our bed swings come with standard 1-inch manila ropes, although with some of them you may be able to choose alternate options for hanging. Some of them can be paired with Easy-Adjust Ropes or even steel cables, whichever you prefer and would look better in your home. You can also have them sent to you with no hanging materials if you'd prefer to arrange for that yourself.
By the way, in case you wanted to take advantage of the fact that our bed swings come with ropes standard, we also have the resources you'll need to learn how to hang your bed swing. Just check out that link; it shows you everything you need, but if you have any questions you can always call us.
Accessorize for the Perfect Match
Before we let you go on your way, remember to check out our collections of custom tables, cushions, and accessories for your bed swing so you can really create a custom look for your home. Additionally, remember to carefully select your preferences on the product page - many of our bed swings can be completed with a clear finish, but we also will finish them in the color of your choice, as indicated on the product page.
After you're all squared away, get ready to kick back and relax! All of our bed swings ship for free and come entirely assembled! All you need to do is hang it and then you can lay back!
Take some time to get familiar with the options mentioned here and if you have any questions at all, make sure you give us a call at 334-202-2870. We love hearing from our customers and we'd be more than happy to help you enjoy the perfect experience with one of our hanging daybed swings.