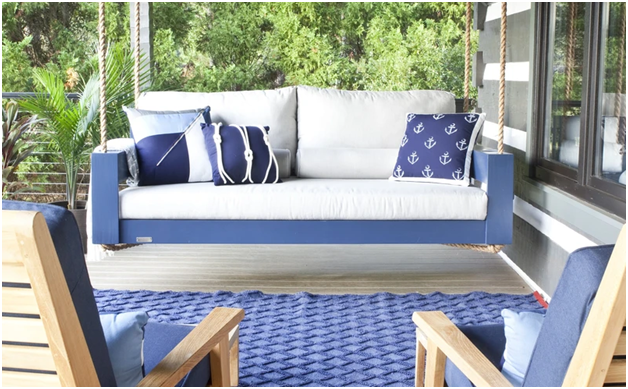 Most of us can relate to how amazing it feels to relax on a comfortable couch, sink into a plush bed, or sit outside on the porch during a warm summer evening. What if you could do all three at the same time? porch swing beds might be just what you're looking for then.
Yes, a porch swing bed is just as incredible as it sounds. If you aren't exactly sure what differentiates an ordinary porch swing from a bed swing, it's all in the level of size and comfort. Think of the kind of sofa that easily doubles as a place to sleep. Go one step further and suspend it in the air.
This indulgent take on the classic porch swing has been growing in popularity in recent years, and no wonder. Porch swings themselves evoke nostalgic feelings of lazy summer days and simple refined comfort. There's something uniquely wholesome and American about large front porches and their often iconic and eye-catching porch swings.
This simple tradition has evolved over the years, as porch swing styles have changed and adapted to the times. Some porch swings have been traditionally rather simple, at times austere.
While others border on the luxurious, with ornate carvings and lush upholstery. There's certainly a huge variation between all the different varieties and styles for any kind of comfort level or look you're going for.
One variety of porch swing, of course, includes larger than average seating that ranges from about the size of a loveseat or sofa to an entire bed. What began as a simple wooden fixture of porches everywhere has become something much bigger!
You might be wondering if they are right for you or where you would even start if you wanted to purchase one. This guide will help answer those nagging questions and more, including where to purchase and how to install one once you get it.
Let's start by first going over the practical side of these large porch swings and how much value they can add to your home.
Practical Uses of Porch Swing Beds
The obvious use for a porch swing large enough to be considered a bed is to rest and relax on one. This simple explanation doesn't really do them justice, however, given how much they can change the dynamic of your home.
Think about all of the times you wish you could truly relax outside in your yard or on your porch but you found that your current seating options leave much to be desired. In fact, they're downright uncomfortable.
Even many ordinary porch swings aren't all that comfortable. They can be relaxing but are not designed to be sat in for extended periods of time, and they are certainly not designed to rest in.
So the best you can hope for is a chaise lounge, but that isn't always practical or even available. You might be looking for a solution to make your porch far more comfortable and usable, and the right kind of porch swing might be able to do just that. They can be the difference between a plain and boring porch to a place that's comfortable and inviting.
Being able to use your porch as a place of true comfort and relaxation almost transforms it into another room of your house. You'll find that the combination of cloud-like softness and fresh air is irresistible and you might just wonder how you went so long without it.
The next useful and highly underrated aspect of owning a porch swing like this is as a place for family to gather. These days, with how fast-paced days can be and how crowded everyone's schedule is, it's becoming increasingly more difficult to fit in family time.
Outside of herding everyone together at the dinner table or a rare movie night, it seems nearly impossible these days to find something that everyone loves and wants to share as a unit.
An oversized porch swing fills this role completely. Large enough and comfortable enough to support several people at a time, it provides just the right amount of appeal to get the whole family on board.
For those who want cozy comfort after a long day of work, you have it. For those who want a place to sit and read while enjoying the weather, you have it. And for those who just want to feel the gentle rocking feeling, you have that as well. All at the same time for that matter.
This piece of furniture can quickly become a centerpiece of the home with all the comfort and utility it provides. It's the kind of place that draws you in no matter who you are, because who doesn't want a bit of relaxation with a touch of fun? There's something inherently exciting about crawling onto a porch swing, not unlike a hammock. It's a sensation you really can't duplicate anywhere else.
Perhaps the greatest aspect of these porch swings is their ability to be an oasis. These days we all need a place to zen out and just get away from it all. Whether you just want to lay down after a long day of work but don't quite want to get into bed just yet, or you're looking for a place to meditate or zone out in the morning, this is where you want to do it.
The importance of having your own place of deep relaxation and comfort cannot be stressed enough. It's so common these days to overwork ourselves and not take the time out of our day to truly relax.
This is where having a special place to unwind comes in handy. Not the living room couch or the kitchen or garage or any other ordinary place in your house, but an area designed for real comfort and relaxation. That's something you can't really put a price on.
Clearly then there's more to a porch swing like this than just everyday lounging. It can become an integral and loved part of your home that everyone can enjoy for entirely different reasons. It can bring everyone together on a summer night or be your refuge every day after work, and more besides.
Installing and Hanging
You might take one look at a bed swing and wonder how you would ever actually install one. The good news is, they aren't nearly as difficult to hang and install as you would think. In fact, here at Four Oak Bed Swings, our swings are ready to hang immediately and come with one inch in diameter Manila rope.
Installing your swing is simple, though we highly recommend making use of a professional handyman. It only takes understanding and implementing a few specific techniques that we have outlined in our guide that illustrates exactly what you need to do in order to hang your swing, but a handyman will have the experience and tools necessary to complete the job as swiftly as possible. You can reach out to us with any questions you might have at any time regarding advice on installation. Once you figure out exactly where you want to install your swing, there are just a few steps and a few basic tools that are needed to get the job done.
Where to Find Them
You don't have to travel to a specialty hardware store or a craftsman half a world away to get your own porch swing bed. In fact, we at Four Oak Bed Swings have a wide selection of gorgeous swings crafted from the finest materials, and we deliver for free.
We understand the value of meticulous craftsmanship and unique designs, as well as rich comfort, which is why we're proud of our amazing selection. We have swings of many different styles and crafted out of a variety of materials, to not only match your home but your specific tastes as well. You simply can't find such a selection in most local hardware or department stores, especially not of the same quality.
Here are just a few items from our collection.
The All-American Bed Swing
If you are looking for simplistic cozy comfort, this is the swing for you.

With fifteen custom colors to choose from and a clean, minimalist design that could fit on just about any porch you can think of that's large enough, you would be hard-pressed to find a more valuable addition to your home.
The R&R Bed Swing
If you want to really feel like your home has been transformed into a cozy southern bed and breakfast, you might want to grab this bed swing.

Crafted from reclaimed and recycled antique barn wood, this swing just oozes charm and old country style. If you want to add a special place to your home for the whole family to enjoy, this swing has what you're looking for.
The Westhaven Bed Swing
This is a swing for anyone looking to add a feeling of natural beauty to their home. Your porch will be the most popular place in or out of the house. Crafted from kiln-dried pine and designed to provide years of relaxation and enjoyment. For unparalleled quality, exactly what you need in your home.
Makes the perfect addition to any porch, patio, or deck and was designed with you in mind, with an array of customizations and add-ons, including wine holders and color options.
You can find all of these amazing pieces and more right in our online store. With a huge selection of style and color options, it's easy to find the right match for your home as well as what level of comfort you desire.
The right porch swing bed will have you rethinking comfort entirely. This is the approach we've taken to ensure the highest quality possible, at every step of the design process. No step in their construction is not without thought and care, and it shows in the end result. Our swings are not only beautiful and comfortable, but they are also built to last.
This is perhaps the most important part of any great swing, how it holds up to everyday use. After all, once you fall in love with your swing, you're naturally never going to want to get off of it. This is an investment, not something you install one day and forget the next.
Which is why our beds are built meticulously, with an appreciation for quality over everything else. Our swings are designed to be more than just a porch decoration. They're meant to be used and enjoyed. They're meant to become an integral and beloved part of your home and everyday life.
When crafting anything with these ideals in mind, it becomes all the more important not to skimp on anything or resort to cheap materials or poor design. If you want to build something tough and long-lasting, the design process has to be solid from start to finish.
Our swings are meant to become a part of your family for years and generations to come, which is why we not only place so much emphasis on quality but also on our customers. If you have questions or concerns about our products at any time, we welcome you to reach out and contact us.