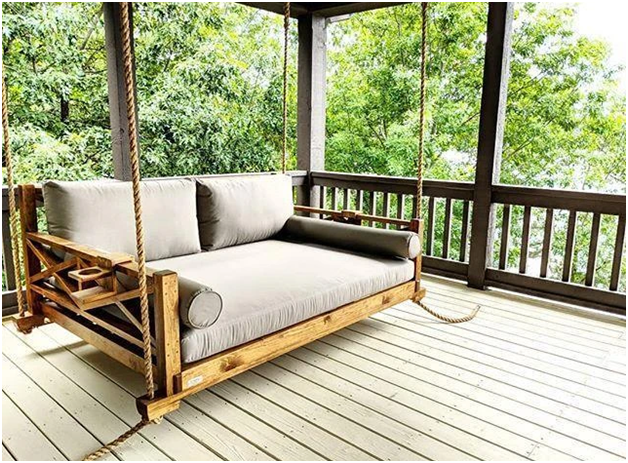 There are certainly plenty of ways in which you could go about improving your home in order to increase its ability to provide functionality and comfort. Paint jobs, recarpeting, kitchen remodeling, landscaping, and more besides. However, if you're looking for a way to really complete your home, you might want to consider a hanging daybed.
Your home is the composite of hundreds of things both big and small that all work in tandem to create a kind of haven for you and your family. Everything from the outdoor aesthetics to the living room TV is there to bring some kind of value to the table, whether it's entertainment, coziness, work efficiency, or sheer artistry. Ideally, you want to craft your home in such a way that it provides you with exactly what you need.
In that respect, a hanging daybed can provide your home with that extra little something that transforms it into a true haven. There's nothing like the feeling of deep relaxation and comfort that a well-made porch swing bed can provide. Perhaps no other single piece of furniture or any one specific change you make for your home has the potential to truly increase the value of your living space.
You may be wondering, what exactly is a daybed to begin with and why would you want one that hangs? Moreover, where would you hang it? If you aren't familiar with these incredible pieces of furniture and what they can do for your home, you're in for a treat.
Traditionally, a daybed is a plush, oversized couch that can easily double as a simple bed. A daybed may sit somewhat higher than a sofa and typically has higher sides rather than armrests, to complete the look and feel of a bed. In other words, the perfect place to plop down for a midday nap or a lazy afternoon book reading session.
A porch swing is usually a suspended loveseat or bench located on a porch or patio and is considered something of an American tradition. These interesting pieces of outdoor furniture are designed to be simplistic and relaxing, their gentle rocking the perfect remedy for stress and anxiety.
In fact, there's quite a bit of evidence that points to porch swings being great for your health. Among the touted benefits are increased circulation, lower heart rate, and even pain relief. They can help you unwind when you feel overwhelmed, as studies have shown that the light swinging sensation provided by porch swings can calm your nerves and slow your breathing.
When you combine the coziness of a daybed with the relaxing and thrilling qualities of a porch swing, what you have is a hanging daybed, which can become a truly invaluable addition to your home that's as fun as it is functional.
If you're looking for a piece of furniture that can bring a whole new dimension to your living space, a porch swing style bed is exactly what you're looking for. The myriad of benefits they can provide make it an incredible investment that you will be taking advantage of for years to come.
What Your Home May Be Lacking
Over the years, our homes tend to accrue additions such as appliances, home entertainment systems, exercise equipment, furniture, and art that are meant to increase the overall usefulness and value. The value we derive from our homes is important of course; you want everything in your home to add something to your life and be useful or inspiring.
While we collect these additions to our home, there are certain needs that tend to be filled. Eventually, we get that big screen TV for the family room, a better showerhead, a larger sofa, wall to wall carpeting. All of these different items and additions serve a purpose, but after everything is said and done, your home may still be lacking a place of true relaxation.
This is an underrated part of any home that some homeowners don't even realize that they need. A place to truly unwind that isn't designed for another purpose. Sure you can relax in bed, or on the couch, but that's not the same as designating a spot that will help you truly get away from it all.
As our lives get busier and it becomes more difficult to escape the constant alerts on our phones and the demands of work and family obligations, having a place to de-stress and find real comfort becomes increasingly more important. Stress management isn't a luxury, it should be an integral part of your home and daily routine. While there are certainly plenty of ways to de-stress, having a dedicated part of your home where you can depressurize is becoming essential.
One of the reasons for this is simply because while beds, sofas, and other parts of the home do provide some comfort and relaxation, they aren't specifically built for those purposes. Your family room may be the hotspot of your home and see the most foot traffic. How are you supposed to truly relax in that environment? And while hopping into bed in the middle of the day may seem appealing, this isn't the healthiest option and poses issues of its own if you're really trying to have some peace and quiet alone.
In other words, your home may be lacking a place of deep relaxation. A little area to escape to and unwind after a busy day. A cozy spot to collect your thoughts and let the stresses of the day leave your body. No computer, television, or other distractions. Every home should have some kind of nook of peace where you can recharge your batteries or simply dive into a novel without a dozen interruptions. This kind of serenity is priceless and is becoming hard to come by in the modern world, given all of the ways in which our attention is being pulled.
While you may have spent years building up your home to be a happy refuge full of cozy amenities and state-of-the-art entertainment, it could be lacking a place to just escape to, and this is truly where a well-made hanging daybed shines.
Extensive Benefits of a Hanging Daybed
There are numerous benefits to including a porch swing bed as a part of your home that ranges from the practical to the fantastical. They can provide a much-needed refuge to relax in after an arduous day of work, or a cozy heart of your home that brings the whole family together on cool summer nights. Their wide range of utility makes them an amazing investment for your home.
As alluded to before, the health benefits alone are a huge perk that makes owning one an absolute pleasure. The feeling of suspension and soft rocking motion of the daybed contribute to lower stress levels overall. There's a reason why playground swings make us feel so good, as well as why gentle rocking can help an agitated baby fall asleep.
The vestibular system, which helps control our sense of motion, balance, and spatial location, can benefit from the rocking sensation of a porch swing or daybed. This is a form of stress and sensory management that even doctors use to help children with autism and mood disorders balance themselves and achieve calm.
In fact, the feeling of suspension and rocking actually helps release endorphins, which make us happy. Your mood can literally be uplifted simply by spending time relaxing on a porch swing or daybed. This mood regulation combined with lower stress levels has the power to greatly increase your overall quality of life.
Stress itself is one of the most potentially damaging health issues we face in the modern world. So many of us are overly stressed, and this stress leads to an array of health complications, which is why doctors take it so seriously. Knowing how to destress and having a reliable means of doing so means you have power over your health.
Because we can grow accustomed to stress, we may not often even notice just how stressed out we really are until we really decompress and let go of our troubles. Being able to find this equilibrium on your own terms in the comfort of your own home is a gift. Stress is considered to be behind some of the nation's leading health problems, including eating disorders, ulcers, weak immune systems, chronic pain and headaches, hair loss, skin problems, mood disorders, and so much more.
If stress can affect our lives so strongly, it stands to reason that we should take the time to invest in ways to regulate and relieve that stress. Having a purposeful place in your home where you can relax and rid yourself of stress can actually increase your quality of life in a palpable way. You may not even know how stressed you are until you feel it melting away on a cozy and relaxing daybed.
While the health benefits of these amazing pieces of furniture can't be ignored, there are plenty of other reasons to include them in your home as well. A place to bring your family together, keep your kids occupied, and increase the functionality of your porch are all important as well. Not to mention how gorgeous your porch or patio will look once your daybed is installed and piled high with pillows.
Having an additional place where family can gather together and find comfort and fun is also severely underrated these days. When everyone seems preoccupied with their phones and wants to cut themselves off from the rest of the house inside their rooms, a cozy porch swing bed will go a long way in bringing everyone together for more family time.
Where to Find One For Your Home
If you're looking for a well-made, beautiful, and comfortable hanging daybed to create a comfy little nook in your own home, we have a wide selection of finely crafted daybeds right in our store here at Four Oak Bed Swings that will meet your needs. Our dedication to quality and attention to detail can be seen in every piece featured in our collection.
There's no need to search far and wide for the rare department store that might have a lone porch swing bed of some kind in stock. These unique and large pieces of furniture are somewhat hard to come by if you don't know where to look. Our online catalog takes all the guesswork out of finding one that has all the comfort you're looking for and that will match your home just the way you want.
Our handcrafted and meticulously designed pieces provide a level of simple luxury that you won't find anywhere else. They can completely transform your porch or patio into a well-loved center of your home that also doubles as a reliable escape when you need it most. You'll find yourself making excuses just to step outside and spend time on the porch once you have your very own daybed installed.
Between the health benefits, comfort, and functionality that come with owning a porch swing bed like the kind we have here at Four Oak Bed Swings, you will wonder why you never made such an investment sooner. Less stress and more relaxation in your life will lead to better overall health, more energy, and less frustration. You will simply enjoy a better quality of life, making such a piece of furniture invaluable if you are looking for ways to live a healthier, happier lifestyle.
For more information on our products or if you have any questions about ordering or installation, you can reach us at 334-202-2870, and we would be happy to assist you in any way possible. Customer satisfaction is our top priority, and we want to make sure that you find exactly what you're looking for without any hassle. You know that with Four Oak Bed Swings, you are receiving not just a top-quality product, but service as well.