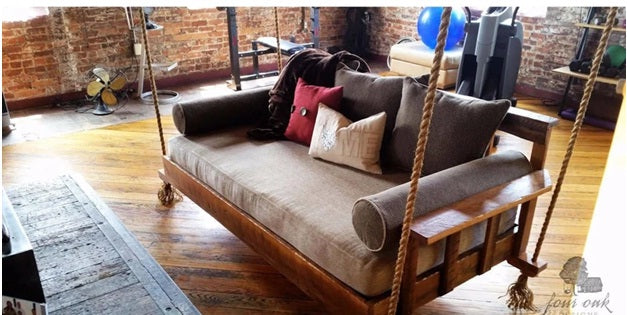 Unless you arrived at this blog intentionally, a daybed swing was likely one of the last things you were thinking about adding to your home's design. They're just not all that common, even in this day and age of unconventional modern designs.
But that shouldn't be the case. A daybed swing can improve the look and feel of your home and may even improve your lifestyle. Here are our top reasons that a hanging daybed has the potential to revolutionize your domestic living!
Create the perfect cozy corner
If you have no other good reason to add a daybed swing into the design of your home, inside or out, then get one simply because it will enable you to create your own cozy corner. Everyone needs a place to get away from it all where they can avoid the stresses of daily life, and in the comforting embrace of a hanging bed, stress will simply melt away.
Enjoying the comforts of a bed swing, whether you choose a traditional porch swing or an ultra-modern look for the interior of your home, will simply give you a spot of your own to avoid the hustle and bustle of daily life. In today's fast-paced environment that encompasses all aspects of life, it's more important than ever to seek and accept healthy ways to manage stress.
A daybed porch swing or a swing bed for your living room, family room or even your bedroom is the perfect solution, and because our swings are so customizable, you'll be able to bend the rest of your design to your vision.
Can a daybed swing actually help you sleep?
One of the best reasons we can potentially suggest bed swings is because it's been said that bed swings, like hammocks, may actually be able to help you sleep better. Granted, we're not going to make any hard claims, and the evidence we can suggest is purely anecdotal but it's worth hearing nonetheless. The worst thing that can happen is you can experiment for yourself and find out if your own experiences bear out the claims.
Let's use hammocks as a template for this claim. According to some sources, people who sleep in hammocks not only fall asleep more quickly but also sleep deeply and experience more restful sleep overall.
Apparently, the rocking motion of a hammock, or in this case, a bed swing, can stimulate or synchronize with your brain waves, which lulls you into a deep, restful sleep. This has been anecdotally reported countless times by proponents of hammocks, and the benefits may transfer to a bed swing.
There's only one way to find out, and even if you don't find it to be the case for you, the worst thing that will have happened is that you'll have secured a new cozy nook for your home or bedroom.
It's a space for relaxation
This applies to you specifically if you are interested in a daybed swing for your home but aren't intending to make it a fixture of the bedroom. Whether you put an outdoor daybed under the eave of your front porch or work one into some corner of your living room, it's going to serve as a place for relaxation.
You don't need to go to sleep to enjoy the feeling of the weight of the world rolling off of your shoulders, and enjoying a daybed swing as a cozy nook for enjoying a good book, or in lieu of a sofa, is a great way to enjoy that experience.
We even say so directly on our product pages - be wary of enjoying your favorite beverage while reposing in one of our bed swings - you might find that you lose all motivation to do anything else!
And, for what it's worth, we won't tell if you sneak to the corner or the porch to catch a few winks. You don't need to place a bed swing in the bedroom to enjoy the benefits of higher-quality shuteye.
Endless options for customizing the look of your home in accordance with your vision
The first thing you'll notice when you visit our collection of bed swings is that no two are the same. We have tons of variety in our collection and there's a bed swing for every home. However, don't lose sight of the fact that you can easily customize your experience or your home decor with mattress covers, weather-resistant cushions, pillows, and even with the paint in which you choose to finish the daybed swing itself.
Our collection of bed swings are available in 15 different colors, so you can take a seamless approach to creating harmony, whether in your home's interior or out on the porch. All it takes is a little bit of vision and perhaps some coordination with your other indoor or outdoor furniture, and you'll be set.
It's a creative, original way to add value and possibly even curb appeal to your home!
Finally, a bed swing is a great, not to mention an extremely creative way, to add unconventional value to your home. Creating the perfect spot in your home with one of our heavy-duty bed swings is pleasant enough in its own right, but think of it this way: how many other homes that you've visited have bed swings of their own?
Probably not many, which is a good reason to invest in one right on its own. It will add a bit of "pop" to your home, and, if it's displayed at the exterior, will offer curb appeal as well. You can give yourself a place to relax and potentially improve the value of your home in one fell swoop!
If you're thinking seriously about the prospect of adding a daybed swing to your home or porch, check out our collection of swings via the previous link. You can also get in touch with our customer service team at 334-202-2870 or by email at david@fouroakdesigns.com.
Our models - even our full-size swing beds - are shipped assembled and ship for free, and they even come with a set of ropes that you can use to hang them - don't wait, get in touch with our customer service team today!