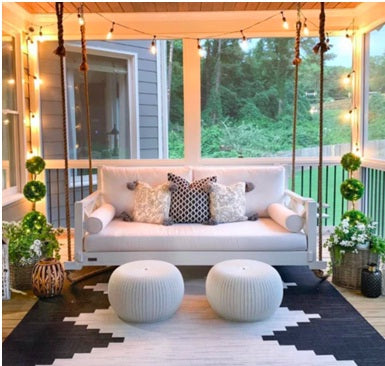 You have a patio at home that is dream-like, but there's something missing on your nearly perfect patio. You need something to perfectly complement this outdoor area that simultaneously provides you with a place to relax and rest. Of course, porch furniture comes to mind to satisfy this need, such as a quaint table and chair set-up. However, that might not suffice for you as you want something far more comfortable and unique.
That's where we come in at Four Oak Bed Swings. We specialize in handcrafting patio swing beds for all of our customers. We know the luxurious nature of these swinging beds, and we are proud to provide them to all of our customers based on their specific needs and preferences.
When selecting your future patio swing bed with us, we provide a plethora of options for you to choose from so you can really personalize your new patio piece. You can select the type of wood, the color, size of the bed, types of suspension cables, cushion packages, and more!
On top of these excellent options for personalization of your swing bed, we also offer free delivery services to anywhere in the continental US. This way you don't have to worry about purchasing it, stuffing it into your car, and then removing it to set it up. Instead, it'll be conveniently delivered to your door! On top of that, no assembly is required. How about that for convenience and luxury?
There are a lot of different types of patio swing beds to choose from our repertoire. It's just a matter of understanding these types, which are the best-selling, and what features they have that can cater to what you are looking to add to your patio. Let's have a look at our top four options of patio swing beds to figure out which is best for you.
1. 
The Avalon Bed Swing
One of our most popular and best-selling options is the Avalon Bed Swing. It's really no wonder why this option is so heavily sought after. This piece takes on a modern design while keeping comfort and practicality in mind. It also comes in three sizes to suit nearly any patio: crib, twin, and full.
Not only does this swing bed come in three different sizes, but it also has a plethora of color options. These include but are not limited to gray, classic red, fiery brown, grays harbor, hazel, tricorn black, and honest blue. You are also able to choose what cable you'd like to have for suspension, like rope, steel cable, or even no cable at all.
If you so choose to do so, you can even select what cushion package you'd like to add with your bed swing. But, you also have the option to provide your own cushions separately. Any style you're looking for on your porch, you can accomplish with this bed swing.
2. 
The All-American Bed Swing
This patio swing bed was inspired by the American dream. The armrests on the All-American Bed Swing are larger than most of our other swing beds', providing you with ample room to recline and rest your arms beside you. In each armrest, there is a convenient cup holder so you can always have your lemonade, coffee, or wine glass right by your side for optimal rest and relaxation.
For an added cost, you could make those cupholders into wine glass holders because we know that drinking a glass of wine with this bed swing is the best way to enjoy your new patio furniture!
Much like all of our bed swings, you can choose from our 15 color options to match it with your porch and its other furniture. You also can choose from cushion packages as well, much like all our other bed swing options. Make the American Dream come true with your new bed swing.
3. 
Seaside Bed Swing
For those looking to complete their beach house's patio or porch, then this is the bed swing for you. The Seaside Bed Swing is the perfect accessory for any beach house. The kiln-dried pine on this piece perfectly complements the sand and overall ambiance provided by the sea and beach. It offers a homey feeling while providing the utmost comfort so you can enjoy the sea breeze right from your patio/porch.
Drawing inspiration from the nautical theme, this swing would perfectly match your beach home. You can choose from the available 15 colors as well in order to match it perfectly with your style, home, and porch.
4. 
The Westhaven Bed Swing
Another nautical-inspired swing made our list at number four and it won't surprise you as to why. The Westhaven Bed Swing has armrests that are sleek but comfortable and add a contemporary flair to your porch or patio, whether it's indoors or outdoors. This particular bed swing is made of kiln-dried pine as well, which allows for unparalleled sturdiness and future years of content usage. The double-cross pattern on the armrests so elegantly matches the same pattern on the backing as well.
When this bed swing is paired with rope to hang from the ceiling, the aesthetics are truly remarkable. We recommend this option to all of our customers who purchase this option, but the steel cables add an extra element of safety and style in a whole different way.
This option also has various other categories for you to personalize, like colors, sizes, finishes, cup holders, wine holders, and the possible addition of a cushion package. This bed swing is ideal for any house and any patio or porch, whether the space is enclosed or not.
No matter which of the above patio swing beds you choose to add to your patio or porch, you can easily personalize it in the way that best suits your preferences. We would be happy to deliver it to you for free and with no assembly required. If you have any questions, feel free to call us at (334)-202-2870 so we can get you the patio swing bed you and your home so much deserve.