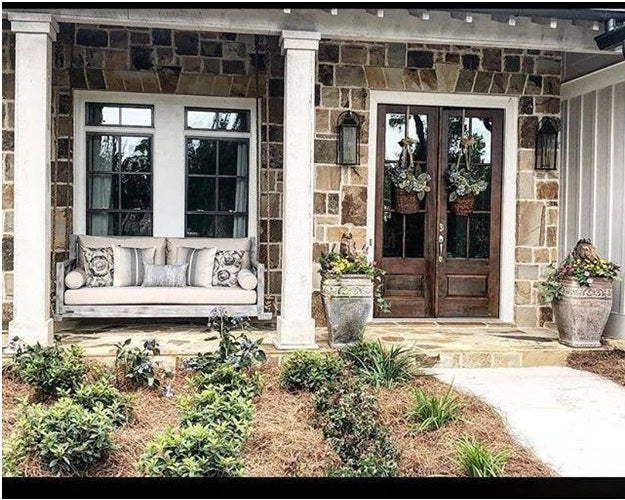 Of all of the enhancements you can make to your home, or more specifically, to your porch, investing in a porch bed might be far down the list. It's not on most people's radar.
That's exactly why it should be on yours. There are a number of benefits that come along with sprucing up your porch - front or back - with one of our porch beds and other swing beds. All you need to do is take the initiative and you can realize some of them yourself!
Take a look at some of the reasons below, and take the plunge if you dare. If you do, you'll be wondering why you didn't years ago, but at least you'll be wondering in class and comfort!
Give Yourself a Getaway
The first reason is a bit obvious, but setting yourself up with a swing bed on your porch is a great way to give yourself an unconventional getaway. Everyone has a little place of their own to get away from everything, but not everyone has a swing bed on the porch.
It's a great way to get outside, enjoy the sights and sounds, and be comfortable doing so. Plus, there are so many other health benefits to spending time in the great outdoors, even if the only time you have to do so only allows you to get so far as the front porch.
A swing bed for the porch can give you a quiet little personal retreat where you can listen to the crickets and the birds and absorb all of the beauty that was around you this whole time. You won't just have a little getaway, though, you'll turn heads, too!
Make the Neighbors Jealous
See above where we mentioned that it isn't on anyone's radar to get a porch swing. It might not have been on yours until you got here. That is precisely the very reason that you should ornament your porch with a porch swing - or any other room in your home with a swing bed.
Sometimes all you need to add a little bit of class to a setting is to deck it out with something that is not customary or will catch your attention. Rest assured, a swing bed is an attention grabber and in a good way. Add one to your porch and you will make your home pop.
Relax in Style
A swing bed for your porch won't just have you relaxing, it will have you relaxing in style like never before. Say goodbye to the old days of wicker furniture and sofas for the porch and usher in a new era of contemporary style. Except this style isn't just contemporary, it's original too - you'll be the only one on the block with one!
Upgrade Your Setting!
Adding a hanging porch bed to your porch will instantaneously add some extra color and class to the setting of your exterior design. That's a thing, too; interior design might get all of the fire, but the exterior design is the first thing people will notice about your home before they even get a chance to walk inside.
Call it curb appeal, if you will, but it is what it is. Add a porch swing bed to your exterior space and you will immediately be adding some style, and you might even be improving the value of your home. At a bare minimum, you'll be upgrading the space.
You Might Even Get Better Sleep
Then again, there is a functional matter to consider that a swing bed might even help you sleep better. Granted, some reports are anecdotal and are not scientifically backed, but there are enough people out there that swear by hammocks, and swing beds offer basically the same experience.
The idea is that the gentle rocking motion of a hammock, or in this case, a porch bed, will mesh with the oscillations of your brain waves to get you to sleep quicker and to give you more restful sleep. Is it a fact? Maybe - try for yourself and see if you're more relaxed or sleep better.
Four Oak Bed Swings - Incomparable Quality, Free Shipping, Satisfied Customers
If you need more convincing after reading some of these reasons, then consider that here at Four Oak Bed Swings we make some of the finest bed swings in the country. They've even been featured on HGTV!
Our bed swings are all made with the highest quality Southern Yellow Pine or Cedar. They are strong, lightweight, and resistant and we finish them with a minimum of three coats of varnish for extra durability.
We even offer free shipping one all of our products and they come ready to hang, so all you have to do is hang them and you can get right back to rest and relaxation! If you have any questions on what makes our best swings different, make sure you call us at 334-202-2870.