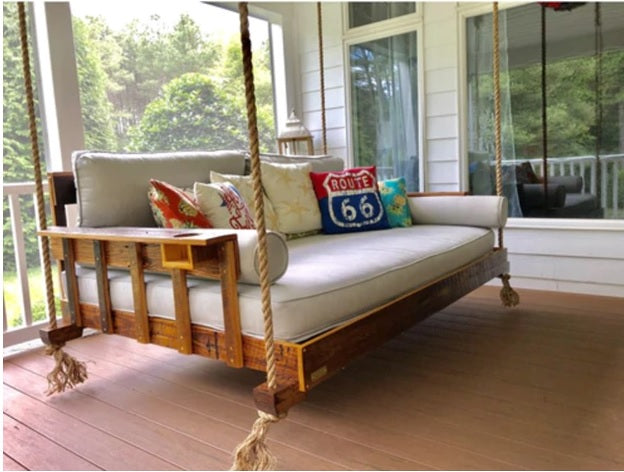 A fresh set of porch beds might be easily imagined in the open area around your home's exterior. It's easy to imagine a porch swing bed in your backyard by looking at photographs of gorgeous, well-designed models online. They appear to blend in seamlessly with the rest of the group. Just like that, picture how you'd spend your time there.
After you've put up a patio bed on your porch, how do you plan to relax? It gives us great pleasure to ship our bed swings to families who appreciate the moment they get to spend together in their spare time, knowing that our efforts have paid off.
Most families are committed to spending as many quality moments outside as possible, and mine is no exception. The "get out and stay out" ethos runs deep in my blood. Some people may regard this as a kind of torment, but I see it as a privilege and a blessing. Indeed, some of my happiest childhood memories include fishing for mudbugs and picnicking with pals on rural roads, as well as lawn campouts.
Everyone is entitled to some quiet time and a place they can call their own where they feel safe and protected. The memories of a night spent on the patio of your house with your family all snuggled together on the porch bed will stay with you for a long time.
In the event you're looking for fresh solutions to spruce up your patio, porch swing beds can be of interest. For homeowners, they provide a slew of advantages that should not be overlooked.
Relax and Enjoy The Outdoor Mood
Stress reduction is a common desire for many people. Though it won't alter the stressful events in your life, spending time in nature has been shown to reduce levels of cortisol, the "stress hormone."
Isn't that great? 

See:(https://www.fouroakbedswings.com/blogs/news/how-a-porch-hanging-swing-can-help-take-your-stress-away)
You don't even have to accomplish anything, you just have to be outdoors. A private patio bed allows you to enjoy the great outdoors in style. You don't even have to leave your house to take in the sights and sounds of nature.
Maybe you'll even be able to get a glimpse of a bird or other little animal that doesn't seem to be around very frequently! Later in the night, you may take a peek up at the sky and identify the constellations beneath the vast expanse of sky.
Swing softly on your patio swing bed while taking in the fresh air and appreciating where you are right now. All of this may be enjoyed from the privacy of your own home, on a porch bed.
Rejuvenate Your Mind and Body
Self-care and alone time may be had while swinging on your patio bed. The finest ways to take care of oneself are often the simplest. The rise and fall of the sun dictate our circadian rhythm, which regulates our sleep cycles.
A better night's sleep may be achieved by exposing oneself to natural light at regular intervals. Our bodies function better as a whole when we get enough sleep.
There's nothing better than stepping outside and relaxing on your suspended porch bed on your front patio. Put your feet up, relax, and take a vacation from everything.
Also, you may find it soothing to swing while reading a book or enjoying a refreshing drink in summer. Ultimately, the outdoor swing bed is yours and you may use it whenever you feel like it. So go easy on yourself and have a good time.
Family and Friends Gathering Place
Despite how enjoyable it may be to lounge about on a porch swing bed alone, you may want to invite some friends along for the experience. Outdoor time may also help if you or a loved one has been on edge recently, or if you've been feeling grouchy. Even a short talk on a porch swing has the potential to rejuvenate a person.
It's all about the small things, ya know!
And this is the greatest spot.
Relaxing on the porch with a couple of your best friends or calling the kids out to play is a great way to spend time together. Even if it's only for a few members of your family once in a while, it's still a special time to spend with those you care about. Enjoy each other's company for no apparent purpose by sitting outdoors on a swing together.
Make Your House a Home
Even if you're not sitting on your porch swing bed, you may still appreciate its presence. For a patio space outside your house, an eye-catching and well-designed outdoor swing is the perfect addition. When you realize how much time you will be spending away from your porch swing, you will learn to appreciate it for what it is now.
Beautiful porch swing beds may still stand out even if they are only propped up by a few colorful cushions. Their shapes and designs are beautiful enough to serve as a stand-alone piece of art in any house. Decorating your porch swing bed with pillows and blankets that complement the theme you want to achieve with your interior design may be a lot of fun if that's something you like doing.
Adding a personal touch to the design of a piece may make it even more stunning. Make the swing bed stand out on your lawn by decorating it with artificial foliage or strands of sparkling lights if you want to experiment with its appearance.
Embrace your inner free spirit and express yourself in whichever manner you choose. As an alternative, a soft blanket and pillow may do as well. Make your porch and its centerpiece seem like a place that belongs to you.
Please peruse our collection of porch swing beds to find the perfect one on which to relax alone or with those you love.
Alternatively, if you'd rather talk with someone directly, you may reach us by phone at 334-202-2870 or by email at david@fouroakdesigns.com with any queries you might have. We're here to assist whenever you need it.