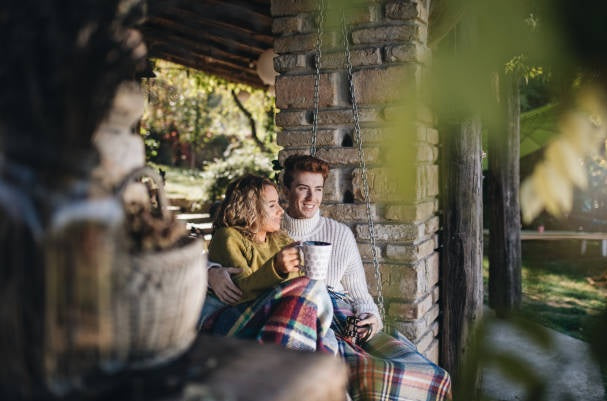 Imagine a world where ordinary outdoor seating options fade away, and a whimsical oasis of comfort and enchantment emerges. Welcome to the realm of patio swing beds, where versatility and relaxation intertwine to create an extraordinary experience.
In this blog, we will unlock the hidden potential of these captivating pieces, exploring their ability to transform from a cozy haven for napping to a romantic spot for stargazing. Get ready to swing your worries away and discover the endless possibilities that await you.
Join me on this delightful journey as we explore three of the most whimsical porch swing beds offered by Four Oak Bed Swings.
Quick Ship Avalon Bed Swing - Swing in Style and Comfort
Unveiling Ultimate Comfort and Convenience
When it comes to blending comfort and convenience, the Quick Ship Avalon Bed Swing is in a league of its own.
Imagine a swing bed that not only cradles you in pure bliss but also features carved-in cupholders and wine glass slots. That's right, my friend, we've elevated your patio experience to new heights of indulgence.
Whether you're sipping a refreshing lemonade or enjoying a sophisticated glass of wine, the gentle sway of our heavenly swing enhances every sip.
Sink into Pure Comfort and Tranquility
Our Quick Ship Avalon Bed Swing comes with a marvelous Sunbrella cushion package that will make you feel like you're lounging on a cloud.
Nestled in those fluffy cushions, your worries take a nosedive, making way for blissful tranquility that engulfs you like a gentle wave. It's an invitation to let go, unwind, and immerse yourself in pure relaxation.
Easy Setup and Free Shipping
No hassle, no fuss – setting up your bed swing is a breeze with the included hanging kit. You'll be swinging in no time, enjoying the instant bliss delivered straight to your porch.
As an added bonus, we're delighted to offer free shipping, making your outdoor oasis dreams come true without any additional costs.
The Westhaven Bed Swing - Luxurious Comfort in Nature's Embrace
A Haven of Serenity and Style
If you yearn for a place to unwind, whether indoors or on your deck, patio, or porch, The Westhaven Bed Swing is your answer. It epitomizes lavish comfort and style, creating a haven where the stresses of everyday life simply melt away.
Imagine sinking into its plush cushions, enveloped in a cocoon of pure bliss, as you embrace moments of serenity.
Personalization for the Perfect Experience
While The Westhaven Bed Swing doesn't come with built-in cup holders, fear not! We believe in catering to your every desire. You have the power to personalize your swing bed experience by ordering delightful cup holders separately.
Because let's face it, what's more, heavenly than gracefully sipping your cherished libation while suspended in a serene state of bliss?
The Pleasure of Blissful Indulgence
We must offer a friendly word of caution: prepare yourself for the consequences of extreme pleasure! Relaxing on your Westhaven Bed Swing, sipping a glass of wine, and gently swaying may transport you to a state of sheer bliss.
The world around you will fade away, leaving you with an irresistible desire to bask in the moment, forgetting the trivialities of everyday life.
The Courting Bed Swing - Embrace Old-World Charm
Love and Togetherness, Redefined
Transport yourself to a time when love blossomed on elegant sofas, where heartfelt conversations and stolen glances formed the foundation of connection.
A Touch of Old-World Charm
Allow us to introduce you to the "Courting" Swing, a delightful creation that draws inspiration from the cherished tradition of courting sofas. Picture this: couples sitting face to face, immersed in deep conversations and lost in each other's eyes.
But here's the twist – our "Courting" Swing isn't limited to just lovebirds. Round up your pals, form a bond of camaraderie, and unleash the tidal wave of chuckles and repartee while basking in the bliss of togetherness.
An Unconventional Seating Arrangement
The "Courting" Swing defies convention and sparks lively interactions. Imagine your friends encircling the swing, sharing stories, and creating memories that will last a lifetime.
Feel the infectious energy as laughter fills the air, and the bonds of friendship grow stronger with every swing. It's a seating arrangement that fosters connection and creates a unique experience.
Elevate Your Outdoor Space
Now that we've explored three of our whimsical porch swing beds, it's time to envision how they can transform your outdoor space.
Whether you have a spacious backyard, a cozy patio, or a charming porch, a patio swing bed from Four Oak Bed Swings can become the centerpiece of your relaxation oasis.
Step into your personal oasis, leaving the chaos behind, and surrender to the blissful refuge that awaits mere steps from your threshold.
FAQs about Patio Swing Beds
Are patio swing beds suitable for all outdoor spaces?
Absolutely! Patio swing beds come in various sizes and styles to suit different outdoor spaces, whether you have a large backyard, a compact patio, or a charming porch. There's a swing bed that fits every setting.
Can I leave my swing bed outdoors year-round?
While patio swing beds are designed to withstand outdoor conditions, it's recommended to protect them from harsh weather elements. Consider using weather-resistant covers or storing them in a covered area during extreme weather conditions.
Can I personalize my swing bed with additional accessories?
Absolutely! You can personalize your swing bed experience by adding accessories such as cup holders or side tables. It's all about creating a space that reflects your style and meets your relaxation needs.
Buy Patio Swing Beds Online
From napping to star-gazing, patio swing beds offer unparalleled versatility. They are not just ordinary outdoor seating options; they are gateways to a world of comfort, enchantment, and relaxation.
With Four Oak Bed Swings, you can transform your outdoor space into a sanctuary where worries fade away and memorable moments are created. So, why settle for the ordinary when you can embrace the extraordinary?
Create a haven where you can unwind, connect with loved ones, and indulge in moments of pure bliss. Visit Four Oak Bed Swings today and let the magic unfold.